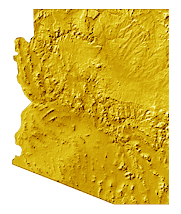 Arizona Bass Fishing Reports
The map to the left will take you to each lake's page. There you will find details about lake facilities, launch fees, anglers input and tips on lures and patterns that are catching bass.
On each page there is a link to the FISHING REPORTS PAGE. Let us know about your latest fishing trip by filling out this report . It will be posted on the appropriate lake page.
Also join in our FISHING DISCUSSION FORUM where you may talk about your favorite fishing subjects or issues dealing with our sport.
Alamo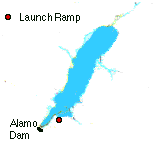 Alamo Lake has 3,500 surface acres with a maximum of 17,100 acres at full pool and a depth of 80 feet.
The reservoir was formed in 1968 by the construction of Alamo Dam for flood control purposes on the Bill Williams River, and is now the fifth largest in Arizona, though as with all Southwest lakes, the surface area varies a lot from year to year.
The lake is located in Alamo Lake State Park and is under the authority of Arizona State Parks.
Known as one of Arizona's best flipping and pitching lakes, this lake produces great quantity and quality largemouth bass.
Other species found in the lake are redear and green sunfish, bluegil, channel and flathead catfish, bullhead, and carp.
Located about 150 miles northwest of Phoenix. Take Alamo Dam Road north from Wenden on Highway 60.
For more information, call (520) 981-9400 for reservations and information.
Saturday, Mar 28
Hi: 89˚ F

Lo: 60˚ F

Sunny
Precip: 0%

Clear
Precip: 0%