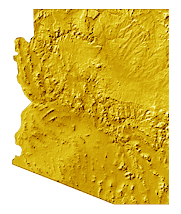 Arizona Bass Fishing Reports
The map to the left will take you to each lake's page. There you will find details about lake facilities, launch fees, anglers input and tips on lures and patterns that are catching bass.
On each page there is a link to the FISHING REPORTS PAGE. Let us know about your latest fishing trip by filling out this report . It will be posted on the appropriate lake page.
Also join in our FISHING DISCUSSION FORUM where you may talk about your favorite fishing subjects or issues dealing with our sport.
Bartlett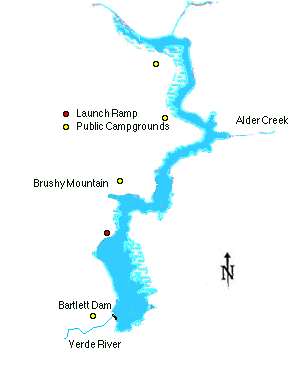 Bartlett Lake is at an elevation of 1,600 feet in the Tonto National Forest, 48 miles outside Phoenix.
The lake has 2,815 surface acres, 33 miles of easily accessible shoreline, a maximum depth of 188 feet and is fed by the Verde River.
The United States Forest Service maintains the area. Bartlett Dam was orignally constructed in 1936 - 1939 and then was modified in 1994-1996 to it's present state.
Largemouth and smallmouth bass are available to the angler. Other species found in the lake are crappie, sunfish, channel and flathead catfish and carp.
Bartlett Lake is the closest lake to the Phoenix area on the Verde River. It is 22 miles east of Carefree. To get to Bartlett Lake from Carefree, Arizona, take State road 223 east 22 miles.
Climate temperature range from lows in near 25 degrees in December to high hitting 115 degrees from July through September. Travelers are rewarded with stunning views of distant mountains and desert foliage. Mule deer javelinas, coyotes, bald eagles make residence in a land that features indigenous desert plants such as blooming ocotillo and mesquite trees as well as saguaro.
For more information, call (602) 225- 5200.
Monday, Apr 27
Hi: 81˚ F

Lo: 63˚ F

Sunny
Precip: 0%

Mostly Clear
Precip: 0%