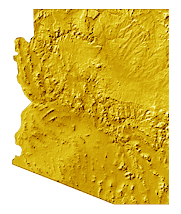 Arizona Bass Fishing Reports
The map to the left will take you to each lake's page. There you will find details about lake facilities, launch fees, anglers input and tips on lures and patterns that are catching bass.
On each page there is a link to the FISHING REPORTS PAGE. Let us know about your latest fishing trip by filling out this report . It will be posted on the appropriate lake page.
Also join in our FISHING DISCUSSION FORUM where you may talk about your favorite fishing subjects or issues dealing with our sport.
Pleasant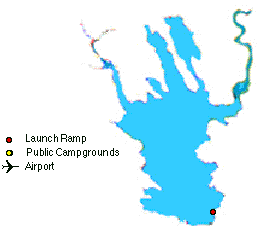 Lake Pleasant has 114 miles of shoreline for family recreation uses. Lake Pleasant is one of the largest and finest boating lakes in Arizona. Lake Pleasant Regional Park has 23,662 acres for boating and camping. The lake is formed by the Waddell Dam built on the Agua Fria River.
The first Waddell Dam was built was in 1928. This dam created the upper portion of the Lake. Lake Pleasant was named after Carl Pleasant, an engineer that helped design the dam. At the time, Lake Pleasant was the largest agricultural dam in the world. The dam held back runoff water from the Agua Fria and the Bradshaw Mountains. In 1968, Congress requested that the Bureau of Reclamation construct the Central Arizona Project. This project sent water from the Colorado River to central and southern Arizona. The existing lake was not large enough to store the water from the Colorado River diversion, thus a new dam was built. The new Waddell Dam finished construction in 1993. Today, Maricopa County manages Lake Pleasant.
The reservoir features a 10-lane boat ramp and parking for 200 vehicles. Recreational facilities are concentrated primarily on the reservoir's western shore. About 450 picnic sites,165 campsites ranging from tent to primitive to improved camping with full utility hookups, 14 group-use areas, overlooks, a full-service marina equipped to handle 1,000 boats, and 7 miles of trails. The lake also has a visitor center and a desert education center.
Sport fishing is very popular and numerous species inhabit the lake including white bass, largemouth bass, striped bass, channel catfish, and black crappie.
A state-issued license is required.
Lake Pleasant is about 30 miles from Phoenix, Arizona. North on I-17, west of State Hwy. 74.
For more information, call (702) 293-8907 for reservations and information.
Saturday, Aug 23
Hi: 90˚ F

Lo: 69˚ F

Partly Sunny
Precip: 6%

Mostly Clear
Precip: 4%