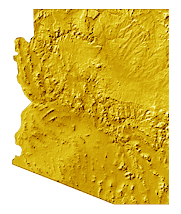 Arizona Bass Fishing Reports
The map to the left will take you to each lake's page. There you will find details about lake facilities, launch fees, anglers input and tips on lures and patterns that are catching bass.
On each page there is a link to the FISHING REPORTS PAGE. Let us know about your latest fishing trip by filling out this report . It will be posted on the appropriate lake page.
Also join in our FISHING DISCUSSION FORUM where you may talk about your favorite fishing subjects or issues dealing with our sport.
Roosevelt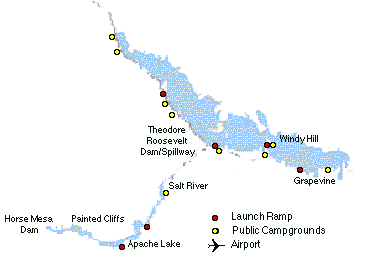 Theodore Roosevelt Lake is created by the Theodore Roosevelt Dam, the first major structure constructed by the Bureau of Reclamationon the Salt River Project. It spans the Salt River to form a huge reservoir. The dam is 280 feet high and 723 feet long.
Once the largest man-made lake in the world, Roosevelt Lake is still the biggest of the six SRP lakes and offers the most recreation opportunities. When full, the lake covers more than 17,000 acres near the confluence of Tonto Creek and the Salt River.
Game fish in Roosevelt include largemouth and small mouth bass, bluegill, channel catfish and crappie. The Lake contains a wildlife area and as a wildlife refuge, is posted to permit hunting at certain times of the year. Roosevelt fish grow fast because it stays warm year-round and is relatively shallow with brush-filled bays that provide excellent spawning sites. The water is extremely rich because of all the nutrients brought in from the two river inflows.
The lake has over a million visitors a year. Many make the trip especially to see the Tonto National Monument, cliff dwelling ruins of 25 individual rooms in natural caves overlooking the lake. The well-preserved ruins were inhabited by the Salado Indians in the 1300s.
Visitors can reach the lake via the Apache Trail, 80 miles from Phoenix or by a 20-mile drive over the paved Highway 88 from Globe. The Lake also may be reached from the Beeline Highway (State Route 87) via State Route 188.
For more information, call (520) 981-9400 for reservations and information.
Tuesday, Sep 2
Hi: 93˚ F

Lo: 73˚ F

Sunny
Precip: 0%

Mostly Clear
Precip: 0%