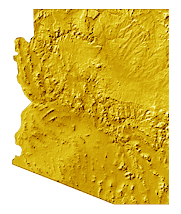 Arizona Bass Fishing Reports
The map to the left will take you to each lake's page. There you will find details about lake facilities, launch fees, anglers input and tips on lures and patterns that are catching bass.
On each page there is a link to the FISHING REPORTS PAGE. Let us know about your latest fishing trip by filling out this report . It will be posted on the appropriate lake page.
Also join in our FISHING DISCUSSION FORUM where you may talk about your favorite fishing subjects or issues dealing with our sport.
Powell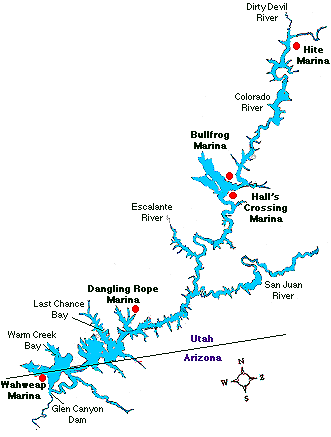 Lake Powell was created following the construction of Glen Canyon Dam , a decade-long project beginning in 1956, and named for Major John Wesley Powell , a civil-war veteran and explorer. The Colorado River impounded behind Glen Canyon Dam near Page Arizona forms Lake Powell which is over 570 feet deep when filled to capacity (3700 feet above mean sea level).
The lake follows the flooded river gorge for 180 miles with a dendritic, (branching like a tree), shoreline encompassing nearly 2000 miles. The lake covers over 160,000 surface acres at full pool. Two inundated rivers, the San Juan and Escalante, branch off the Colorado River and comprise major portions of the reservoir. Most of the shoreline, more than the entire west coast of the United States, is inaccessible with only four areas where access from any vehicle is possible.
There are full service marinas and launch ramps at these access sites: Wahweap, Bullfrog, Hall's Crossing and Hite. A midlake marina, Dangling Rope, provides gas and services for boaters traveling the lake.
There is no shore based access to Dangling Rope Marina. Dirt road access and primitive launching is available at Piute Farms on the San Juan Arm, Farleys Canyon near Hite and Blue Notch Canyon in Good Hope Bay. Lake Powell contains many species of gamefish as well as many other types of fish.
Since Lake Powell occupies two states, the fishing regulations of both states are important. You need to be sure you are legally fishing in the state that you are in.
Some of the common gamefish are bluegill , channel catfish, crappie, largemouth bass, smallmouth bass, striped bass and walleye.
For more information, call (702) 293-8907 for reservations and information.
Friday, Aug 1
Hi: 84˚ F

Lo: 62˚ F

Slight Chance Thunderstorms
Precip: 22%

Slight Chance Thunderstorms
Precip: 18%