Pleasant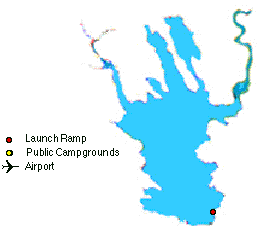 Lake Pleasant has 114 miles of shoreline for family recreation uses. Lake Pleasant is one of the largest and finest boating lakes in Arizona. Lake Pleasant Regional Park has 23,662 acres for boating and camping. The lake is formed by the Waddell Dam built on the Agua Fria River.
The first Waddell Dam was built was in 1928. This dam created the upper portion of the Lake. Lake Pleasant was named after Carl Pleasant, an engineer that helped design the dam. At the time, Lake Pleasant was the largest agricultural dam in the world. The dam held back runoff water from the Agua Fria and the Bradshaw Mountains. In 1968, Congress requested that the Bureau of Reclamation construct the Central Arizona Project. This project sent water from the Colorado River to central and southern Arizona. The existing lake was not large enough to store the water from the Colorado River diversion, thus a new dam was built. The new Waddell Dam finished construction in 1993. Today, Maricopa County manages Lake Pleasant.
The reservoir features a 10-lane boat ramp and parking for 200 vehicles. Recreational facilities are concentrated primarily on the reservoir's western shore. About 450 picnic sites,165 campsites ranging from tent to primitive to improved camping with full utility hookups, 14 group-use areas, overlooks, a full-service marina equipped to handle 1,000 boats, and 7 miles of trails. The lake also has a visitor center and a desert education center.
Sport fishing is very popular and numerous species inhabit the lake including white bass, largemouth bass, striped bass, channel catfish, and black crappie.
A state-issued license is required.
Lake Pleasant is about 30 miles from Phoenix, Arizona. North on I-17, west of State Hwy. 74.
For more information, call (702) 293-8907 for reservations and information.

Name: Vince Borrego
Date: 2007-12-23
Location: Scottsdale, Az
E-Mail: vinniethefish@deltabass.com
Water Temp: 54-57
Water Clarity: 3
Report: Fished Lake Pleasant for the first time since moving out from CA this past summer on 12/23/07. On the water from 7:00am - 2:30pm out of the Red Ranger (think I saw Delw's Gambler as I was pulling out looking at his catfish photo). Was focusing primiarly on Largemouth but not much to talk about. Started out on a main lake island trying to see what stage the fish were in (depth, structure, etc). Got 2 hits on a shakey head worm with a 10" straight tail worm but found they were biting the tail 4"-5" from the back (probably too big of a worm). Something left over from Clear Lake that works great but probably too agressive for Pleasant. Hooked 1 fish on an LV-500 but came off before I could figure out what species. Went into Castle Creek and had 1 small largemouth on a bomber 6a along with 6 either white bass or small stripers. No takers on the drop shot or jig. Didn't see much activity on the depth finder other than a fish here and there in about 13-15 feet and every so often something in 40-50 feet. All bites came shallow for me today (15' or less). Water temps were 54-57 with some nice stain back in Castle Creek.

Tips:
---
Name: RookieBoy
Date: 2007-08-25
Location: Glendale
E-Mail: landspurg@cox.net
Water Temp: 85.5
Water Clarity: 3
Report: Started out on Pleasant at safelight and fished until 7:30 AM. Water temps 85.5 degrees. I caught 5 fish on a buzzbait and lost that many on short strikes- yes I had a stinger hook on too!

Tips: Keep the buzzbait tight to the shoreline and have a sloooow retrieve, just chug it along.
---
Name: RookieBoy
Date: 2007-08-11
Location: Glendale
E-Mail:
Water Temp: 85
Water Clarity: 2
Report: Hit pleasant at safelight with my buddy Martin. Started with buzzbaits and had to work hard for two decent fish, 3 pounds each. Lots of shad around and fish breaking the surface. Switcheed to whatever would land those busting fish in the boat. I used a Norman little 'N in Baby Bass and I caught two small stripers, mystery solved on the busting fish. Headed off to the river and picked up six more fish on the old dropshot. Bold Bluegill, summer shad, and morning dawn w/ chart tip put them in the boat. I was using a 1/4 oz drop shot weight on a 18" leader, nose hooked the worm. Off the water by 9:30 AM. water temps were 85+ degrees in the areas that we were fishing. Same crazies skiing in the no ski zone in the river. One water skier came by so close I could have cleaned the crap out of his ears with my rod tip. Where's BC when you need him!! I want to be like Barney Fife, all I want is one bullet, that's all! I'll make the most of it....... tightlines...

Tips:
---
View All Reports