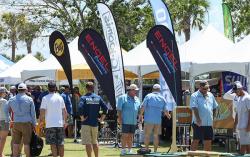 On the Water Product Demonstrations Move to the Convention Center!
On the Water product demonstrations for dealers and media representatives is moving to the Orange County Convention Center (OCCC) from Lake Toho.

To accommodate more buyers and media, On the Water is now being held from 10:00 a.m. – 2:00 p.m. on Tuesday, July 11, at the North/South Concourse which is adjacent to the West Concourse.

There are a series of ponds that are able to handle casting and non-motorized fishing vessels.

This event is open to ICAST and IFTD buyers and credentialed media only. On the Water is an excellent way for buyers and media to check out exhibitors' gear, tackle and accessories.

On the Water Shuttle Service

Shuttle service is available between 9:30 a.m. – 2:00 p.m. and will run every 30 minutes.

There are two routes for pick-up and drop-off:
Shuttles will run between the OCCC West to the back of the North/South Building
Two coaches will cycle through the hotel route and drop-off/pick-up at the back of the North/South On the Water area.

The ICAST Cup – Industry Bass Fishing Tournament and weigh-in, sponsored by FLW, will still be held at Lake Toho.