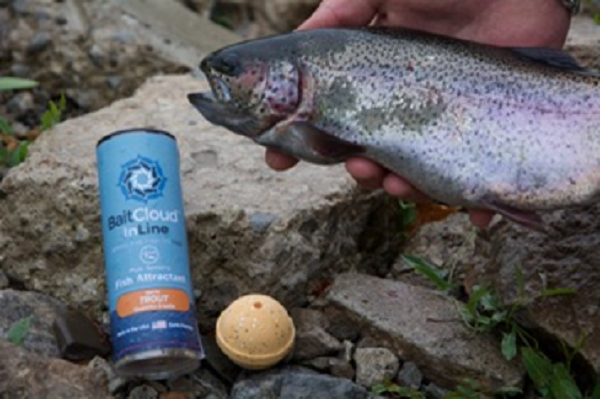 After a fantastic year of marketplace growth and angler acceptance, BaitCloud is expanding its product offerings with two new products. Adding to the current roster of species targeted formulas, BaitCloud introduces a Trout Formula which is designed for all cold-water trout species. A Trout Technique Brief accompanies this release with specific information about the Trout Formula and associated technique applications.
BaitCloud InLine is a new release product family delivered in all eight species formulas. InLine is a traditional BaitCloud ball designed with a centerline hole which allows the BaitCloud ball to either be directly affixed to the angler's baited fishing line, or optionally as a "tethered" application attached to a separate line. BaitCloud InLine is designed to solve several fish attracting applications that offer anglers with additional options to take advantage of the BaitCloud formulas for enhancing fishing locations. Below are three examples of how this new product can be used in fishing applications.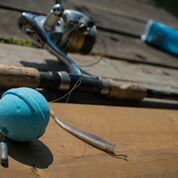 Tethered Applications: Sometimes current, wind, or tides will create water movement around your fishing location that would cause a traditional BaitCloud ball to move away from the desired fishing location. With BaitCloud InLine, anglers would simply affix the InLine ball to a separate line and use that line to deploy the BaitCloud ball into the desired location, thus keeping it "tethered" to the area where anglers then cast hooked lures or bait. Multiple anglers can take advantage of fishing around the BaitCloud InLine placement.
Suspended Fish: It is very common for gamefish to suspend at a preferred depth zone in the water column. With the BaitCloud InLine product anglers can use the tethering option to create a length of line to match to the preferred depth zone, and deploy the BaitCloud strategically so that the activation occurs right into the key zone where fish activity is greatest. Suspended activity tethering could occur off of a boat, bridge, pier, ice-hut, or any other location where a vertical delivery is possible. Anglers can control the depth of BaitCloud InLine delivery with ease!
Regulations Resolved! Several states such as California, Arkansas, North Dakota, and others have fishing regulations that mandate "no chumming" rules prohibiting the use of traditional BaitCloud in those specific public waters. The regulations, however, do allow the use of fish attractants if attached to their hooked, primary fishing line. So go ahead and attach it! Unlike other chum, BaitCloud does not contain fish parts, live or prepared bait and is marine and waste water biodegradable. Use BaitCloud InLine in place of scented liquid or gel attractants.
Tether Line Suggestions: Making a tether line to deploy a BaitCloud InLine ball is super easy and uses components already in your tacklebox. Simply take a length of mono or fluorocarbon 8-15 lb. test and tie a ½ ounce or greater weight to one end, heavier as necessary with stronger currents. Tie a loop knot on the other end. Thread the loop through the center hole of the BaitCloud InLine, and allow the ball to slide to the weight. Affix your loop knot around a boat cleat, dock line, or other position where you want to control the location of the ball. Toss the InLine ball into the water, wait while your ball activates at your controlled depth and location, and fish away! Note that for suspended fish applications as described above, simply measure out the length of line so that the weight becomes suspended off the bottom at the desired level; example at 20 feet, and tie off with that length of line deployed.
Tip: You can use the BaitCloud tube like a reel spool to wrap around your "tether line" so it can be reused and ready to deploy!
BaitCloud Trout formula and BaitCloud InLine both have a MSRP of $10.99 USD and are available at retailers in USA, Canada, and Internationally. The new models will become available at retailers during September, 2017.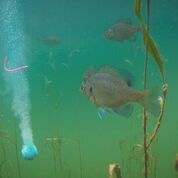 BaitCloud designs and manufacturers fish attractant products designed for enhancing and stimulating fish activity and bringing fish to your fishing location. Specific formulas for targeted applications and fish species. For more information contact: garyabernethy@hotmail.com 828.551.5786