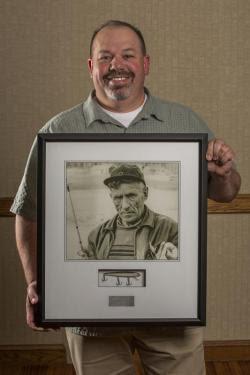 Founder and CEO Ken Hammond Honored with 40-Year Service Award; Marty Salchak Named Rapala Sales Representative of the Year

MINNETONKA, Minn. ⎯ Rapala® USA, a member of the Rapala VMC Group, the world's leading fishing tackle manufacturer, has announced The Hammond Group as the company's 2016 sales agency of the year.

The Hammond Group, an independent sales team specializing in the competitive sporting goods and outdoor product industries, has been instrumental in driving sales and fostering key relationships with Rapala's key retail partners throughout the Midwest and Great Lakes regions.

"We're pleased to name The Hammond Group as our sales agency of the year for 2016," said Matt Jensen, regional sales manager at Rapala USA. "Year after year, the team's sales efforts help put Rapala and Respected Rapala Brands' best-in-class products in the hands of anglers nationwide, further cementing Rapala's reputation as the most trusted name in fishing."

A testament to The Hammond Group's longstanding partnership with the company, Rapala USA also honored Ken Hammond, the sales agency's founder and chief executive officer, with a prestigious 40-year service award, a one-of-a-kind acknowledgment no other sales representative has received to date.

"For four decades, Ken's knowledge of our vast product catalog, unmatched sales expertise and passion for the outdoors has made him an irreplaceable partner," said Tom Mackin, president at Rapala USA. "We consider him an extension of our team and the Rapala family. I'm thrilled to formally acknowledge the outstanding impact he's had on building our brand."

Rounding out a trio of awards presented to The Hammond Group, Rapala named Sales Associate Marty Salchak as the Rapala sales representative of the year. Salchak joined the agency in 2011, bringing with him more than 20 years of fishing industry experience.

"An accomplished tournament angler himself, Marty not only talks the talk, but he walks the walk when it comes to the world of fishing," said Jensen. "His strong rapport with a number of our most valued retail customers has helped establish him as one of our most effective ambassadors."

Rapala was unofficially founded in 1936 when Lauri Rapala invented the Rapala fishing lure. Rapala has grown from humble beginnings to become a market leader in the fishing tackle industry. The brand's functionality and high quality are known by anglers worldwide. Rapala maintains its strict standards of craftsmanship while delivering its fishing products to anglers in more than 130 countries.

For more information on Rapala, please visit www.rapala.com or www.facebook.com/RapalaUSA.