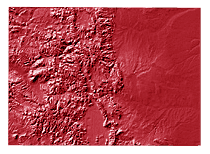 Colorado Bass Fishing Reports
The map to the left will take you to each lake's page. There you will find details about lake facilities, launch fees, anglers input and tips on lures and patterns that are catching bass.
On each page there is a link to the FISHING REPORTS PAGE. Let us know about your latest fishing trip by filling out this report . It will be posted on the appropriate lake page.
Also join in our FISHING DISCUSSION FORUM where you may talk about your favorite fishing subjects or issues dealing with our sport.
McPhee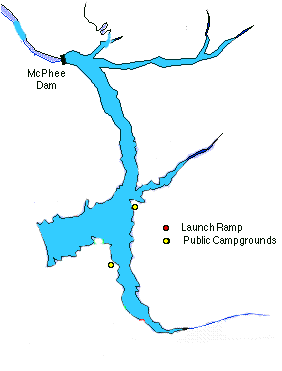 McPhee Reservoir was completed in 1985 and is the principal feature of the Dolores Project in southwestern Colorado. The Dolores Project is a participating project authorized with the Colorado River Storage Project.
The reservoir has a maximum surface area of 4,470 acres and is located on the Dolores River in the San Juan National Forest north of Cortez, Colorado.
The Lone Dome Recreation Area is located below McPhee Dam and includes over 10 miles of public access to the Dolores River.
The reservoir provides important recreation, fish and wildlife benefits; however, its primary purpose is to provide irrigation water, flood control, and hydroelectric power.
Recreation at McPhee is managed by the U.S. Forest Service, San Juan National Forest.
The lake has 4,470 surface acres with over 50 miles of shoreline and several long, narrow tree lined canyons. It is one of the largest lakes in Colorado with a maximum water depth at the dam of 270 feet.
Since McPhee is located in a river canyon, much of the best fishing is accessible only by boat. In the side canyons, wakeless boating zones have been established for safety and to allow still-water fishing..
The second largest body of water in Colorado, McPhee is managed a
s a two story lake, supporting both cold and warm water fish. Stocked with McConaughy rainbow trout, Kokanee salmon, bluegill, channel catfish, large and small mouth bass, and crappie, the reservoir also supports such native marine life as fathead minnow, crayfish, green sunfish, bullhead, and yellow perch. Bass under 15 inches in length must be released immediately.
A special strain of rainbow trout, the McConaughy, is the primary fish species. They have greater tolerance to warm water and have adapted to McPhee very well. Kokanee salmon have also been stocked as an experiment.
Take U.S. Highway 160 west from Durango, Colorado to the intersection of State Highway 184 in Mancos, about 27 miles. Turn right and take State Highway 184 north from Mancos to the intersection of State Highway 145, about 18 miles. Turn left on State Highway 145 for 1/2 mile to intersection of State Highway 184. Turn right and take State Highway 184 north to the intersection of County Road 25, about 5 miles. Turn right on County Road for 1/4 mile, then right to Forest Road 271 to McPhee Reservoir, about 2 miles.
For more information: McPhee Reservoir Western Colorado Area Office - Four Corners Division 835 East Second Avenue Suite 300 Durango, CO 81301 Phone: 970-385-6577 - Email:mchiarito@uc.usbr.gov
Saturday, Feb 28
Hi: 36˚ F

Lo: 26˚ F

Rain/Snow
Precip: 96%

Rain/Snow Likely
Precip: 76%