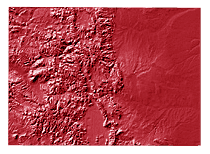 Colorado Bass Fishing Reports
The map to the left will take you to each lake's page. There you will find details about lake facilities, launch fees, anglers input and tips on lures and patterns that are catching bass.
On each page there is a link to the FISHING REPORTS PAGE. Let us know about your latest fishing trip by filling out this report . It will be posted on the appropriate lake page.
Also join in our FISHING DISCUSSION FORUM where you may talk about your favorite fishing subjects or issues dealing with our sport.
Pueblo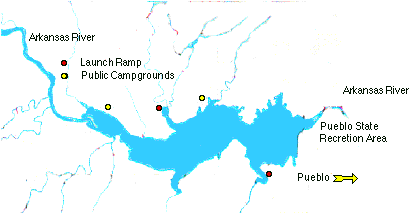 Pueblo Reservoir is fed by the Arkansas River and is an intricate part of the Arkansas-Fryingpan Water Distribution Project and rests at an elevation of 4,690 feet. The lake has 4,500 surface acres with over 60 miles of shoreline and depths from 6 to 100 feet.
Lake Pueblo offers great fishing opportunities. Wipers, crappie, bluegill, yellow perch, channel catfish, northern pike and rainbow and brown trout lure anglers to test the waters in the reservoir. Largemouth, smallmouth and spotted bass, which have a 15 inch minimum, and walleye, which have an 18 inch minimum.
Lake Pueblo State Park is the southern Colorado destination for sun lovers and water-sports enthusiasts, including boaters, water-skiers, sailors and swimmers. An incredible 400 campsites spread out around the 9,600 acre park can accommodate many visitors. This state park lies immediately west of Pueblo along State Highway 96. Miles of tree-lined hiking and biking trails and mild, year-round sunny weather makes any visit to Lake Pueblo a treat.
Pueblo has one of the warmer climates in Colorado. It lies at 4,690 feet, in a semiarid landscape. The topography provides hot summers and mild winters, although Pueblo easily succumbs to cold snaps that pervade the eastern plains of the state. Generally, the winter temperatures range from the 60 to 30 degrees Fahrenheit. Summer temperatures can reach in to triple digits. Usually the daytime highs reach 90 and drop to 80 degrees at night.
Take I-25 to Pueblo, then U.S. 50 west, for four miles. Turn south on Pueblo Boulevard and go four miles to Thatcher Avenue. Turn west and drive six miles to the park.
For more information: Lake Pueblo State Park- 640 Pueblo Reservoir Road - Pueblo, CO 81005 - (719) 561-9320 - lake.pueblo.park@state.co.us
Concessionaires at Lake Pueblo State Park (719) 547-3880 (North Marina) (719) 564-1043 (South Marina) (719) 564-0065 (Rock Canyon Swim Beach)
Saturday, Nov 22
Hi: 62˚ F

Lo: 33˚ F

Partly Sunny
Precip: 1%

Mostly Cloudy
Precip: 5%