Horsetooth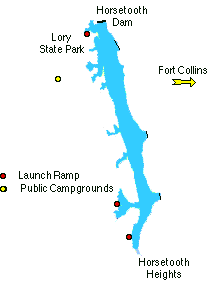 This 6.5 mile long reservoir was constructed as part of the Colorado-Big Thompson Project by building four large earth-filled dams. Spring Creek, Dixon Canyon and Soldier Canyon Dams, each approximately 210 feet high, are built across openings in the long hogback forming the eastern side of reservoir while Horsetooth Dam is constructed across the north end. The reservoir is adjacent to Lory State Park. The lake rests at an elevation of 5,430 feet and has 1,875 surface acres. This 6.5-mile reservoir is open year round.
Largemouth bass and Smallmouth bas are available for the angler as well as walleye, crappie and rainbow trout.
The Colorado-Big Thompson Project completed during 1938-1956 is the Colorado's largest transmountain water. It takes water from the Colorado River basin on the Western Slope and brings it to the Big Thompson River basin on the Eastern Slope of the Continental Divide for drinking, irrigation of farmlands, and generation of hydroelectric power. The most noteworthy achievement of the project was boring the Adams Tunnel 13 miles through a solid granite mountain.
In the fall of 2000, the Bureau of Reclamation lowered the water at Horsetooth and began modernizing the four dams. The project may take three to five years, during which time water levels will be restricted. Water levels will be kept high enough to meet irrigation, industrial and municipal needs. This allows limited boating and does not affect camping. The swim beach closed during this project.
For updates on ramp conditions, call the Horsetooth Hotline at 679-4554.
For further information contact USBR at 667-4410
or NCWCD at 667-2437.
Also visit the abouthorsetooth.com site. For more information: Horsetooth Reservoir, Larimer county Parks Department, 1800 S. County Rd. 31, Loveland, CO, 80537, Phone: 303-679-4570

Name: Craig
Date: 2004-06-28
Location: Fort Collins, CO
E-Mail: Craig@CraigMcMillin.com
Water Temp: 64
Water Clarity: 3
Report: Look for Bass on rip rap rocks, main lake points, try worms and tubes (colors vary on your flavor) or topwater baits with early morning and/or calm water. This fishery is coming back from a dam renovation and the forage fish base is plentiful and bass are looking healthy.

Tips: you could try tiki sticks and tubes. good luck fishing
---
Name: Patrick
Date: 2004-05-28
Location: Ft Collins
E-Mail: patschif@simla.colostate.edu
Water Temp: Cool to Cold
Water Clarity: 2
Report: Fairly difficult to locate the Bass without a fish finder and boat due to the size of this body of water. I did, however, catch a 1-1/2 pound 12 to 13" small mouth off the shore on the east side of the res. using some medium sized shiners. Good luck, let me know if anyone else has success.

Tips:
---
View All Reports