Lake Pyramid with Stan Vanderburg
With Stan Vanderburg
The inventor of bass boat insurance catches 'em up and talks business as well
Duration: 55 minutes
Stan Vanderburg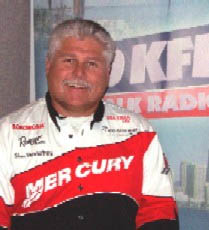 Large Mouth Bass. Just the name causes a tingle up the spine of any fresh water angler. Just say the name "Bass" in Stan's company and you're in for a long conversation. "The Tingle... Yeah, I get it, then it goes to my arm, as I think of the shiver of a rod when a big one's shaking it's head that really gets me going. I love catching Bass."
Large Mouth Bass are Stan's passion and specialty. Stan sits among the elite in Southern California's professional Bass fishing Community. Stan's insight and knowledge have been built over 23 years of Professional Tournament Fishing and as a consultant to many companies who specialize in Freshwater Bass Angling. The list of Stan's Sponsors and Professional & Civic Associations is impressive and supports his well-deserved reputation as a top-class Freshwater Bass Angler. Stan is a resident of Southern California, where the man-made reservoirs and lakes hold wonderful populations of healthy Large Mouth Bass. Today Stan fishes selected local and regional tournaments, but most enjoys the work he does with various tackle companies, helping to develop better ways for every angler to be more successful, and especially the work he does on Rod and Reel radio, sharing his knowledge with the recreational fisherman, and of course, spending his time on the water, with his friends.
Stan Vanderburg: "I spent years fishing tournaments. I reached the point where It wasn't about catching fish any more, but about beating the other guy. I didn't like that. So, now I may fish a selected tournament, but I enjoy spending my days out on the water with my friends, just having fun, catching Bass."
If you have problems watching the video, click HERE for help.