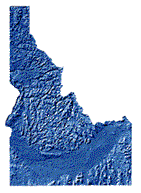 Idaho Bass Fishing Reports
The map to the left will take you to each lake's page. There you will find details about lake facilities, launch fees, anglers input and tips on lures and patterns that are catching bass.
On each page there is a link to the FISHING REPORTS PAGE. Let us know about your latest fishing trip by filling out this report . It will be posted on the appropriate lake page.
Also join in our FISHING DISCUSSION FORUM where you may talk about your favorite fishing subjects or issues dealing with our sport.
Anderson Ranch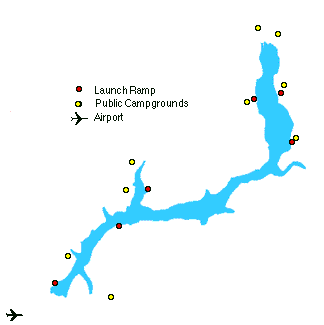 Anderson Ranch Reservoir rests at an elevation of 4200 feet in County as part of . The reservoir has 4730 surface acres,14 miles long and a mile wide with a depth of 315 feet..
Smallmouth bass fishing is the available to the angler. Also present in the lake are rainbow trout, whitefish, yellow perch, and kokanee and chinook salmon. Bull trout can also be found, but anglers should be aware there is no harvest of bull trout and they must be released immediately.
This area also provides access to the Trinity Lakes and the historic mining communities of Atlanta and Rocky Bar.
The dam is the uppermost of three dams built on the Boise River and was constructed by the Bureau of Reclamation for irrigation, power generation and flood control. It was completed in 1945.
The shoreline is accessible to anglers along the northwest side from the dam to Fall Creek where streams enter the reservoir. Bank anglers also have good access at the upper end of the reservoir from Lime Creek to the Pine boat ramp. Undeveloped camp sites are available along the shoreline near the road and several sites are accessible only by boat. Developed camp sites are available in resort areas of Pine, Deer and Fall creeks.
Located on the South Fork Boise River approximately 26 miles northwest of Mountain Home, Idaho. Take Highway 20 east from Mountain Home to Forest Road 134 to Forest Road 113 to access the west side of reservoir, Fall Creek side. Take Highway 20 further east to Forest Highway 61 to access the eastern side of the reservoir.
For more information: Mountain Home Ranger District, (208) 587-7961. Or - Idaho Department of Fish and Game, P.O. Box 25, Boise, ID 83707 Phone (208)334-3700.
Wednesday, Dec 11
Hi: 30˚ F

Lo: 16˚ F

Mostly Sunny
Precip: 2%

Mostly Clear
Precip: 2%