Berryessa Lake and Reports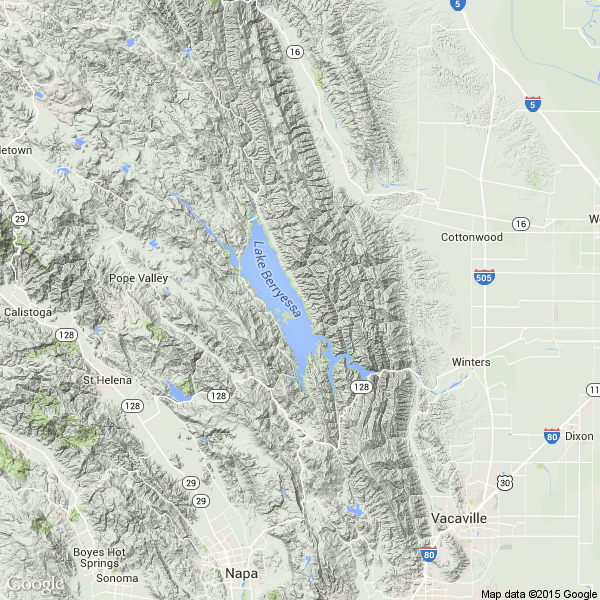 Click for Navionics/Google interactive map
Sunday, Feb 18
Storage

(ac. ft.)

Ouflow (ft.3/sec)
Inflow (ft.3/sec)
Precip.

(in.)

Evaporation (ft.3/sec)
1,385,890
50
???
0.00
???
Thursday, Feb 22

Sunday, February 18th, 2018
Water Temp: 49.6 thru 57.4

Water Clarity: Clear (4+ foot visibility)

Report: It's been awhile since my last report but I went out this past Saturday with Steve. The morning surface water temperature was 49.6 degrees and warmed up to 57.4 degrees by the afternoon. It was a hard fishing day but we hung in there. We tried drop shot ting to swim jigs and it was hit or miss all day. We had some luck in the Narrows and on the east side pass the ranch house before the Vineyards (see photo). No sign of birds or any bait. In my estimation it will be about five or six weeks before the first spawn. A few weeks ago my daughter-in-law Sarah caught an 8 lb 2 oz largemouth bass (see photo) her personal largest. Good job Sarah!!!!! The lake is 9 feet under the Glory Hole so it is full. 'Til next time..............................................good fishing!!!!!

If you have any questions or stories you would like to share or are interested in booking a guided fishing trip please email me at bestguide@hotmail.com or call me at 650-583-3333.

https://www.fishingconnection.net

Tips: We fished deep and shallow no birds no bait not a lot of fish and no fish jumping BUT THE GOOD NEWS LAKE IS FULL..
Friday, February 16th, 2018
Water Temp: 54

Water Clarity: Clear (4+ foot visibility)

Report: I guided a client yesterday who had fished the main body of Berryessa several times. It worked out well that he wanted to learn the narrows since we couldn't get out on the main body with 25-30 mph winds. I always wish the weather could be perfect for my clients, but rarely is. We were able to cover most of the narrows and visited lots of off-shore structure areas. There really are some interesting areas in the narrows. We did fish effectively before the winds got tough and caught 3 nice bass and a 3 lb largemouth in the afternoon. He caught a beautiful smallie about 2 3/4 lbs. Our best 4 was about 9 1/2 lbs - all 3 species, along with several smaller bass. Average depth was about 25-55 feet. The biggest largemouth was near the back of a cove in about 8 feet of water. She must have been lost!!

Tips: Did not see much bait, but did find a massive school on a narrows point. Bait ball was 60-75 feet! I did spoon two largemouth which were small, and the school was gone. Looked everywhere!! With the upcoming cold front next week, not sure if the bite will improve much. With the sun out all day, the water temp rose - are you ready for this - .8 degrees. Yes, less than one degree. We checked the backs of many coves and didn't see any bass The 2 biggest bass were caught on Senkos. Drop-shotting Robo worms worked ok, but no jig bite. Of course, wish we had been out today - no wind and warmer!! So, what else is new??
Thursday, January 25th, 2018
Water Temp: 52 to 53

Water Clarity: Clear (4+ foot visibility)

Report: On the water at 5am stayed till 4pm. Fished by Capel cove and Spanish flats area. First thing in the morning a lot of fish activity on the surface. Found out soon that they where trout. Second cast of a stacyee caught a 2.5lber. Had a couple of hits until the sun came up and every thing went dead. Moved around from point to point for no bites. Then sat in 20 feet of water casting out to beeper water. After a few minutes caught one lost on. This worked up till 2pm. Went to the stacyee again and caught two out in 40 feet. Ended the day with 5 bass in the net and 1 trout.

Tips: The only points that produced where on the west side of the lake. With the stacyee. Slow and soft. I lost to many fish to count on the jig I was using an ounce jig because of the depth. 40 plus feet. Maybe Carolina rig would work better so they don't feel the weight. Tight lines
Thursday, January 11th, 2018
Water Temp: 52

Water Clarity: Stained (2-4 foot visibility)

Report: Started day at 7am to 5pm. At the bridge in Putta creek. Found some small fish at the entrance and moved in and the action slow down for us. So we moved out to points. There as well we found some more small fish. It was a small fish day. 17 fish for me and my budy. Just no size.

Tips: Every bite came on Bottom. Underpin, jig or worm all on bottom. We caught most of our fish on points or rock faces with wind on them. But the big fish of the day came on a main lake flat in 12 feet off a jig at 5pm.
Sunday, January 7th, 2018
Water Temp: 52

Water Clarity: Clear (4+ foot visibility)

Report: Slowed way down and caught 2 bass in 4 hours dropshotting in 40 feet on Jan 2nd.
i found some Crappie on the bottom in 50 feet. Fun to feel a tug after the hectic Christmas Season!
Thursday, November 23rd, 2017
Report: by Kyle46N » Thu Nov 23, 2017 3:33 pm

Not much to report again. We only put a 3.5 lb smallie and a twin chunk largie in the boat in about 4 hours of fishing. As I'm sure anyone who has been on the lake has seen, there are a ton of "fish" in 40-50 feet of water near any of the main lake coves and points, herding bait. I'm sure it was a mix of every predatory fish in the lake. You can see the bait balls on the fish finder, and they seem to chase a few up to the surface every so often too. I got the smallie on a rattle trap in 35 feet of water ripping it through a baitball, and my son got the largemouth on a 1/2 oz blade bait in 50 feet of water. It was tough getting them to eat on that pattern. I threw a bunch of stuff at them from really finesse type stuff to the rattletrap, etc. If it had been a tourney and I HAD to get that five in the boat, I think we could have just hammered away with the blade bait and rattle trap to get a few more reaction bites. We went exploring though, since this is only our second trip to the lake. I kept looking for some other pattern than that 50 foot depth, but couldn't really find much. The backs of coves were devoid of anything other than coots.
Tuesday, November 21st, 2017
Water Temp: 59-61.5

Water Clarity: Clear (4+ foot visibility)

Report: I took two good fishermen out of Markley on Sunday - a rare Sunday trip for me. It was a nice fall day with little and eventually NO wind. It is amazing to see water as warm as this around Thanksgiving! Bite was fair, but not good. They caught around 10 bass of all 3 species, but nothing over 2 lbs. Couldn't find that 6 1/4 we released the other night - LOL!! I forgot to bring the spoons which might have helped. Drop-shotting Robo worm worked best. Saw a lot of bait at 30 to 60 feet but not many bass around the bait. Bait balls were tight. No bird activity all day, no fish chasing bait, just a very quiet day on the main body.

Tips: Hard to give tips after a slow day. I just feel that the colder nights have arrived which might have thrown off the bite somewhat. Clients were good anglers - not their fault.
Saturday, November 18th, 2017
Report: Sorry for the mistake on my previous report. 6 1/4 pound client bass was caught on a D&M Piranha swim jig, not the Power worm.

Water Temp: 61-62

Water Clarity: Clear (4+ foot visibility)

Report: I took two guys and a gal out for some night fishing, and, of course, it was the coldest night so far. And very damp - not the best of conditions. Not any wind though. Some trip are quality, not quantity, The older gentleman was fishing the 7" Power worm I gave him and had a great hit around 7:30 pm. It had been awhile since I had to use both hands to lift the net and the bass into the boat. She was a beauty, going at least 6 1/4 lbs - a largemouth. I might have hear him look at the younger man and say: "that's how its done!" Naw, I sure I didn't hear that! A little while later I felt my Power worm get stuck in some wood - I thought. No bite! She came half-way in with no movement. Then she understood the situation!!! Wow - she went all over the place and finally in the net. She turned out to be a 4 lb spotted bass - my biggest spot at Berryessa. I've been close, but never there. All my big spots are from other lakes. We had a few more soft bites, but no hookups.
The bite was just dead. Only 2 bass - but worth it!

Tips: I was hoping they could get a few casts before dark, but they couldn't make it in time. I think his bass and mine were about the same depth - 15 to 20 feet. His was on a point and mine was on a wall. We fished some good looking areas in the narrows and saw a lot of bait, but the cold night just killed the bite.
Monday, October 30th, 2017
Report: by kraetzer » Mon Oct 30, 2017 7:09 am

Finnaly was able to get on the lake. Water temp was from mid to high 60s.
We found fish working on baitballs all over the place but couldn't get a reaction bite going. Only hooked one fish on a crankbait after they busted the surface chasing bait and i through right in their but he came off.
The only way we managed to catch them was on drop shots and caroline rigged worms around the bait.
We didn't catch a lot but had a couple of nice 3+lb spotts and a 3+lb largmouth.
Fish and baitballs where in about 30 feet of water.
The cold weather and rain in the future might push them closer to shore and maybe get that fall bite/reaction bite going.
Hope that helps and tight lines
Tuesday, September 26th, 2017
Report: by Kyle46N » Tue Sep 26, 2017 5:00 am

This won't be much of a report. We caught one fish, and did a bunch of swimming, yet I saw a pattern on the electronics that may help. This was our first trip to Berryessa, so I was pretty clueless, and our results showed. I kind of just migrated to the back of coves all day, and that's where I saw over half the coves had some larger fish (assuming bass) pushing bait into the backs of the coves. It was the classic pattern of seen on reservoirs in the southeast come fall. Shad getting pushed into the backs of coves with a wall of bass on the outside. For the life of me, I could not get them to eat the numerous plastics and metal I put in front of their faces. They were definitely there though. Water temps were 70-72. What a beautiful lake. I definitely look forward to learning it....but for now I'm heading back to the Delta tomorrow. :D
Sunday, September 17th, 2017
Water Temp: 80-83

Water Clarity: Stained (2-4 foot visibility)

Report: After a vacation break, Mike and I hit Berryessa Fri afternoon for a few hours and added 2 hours at night. He had a good trip there last week, including one over 8 lbs. The bite was much slower Friday, at least in the afternoon. We would catch one here and there, but missed several good bites for some reason. We caught several largemouth between 2 and 2 1/2 lbs and Mike got a nice 3 1/4 smallie. We made the mistake of trying a lot of topwater before dark, without a hit. Water was just too warm - or something. That's topwater at Berryessa - "off" and "on!" Been that way forever!! I caught one keeper spotted bass after dark on the favorite 7" Power worm. Sometimes the night bite at Berryessa starts later, but we didn't wait around to find out.

Tips: Bass were really scattered around - only found one point with several bass on it. The bite most of the time was a half-hearted effort - bass would exhale more than inhale!! Some active bass were very shallow in the late afternoon and did seem to prefer a jig to a worm. Best 5 made a nice limit, but not great. Cooling weather is ahead and that should help the bite a lot. I would assume the early morning bite is best right now.
Monday, September 4th, 2017
Water Temp: 87.5

Water Clarity: Clear (4+ foot visibility)

Report: The past Labor Day weekend was lovely but the weather was HOT, HOT, HOT!!! In the last few weeks i took out Jonathan, Jason and Felicia fishing was slow because of the heat. The water temperature was over 87.5 degrees and the air was hazy from smoke. Even thought the fishing was slow they enjoyed swimming and exploring the lake. Quoting Don and his son Reid "we had a blast". Jay and his son Matthew had a great time. The best time I had this weekend was when I went out with my son Henry and he hooked up with what he knew was a good size bass as he brought it closer to the boat he asked me to net it for him. I got the net but did not succeed getting the fish into the net and before I could try again he jumped into the air by the boat and the line snapped. Needless to say my son was not too happy with my netting skills. We would have released the bass after taking a picture but never got the chance. We estimate the bass weighed over ten pounds my son says it's the biggest bass he has caught and he has landed some big ones in the past. 'til next week.............................good fishing!!!!!!!
www.fishingconnection.net If you have any questions or stories you would like to share or are interested in booking a guided fishing trip please email me at bestguide@hotmail.com or call me at 650-583-3333.

Tips: found the rock piles will fish them next week using plastics.
Monday, July 31st, 2017
Water Temp: 86.6

Water Clarity: Clear (4+ foot visibility)

Report: I took out Ed and Jeff did not do well a few dinks. Water like a mirror no wind and no fish very hot back at the dock by noon was disappointing. Went out on my own when the sun went down caught a limit of fish between 1.5 and 3lb. Next day took KG and Jenny out some wind on the water a few keeper bass Jenny holding a 3.7lb bass (see photo).
'til next time.................................................................good fishing!!!!!
www.fishingconnection.net If you have any questions or stories you would like to share or are interested in booking a guided fishing trip please email me at bestguide@hotmail.com or call me at 650-583-3333.

Tips: Found rock pile picked up 2 nice spots to 3.7lb knowing where the fish are helps. A lot of boat traffic does not help fishing.
Tuesday, July 4th, 2017
Water Temp: 77 to 83.5

Water Clarity: Clear (4+ foot visibility)

Report: The long 4th of July weekend was great for fishing. I went out with KG and Casey and they had a good time catching fish and swimming (see photos). Next day I went out with my buddy Albert and we ended up with a limit of quality bass weighing up to three pounds eight ounces (see photos). The next day was a winner too (see photo). The last two days I fished with my son and daughter-in-law on my son's pontoon boat and we were catching bass left and right we had guests on board Lonny and his kids Lucy and Max who did a great job catching some nice bass (see photos). All in all it was a wonderful holiday weekend. 'Til next time...........................good fishing!!!!!

Tips: items that I have confidence in are square bill crank baits,pro cure scents,plin e green 6lb test,salt impregnated worms,and polaroid glasses
Wednesday, June 28th, 2017
Water Temp: 73-77

Water Clarity: Clear (4+ foot visibility)

Report: Yesterday I took a father and his 15 yr old son to Berryessa and we had a fairly good post-spawn trip. Conditions were a little tough with a bluebird sky and calm water. Wind came up as we going back to Markley. The son struggled to catch many bass but dad did well since this was his first real bass trip. He caught several bass including the biggest largemouth of the day - at 4+ pounds. When? 12 noon of course!! I caught a largemouth at 3 1/2 lbs at 1 pm. Funny now many post-spawn quality bass will feed at noon. Even though we fished the narrows a lot and some of the west side of main body, they only caught two 2 lb smallies and a few undersize spots. Most of our quality bass were largemouth. Smallmouth usually get going a little later in the summer, Our best 5 was around 12 1/2 - 13 lbs.

Tips: I tried to get some topwater going but no takers. I had them worm fishing mostly since I could teach them to work the bottom better, and, worms are very effective in the post spawn. Aarons Magic, morning dawn, and shad colored Robo worms all worked well. The bigger bass were now a little deeper, down to 20 feet after last weeks heat spell. Most of our bass were found on points yesterday.
Sunday, June 25th, 2017
Water Temp: 85.5 thursday 73.8 sunday

Water Clarity: Clear (4+ foot visibility)

Report: This past week was super hot the water temperature was 85.5 degrees on Thursday and cooled down to 73.8 by Sunday. On Thursday I went out with Tommie and his son Brogan. What seemed a little unusual was there were no birds in the water as we left the marina. We started off by trolling along the rock wall towards Monticello Ski School and hooked up with a smallmouth bass along the way. I headed to the back of the Ski school and we tried different baits including minnows but were not landing bass with any size to them. Still not seeing any bird activity. It got really hot and we all decided it was time for a swim to cool down which we did (see photos). Feeling refreshed I headed towards the Narrows Tommie was throwing top water and got a roll over. Then he threw a spinner bait but had no bites. He changed to a lipless rattle trap and landed a nice bass. I went to one of my favorite secret spots and we saw bass breaking every where chasing bait fish but they had no interest in what we were casting out but it was fun watching them. On the way to the vine yards both Tommie and Brogan caught fish but still no birds anywhere on the water. We stopped several more times to get in the water the heat was terrible. Coming back on the west side to the marina still have not seen any birds. We had a great day and hope to do this again soon. The following morning I went out with Tim and in about an hour without leaving the marina and using plastics only we landed four nice fish up to three pounds (see photo). Next day I took Steven and Caesar out and saw a few BIRDS but not many. I used the same route as with Tommie and his son but landed more quality fish up to four and a half pounds. We made cool down stops at least five times during the day (see photos). 'til next time............................good fishing!!!!!!!
www.fishingconnection.net If you have any questions or stories you would like to share or are interested in booking a guided fishing trip please email me at bestguide@hotmail.com or call me at 650-583-3333.
Thanks to pro cure scents , Square bill crank baits, Polaroid glasses and the proper equipment fishing is good

Tips: for info on the oldest fishing club call sid 650 583 3333 clubs name y b a c meets the third Monday of each month.about 120 members
Saturday, June 10th, 2017
Water Temp: 72

Water Clarity: Stained (2-4 foot visibility)

Report: I went out this past Thursday and decided to fish the cove where Willy's Ski School used to be. I have always enjoyed fishing there and was not disappointed this time either. I spent the day there and caught a total of 22 bass the largest weighing in at 5 pounds 3 ounces (see photos). On Friday around noon I went out with John and we trolled from Steele Park to Spanish Flats and caught two nice trout and a bass then we headed back towards Steele Park hugging the shoreline and throwing plastics. It was a very successful day we caught a total of 31 fish the largest weighing 3.5 pounds (see photo).
On Saturday at around noon Lonny and his kids Lucy age 8 and Max age 6 joined me for a fun day of fishing and jet skiing. We started by trolling towards Spanish Flats and got a few hook ups and landed a couple of bass. The kids were having a great time and I was teaching them how to drop shot which they picked up very quickly. The wind picked up and since Lonny and Max wanted to ride the jet ski we head back to the dock so he could launch the ski and while they went riding Lucy and I stayed in the launch area fishing where we were protected from the wind. She did a great job catching a few bass and landing them on her own (see photos). She learned one important lesson when you catch a bigger fish do not stop reeling in till you land it if the tension is loose the fish can spit it out. Lonny and Max got back from their ride and we all fished for awhile longer it was a fun day for all of us. 'til next time.................good fishing!!!!!!
www.fishingconnection.net If you have any questions or stories you would like to share or are interested in booking a guided fishing trip please email me at bestguide@hotmail.com or call me at 650-583-3333.

Tips: used a lot of pro cure this week so that the fish wont let go,john said that's a lot of scent ,I said you did land the fish they would not let go.it rained hail for 20 minutes on sunday the size of marbles.
Thursday, June 8th, 2017
Water Temp: 68-70

Water Clarity: Stained (2-4 foot visibility)

Report: I took a husband-wife team to Berryessa on Wednesday, moving up their trip one day because of the rain today. What a difference in the weather from the last trip there. Wind all day, cloudy and much cooler. Main body saw big white caps - no fun. Bite was slower and the bass smaller. We stayed in the narrows the whole trip as they would not have liked the rough water. The gentleman ended the trip well on our last stop, catching a nice bass around 2 1/2 lbs. We caught all 3 species of bass. We used Robo and Berkley worms, mostly 6 inch. We still caught some bass in the back of some coves - trying to get out of the heavy wind. Still some late spawners I think.

Tips: I tried a few topwater baits in the afternoon for fun and did catch 2 small bass and missed a bigger one. I'm sure the topwater bite was ok the day before! I tried a few small beaver type baits to see if the bass were interested. They weren't!! They just seemed to want a worm. Another cool weekend is on tap with maybe Sunday rain - again! I have always done well at Berryessa on topwater during post-spawn rain events, especially in the morning. Give it a try!!
Tuesday, June 6th, 2017
Water Temp: 70's

Water Clarity: Stained (2-4 foot visibility)

Report: Took my son out for a day of fishing. We launched out of Markely Cove and fished the Westside near Big Island. Thank you Brad Amadeo for the waypoints. They were on hit! We then migrated to the narrows towards the end of our trip.We caught a few on top water, but our biggest fish came on plastics. Our best five (4 were my sons lol), weighed in at 13lbs.

Tips: Find the shad spawn and you will find the fish. The trees are also holding fish.