Berryessa Lake and Reports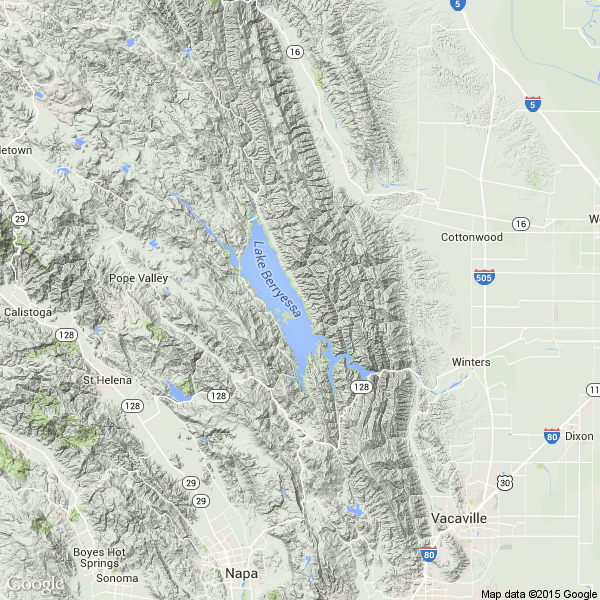 Click for Navionics/Google interactive map
Sunday, Apr 15
Storage

(ac. ft.)

Ouflow (ft.3/sec)
Inflow (ft.3/sec)
Precip.

(in.)

Evaporation (ft.3/sec)
1,440,757
185
643
0.00
???
Saturday, Apr 21

Friday, April 20th, 2018
Water Temp: 59-63 degrees

Water Clarity: Stained (2-4 foot visibility)

Report: I took a good friend of mine out on Thursday 4-19 who is a novice fisherman. We got on the water at 9:30 AM and the water temperature was at about 59 degrees. After launching out of Markley Cove we headed straight to Little Portuguese Cove. We were using a split shot rig with real worms and had a ton of success. The fish seemed to be in about 5-15 feet of water and the bite was very soft. We pulled in a lot of fish without setting the hook because we didn't feel the hit. We caught about 30 fish and had many more hits and fish on that we lost before getting them to the boat. Berryessa is about as good as it's going to get right now. We had success in the narrows, Paradise Cove and pretty much everywhere we went. After running out of worms (we had about 50 worms to start the day) we switched to drop shot and had success with that too. We hooked into 3 smallmouth bass that were in the 2.5 to 3 pound range and the looked full of eggs. We released those fish in hopes of catching some of those babies in a few years!! Also caught 2 big crappies. Good luck and hope to see you all on the water!!

Tips: split shot live worms was catching us a ton of fish. Slow moving them.
Saturday, April 14th, 2018
Water Temp: 64.3

Water Clarity: Clear (4+ foot visibility)

Report: This past weekend I was able to spend fishing at Berryessa. I arrived late afternoon on Friday and went out with my friend Bob. We decided to fish from the ranch house to the vineyards and it payed off. Bob's five largest fish weighed a total of 12.5 pounds (see photos). We both caught limits of bass and a 2.5 pound crappie. We stayed out till we saw the sunset and headed back as it started to get dark. The following morning I went out on my own and decided I would start at the vineyards and fish my way back. There were about nine different tournaments and every point I passed had a boat. I searched the shallows to see if the bass were bedding and sure enough they were everywhere. I caught one on a jig which weighed just under six pounds and full of eggs I released her immediately and she headed straight back to the nest. With all the boat activity going on I was amazed that the fishing was so good. I found what worked best for me was the Speed Trap crank bait for a bigger fish but drop shoting caught more fish but smaller size it was all fun. My five best keepers weighed a total of 14.6 pounds which was fine with me (see photo). My buddy Albert called me but I was out by the vineyards already so I told him to fish from the shore drop shoting and he caught four nice bass (see photo). 'Til next time...............................................good fishing!!!!!!!
https://nam02.safelinks.protection.outlook.com/?url=www.fishingconnection.net&data=02%7C01%7C%7Ca00f3d17cf844777014708d5a3c50a9a%7C84df9e7fe9f640afb435aaaaaaaaaaaa%7C1%7C0%7C636594989030298599&sdata=e73uxKLwBd9Wsj8AHxH7lOukRcOBg7p0FDnbfHLsG34%3D&reserved=0 If you have any questions or stories you would like to share or are interested in booking a guided fishing trip please email me at bestguide@hotmail.com or call me at 650-583-3333.

Tips: the fish know when the spawn is happening and its now ,in the vineyards I saw 2 big pigs boars,the bass is pushing the bait against the shore. feel free to call me for any fishing info.from 9am to 9pm 7 days a week. I used pro cure scents on drop shot worms.
Friday, April 6th, 2018
Report: by Duke » Fri Apr 06, 2018 5:23 pm

Lake is still fishing well! I've been out a bunch with water temps in 57-60 degree range with slightly off colored water in the main body and extremely muddy off main body! Creeks have a little color after the storm passed. The third wave of spawning fish are moving up for the next full moon.
Thursday, April 5th, 2018
Water Temp: 61-64

Water Clarity: Clear (4+ foot visibility)

Report: I was beaten by a six year old!!! Actually true, but not like it sounds, sorta!! I was looking forward to guiding a six year old young lady with her dad and his brother! I fished some and they fished hard and she beat all of us men with her 3 1/4 lb largemouth. She hooked, fought, and landed the bass by herself. Do I hear junior high bass tournaments?? Fun, fun!! We had another good day at Berryessa and doing some sight fishing for the first time. Water is clear enough to do that. With 4 in the boat, we were limited to mostly drop-shotting Robo worms, and MM111 was again the best color. Morning dawn worked too. Points to the very backs of coves held bass. We stayed in the narrows as I wasn't sure how the little one would do after several hours. She did fine!! Had to be close to a rest room also. Sure glad they leave one in the narrows all year! We found some deep bass also, 25 to 30 feet! We caught 20 + bass with again a nice limit around 14 lbs, all released. Mostly spots and largemouth with a very nice smallie.

Tips: Saw an amazing thing that one doesn't see often. We were fishing a good spot in the early afternoon and saw a few bass close to the boat. Along comes this 4 to 6 lb smallmouth, swimming slowly about 2 feet under the surface. What a sight! She seemed to be fine - don't think anything was wrong with her. This was not in a cove, she was swimming in open water off-shore. This incoming storm will interesting. An April gully-washer with one to three inches of rain. So, how will this effect the spawn? I guess we'll find out!!
Friday, March 30th, 2018
Water Temp: 57-61

Water Clarity: Stained (2-4 foot visibility)

Report: I did two really fun, good trips to Berryessa on Tues and Thurs. Tuesday I guided a father and his two 16 year old twin sons. In spite of the cold and some wind, we got into a very hot bite between noon and 1:30 pm. When it was over, it was over!! They caught around 13 or 14 quality bass - all 3 species - the boys catching spots up to 3 lbs 10 oz. Best hour of the year - so far!! Their best 5 around 16 lbs! We just fish the narrows as the main lake was too rough for any fun. Robo worms were the top bait, and mostly the same color! I have a great photo that I'll post. As you know - fishing days are not often repeated in the same way. Thursday was no exception. I had 2 clients from the Pacific northwest - outstanding anglers who have fished all over the world! And they caught a ton of bass yesterday, but more dinks than I think I have ever see at Berryessa. They did catch some better bass too, but nothing like what I saw on Tues. Bag bass was a 3 lb spotted bass, caught in the back of a cove, probably searching for a spawning area. We found a big school of bait on my new HDS 12, and bass that unfortunately were only 1 to barely 2 lbs. They were using a variety of their own baits. Bass they caught were from 20 to nearly 50 feet deep.

Tips: It is a rare day to pull into the parking area at Markley Cove on an early Thursday and find the lot full of rigs - only a few spaces left. Wow - a different period of time now! I have a lot of tips, but usually keep my mouth shut or fingers still before a tournament. Good luck out there!
Friday, March 23rd, 2018
Report: by BigBassDaddy1190 » Fri Mar 23, 2018 7:52 pm

Both of the main creeks were completely blown out today. A lot of water coming in.

Report: After months of meager flows, Putah Creek finally begins to roar after 2-5 inches of rain in the watershed in March 2018. The flow is approximately 3000-5000 cfs. This is shot in the Crystal Flat Wildflower Preserve north of the Berryessa Estates right before Putah Creek enters Lake Berryessa .

VIDEO http://www.westernbass.com/forum/crystal-flat-wildflower-preserve-north-the-berryessa-estates-right-before-putah-creek-enters-lake-berryessa-video-t114002.html#p597610
Tuesday, March 20th, 2018
Report: by Caleb.Smith » Tue Mar 20, 2018 5:00 am

First tournament for the Delta Wine Region, see how we managed to catch our fish.

VIDEO: http://www.westernbass.com/forum/lake-berryessa-bbt-delta-wine-region-opener-t113916.html

Water Temp: 55

Water Clarity: Clear (4+ foot visibility)

Report: I took out two high school anglers in the latest of the nor-cal high school fishing tournaments put on by FLW. Blast off was a bit late due to hang ups at the ramp but all boats were on their way by 7:30. We had gotten good fish in the flooded trees up north on the east side on Saturday. But Sunday was a different story. We got two decent ones on small swim baits at the vineyards but that was it. So we went "point bombing" in the narrows and on the south west shore with jigs and drop shot worms. The fish got better as the day wore on and we had a great bunch of fish grabbing MM III worms tossed on west shore points. The sun came out of the clouds and was shining straight down on the water so we moved off a little deeper on the points and culled out three fish with nice replacements on a single point near Spanish Flat. We ran out of time and had to haul ass back to weigh in in Paradise Cove. Our nearly 11 pounds was back in the average range so no trophy today. The winners had the same fish as everyone else but added a 5+ pounder to pump their weight to over 16 pounds. Thanks Larry!

Tips: When in doubt for keepers work the big rocky points on the main lake and in the narrows with your favorite worms or jigs.
Thursday, March 15th, 2018
Water Temp: 52-54

Water Clarity: Clear (4+ foot visibility)

Report: I guided an expert angler yesterday all over the lower end of Berryessa, showing him areas that were new to him. We experienced all sorts of weather - mostly cold and a little wet. Early afternoon we even had the big north wind hit - rare during a storm, followed by more south wind. Thank goodness the big thunderstorms didn't hit until I was towing home. The bite was slow as the water temp was the same as a month ago. He did catch two nice bass, largemouth and smallmouth, in the 2 3/4 lb range. Missed a few good ones as the bite was timid. It was fun to run into a bunch of near keepers at the last place we stopped. They probably moved up as the sun finally came out. Robo worms worked as always.

Tips: Can't say much as client will be involved in tourney activity this weekend. Bass do seem ready to come shallow in spite of the weather. Our bigger bass were not too deep. Water is clear - so far. May be different this weekend in the coves. But, remember, these are not warm storms. Check your temp guage!
Sunday, February 18th, 2018
Water Temp: 49.6 thru 57.4

Water Clarity: Clear (4+ foot visibility)

Report: It's been awhile since my last report but I went out this past Saturday with Steve. The morning surface water temperature was 49.6 degrees and warmed up to 57.4 degrees by the afternoon. It was a hard fishing day but we hung in there. We tried drop shot ting to swim jigs and it was hit or miss all day. We had some luck in the Narrows and on the east side pass the ranch house before the Vineyards (see photo). No sign of birds or any bait. In my estimation it will be about five or six weeks before the first spawn. A few weeks ago my daughter-in-law Sarah caught an 8 lb 2 oz largemouth bass (see photo) her personal largest. Good job Sarah!!!!! The lake is 9 feet under the Glory Hole so it is full. 'Til next time..............................................good fishing!!!!!

If you have any questions or stories you would like to share or are interested in booking a guided fishing trip please email me at bestguide@hotmail.com or call me at 650-583-3333.

https://www.fishingconnection.net

Tips: We fished deep and shallow no birds no bait not a lot of fish and no fish jumping BUT THE GOOD NEWS LAKE IS FULL..
Friday, February 16th, 2018
Water Temp: 54

Water Clarity: Clear (4+ foot visibility)

Report: I guided a client yesterday who had fished the main body of Berryessa several times. It worked out well that he wanted to learn the narrows since we couldn't get out on the main body with 25-30 mph winds. I always wish the weather could be perfect for my clients, but rarely is. We were able to cover most of the narrows and visited lots of off-shore structure areas. There really are some interesting areas in the narrows. We did fish effectively before the winds got tough and caught 3 nice bass and a 3 lb largemouth in the afternoon. He caught a beautiful smallie about 2 3/4 lbs. Our best 4 was about 9 1/2 lbs - all 3 species, along with several smaller bass. Average depth was about 25-55 feet. The biggest largemouth was near the back of a cove in about 8 feet of water. She must have been lost!!

Tips: Did not see much bait, but did find a massive school on a narrows point. Bait ball was 60-75 feet! I did spoon two largemouth which were small, and the school was gone. Looked everywhere!! With the upcoming cold front next week, not sure if the bite will improve much. With the sun out all day, the water temp rose - are you ready for this - .8 degrees. Yes, less than one degree. We checked the backs of many coves and didn't see any bass The 2 biggest bass were caught on Senkos. Drop-shotting Robo worms worked ok, but no jig bite. Of course, wish we had been out today - no wind and warmer!! So, what else is new??
Thursday, January 25th, 2018
Water Temp: 52 to 53

Water Clarity: Clear (4+ foot visibility)

Report: On the water at 5am stayed till 4pm. Fished by Capel cove and Spanish flats area. First thing in the morning a lot of fish activity on the surface. Found out soon that they where trout. Second cast of a stacyee caught a 2.5lber. Had a couple of hits until the sun came up and every thing went dead. Moved around from point to point for no bites. Then sat in 20 feet of water casting out to beeper water. After a few minutes caught one lost on. This worked up till 2pm. Went to the stacyee again and caught two out in 40 feet. Ended the day with 5 bass in the net and 1 trout.

Tips: The only points that produced where on the west side of the lake. With the stacyee. Slow and soft. I lost to many fish to count on the jig I was using an ounce jig because of the depth. 40 plus feet. Maybe Carolina rig would work better so they don't feel the weight. Tight lines
Thursday, January 11th, 2018
Water Temp: 52

Water Clarity: Stained (2-4 foot visibility)

Report: Started day at 7am to 5pm. At the bridge in Putta creek. Found some small fish at the entrance and moved in and the action slow down for us. So we moved out to points. There as well we found some more small fish. It was a small fish day. 17 fish for me and my budy. Just no size.

Tips: Every bite came on Bottom. Underpin, jig or worm all on bottom. We caught most of our fish on points or rock faces with wind on them. But the big fish of the day came on a main lake flat in 12 feet off a jig at 5pm.
Sunday, January 7th, 2018
Water Temp: 52

Water Clarity: Clear (4+ foot visibility)

Report: Slowed way down and caught 2 bass in 4 hours dropshotting in 40 feet on Jan 2nd.
i found some Crappie on the bottom in 50 feet. Fun to feel a tug after the hectic Christmas Season!
Thursday, November 23rd, 2017
Report: by Kyle46N » Thu Nov 23, 2017 3:33 pm

Not much to report again. We only put a 3.5 lb smallie and a twin chunk largie in the boat in about 4 hours of fishing. As I'm sure anyone who has been on the lake has seen, there are a ton of "fish" in 40-50 feet of water near any of the main lake coves and points, herding bait. I'm sure it was a mix of every predatory fish in the lake. You can see the bait balls on the fish finder, and they seem to chase a few up to the surface every so often too. I got the smallie on a rattle trap in 35 feet of water ripping it through a baitball, and my son got the largemouth on a 1/2 oz blade bait in 50 feet of water. It was tough getting them to eat on that pattern. I threw a bunch of stuff at them from really finesse type stuff to the rattletrap, etc. If it had been a tourney and I HAD to get that five in the boat, I think we could have just hammered away with the blade bait and rattle trap to get a few more reaction bites. We went exploring though, since this is only our second trip to the lake. I kept looking for some other pattern than that 50 foot depth, but couldn't really find much. The backs of coves were devoid of anything other than coots.
Tuesday, November 21st, 2017
Water Temp: 59-61.5

Water Clarity: Clear (4+ foot visibility)

Report: I took two good fishermen out of Markley on Sunday - a rare Sunday trip for me. It was a nice fall day with little and eventually NO wind. It is amazing to see water as warm as this around Thanksgiving! Bite was fair, but not good. They caught around 10 bass of all 3 species, but nothing over 2 lbs. Couldn't find that 6 1/4 we released the other night - LOL!! I forgot to bring the spoons which might have helped. Drop-shotting Robo worm worked best. Saw a lot of bait at 30 to 60 feet but not many bass around the bait. Bait balls were tight. No bird activity all day, no fish chasing bait, just a very quiet day on the main body.

Tips: Hard to give tips after a slow day. I just feel that the colder nights have arrived which might have thrown off the bite somewhat. Clients were good anglers - not their fault.
Saturday, November 18th, 2017
Report: Sorry for the mistake on my previous report. 6 1/4 pound client bass was caught on a D&M Piranha swim jig, not the Power worm.

Water Temp: 61-62

Water Clarity: Clear (4+ foot visibility)

Report: I took two guys and a gal out for some night fishing, and, of course, it was the coldest night so far. And very damp - not the best of conditions. Not any wind though. Some trip are quality, not quantity, The older gentleman was fishing the 7" Power worm I gave him and had a great hit around 7:30 pm. It had been awhile since I had to use both hands to lift the net and the bass into the boat. She was a beauty, going at least 6 1/4 lbs - a largemouth. I might have hear him look at the younger man and say: "that's how its done!" Naw, I sure I didn't hear that! A little while later I felt my Power worm get stuck in some wood - I thought. No bite! She came half-way in with no movement. Then she understood the situation!!! Wow - she went all over the place and finally in the net. She turned out to be a 4 lb spotted bass - my biggest spot at Berryessa. I've been close, but never there. All my big spots are from other lakes. We had a few more soft bites, but no hookups.
The bite was just dead. Only 2 bass - but worth it!

Tips: I was hoping they could get a few casts before dark, but they couldn't make it in time. I think his bass and mine were about the same depth - 15 to 20 feet. His was on a point and mine was on a wall. We fished some good looking areas in the narrows and saw a lot of bait, but the cold night just killed the bite.
Monday, October 30th, 2017
Report: by kraetzer » Mon Oct 30, 2017 7:09 am

Finnaly was able to get on the lake. Water temp was from mid to high 60s.
We found fish working on baitballs all over the place but couldn't get a reaction bite going. Only hooked one fish on a crankbait after they busted the surface chasing bait and i through right in their but he came off.
The only way we managed to catch them was on drop shots and caroline rigged worms around the bait.
We didn't catch a lot but had a couple of nice 3+lb spotts and a 3+lb largmouth.
Fish and baitballs where in about 30 feet of water.
The cold weather and rain in the future might push them closer to shore and maybe get that fall bite/reaction bite going.
Hope that helps and tight lines