Berryessa Lake and Reports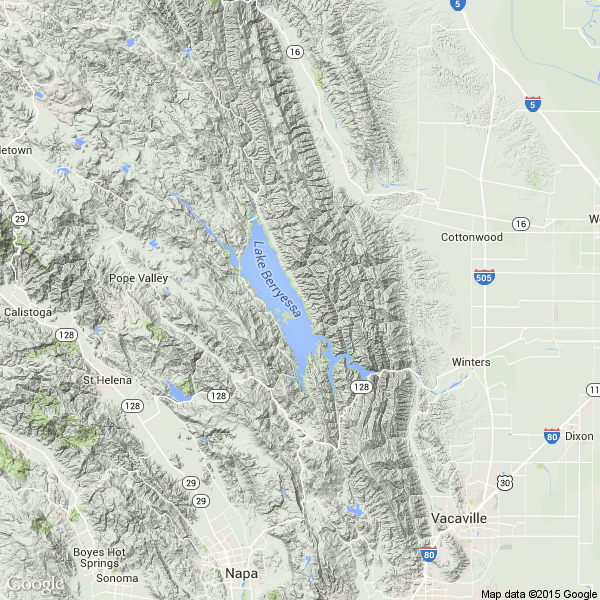 Click for Navionics/Google interactive map
Sunday, Feb 19
Storage

(ac. ft.)

Ouflow (ft.3/sec)
Inflow (ft.3/sec)
Precip.

(in.)

Evaporation (ft.3/sec)
1,584,091
3,218
4,280
0.09
???
Friday, Feb 24

Mostly Cloudy
Precip: 10%
Saturday, June 25th, 2016
Water Temp: 77-79

Water Clarity: Stained (2-4 foot visibility)

Report: FINALLY - a night guide trip!! And a good one at that!!! I took a father from Louisiana and his son who just moved to California for a late afternoon/night trip. The trip started slow with a few before dark and 3 topwater hits with none landed. After dark, we experienced one of the quietest nights I have ever seen at Berryessa, Not a SINGLE fish sound, NO bird sounds, No wind, deathly quiet!! Not normal. Even when the moon rose - no change. BUT - the bass did start to feed and they just hooked bass after bass!! First night bass, first California bass, and first spotted bass!! The dad's first Spotted bass was a dandy - 3 lbs 9 oz!! He will take that memory back home - what a fight!! They caught over 25 bass - I lost count! Only 2 undersize. Their limit was about 15+ lbs. No toads this trip. We mostly used the usual 7" Berkley Power worms - the favorite night bait at Berryessa!!

Tips: We only found one area that was "hot!' Bass were scattered all over. One point did have a lot of quality largemouth on it. Finally, some spotted bass - I think they caught three, including the big one. I had a day trip mid-week that was really slow - not the fault of the clients. The first really hot day with dead flat water - very tough! We had a one hour breeze about 10 am and the bite was pretty good - after that, very tough!!
Thursday, June 9th, 2016
Water Temp: 75-80

Water Clarity: Stained (2-4 foot visibility)

Report: I had another good trip Tues with a father/son pair of anglers. There was a slight breeze in the morning and a bit of high fog. The cooling trend was on its way! It burned off quickly and the bite started - with mostly smaller bass on Robo worms and topwater. After fishing Wragg Canyon, we moved out to the main body and worked walls and offshore structure. Dad showed us how it's done with his 4 lb 14 oz largemouth, caught on a morning dawn Robo worm. The bite again was best around noon, but didn't last as long as previous trips because of the wind that got pretty serious after 1 pm. Both father and son did very well catching lots of bass over 2 1/2 lbs - again - mostly largemouth with a few 2 3/4 lb smallies! One decent spotted bass. Their limit of 5 was around 16 1/4 lbs.

Tips: The worm bite has been so good, as it was last year early in the summer, we used them most of the trip as bigger bass were eating them! No reason to waste time doing other stuff. The quality bass had moved a little deeper than previous trips and had positioned themselves a little differently. A few good areas that were holding bass were now vacant, so some movements are starting as the lake is beginning to drop, nearly 2 feet now. The main ramp at Markely was still open, but probably not for long.
Sunday, June 5th, 2016
Water Temp: 78

Water Clarity: Clear (4+ foot visibility)

Report: Memorial Day weekend was perfect this year at the lake. The weather was glorious and the fishing GREAT!!!!! I went out every day and hit limits of bass using different methods but sticking mostly with a Carolina rig set up which was very productive for me. Sarah caught most of her fish trolling and landed a nice limit of bass and a 2.5 lb trout (see photos). Dan and I fished in Willie's ski school against the wall using drop shot method and within minutes he landed his first bass of the day and said "I never knew bass was so easy to catch." Bob is holding two bass a 4 pounder and a 2.5 pounder caught with a senko worm. It seems that any method we used in clear water worked well. Top water worked well in early morning. I'm looking forward to a successful summer fishing season. 'til next week..................good fishing!!!!!!!
www.fishingconnection.net If you have any questions or stories you would like to share or would like to book a guided fishing trip please email me at bestguide@hotmail.com or call me at 650-583-3333.

Tips: I love pro cure scents,mostly crawdad for the worms and trout for the crankbaits love Hobie glasses to see the fish in shallow water plus more favorites that I believe when the fishing is tough makes a difference
Friday, June 3rd, 2016
Water Temp: 69-73

Water Clarity: Clear (4+ foot visibility)

Report: This is just a short report about the good bass fishing at Berryessa. I guided a nice couple that flew in from Texas to fish the lake. Fishing was very good during mid-day as a breeze came up about 11 pm - and so did the bite! We landed more largemouth than previous trips in the past several years! Between 11am and 1 pm, he landed a 5 lb 2 oz and 4 lb largemouth and I landed one at 4 lb 5 oz. Several 2 1/2 to 3 lb largemouth, Only caught 1 or 2 spots, but a few quality smallmouth up to near 3 lbs! Our 5 best a bit over 18 lbs. We caught most of our bass during those 2 hours in about 8 to 15 feet. The wind soon died and so did we (of the heat)! I also had a great trip last Friday, before the crowd hit! Fishing was excellent for many hours and nearly all bass over 2 lbs - biggest a spawn-out largemouth at 4 lbs. Smallies up to 3 lbs 10 oz hitting nearly all day!

Tips: Last week we used Robo worms of several colors. Yesterday, morning dawn was the best color as it was last year in early summer. Yamamoto creature baits were good last week as were Senkos. Bass were a little deeper last week, Both trips were in the narrows and main body (mostly west side).
Thursday, April 28th, 2016
Water Temp: 63-64

Water Clarity: Clear (4+ foot visibility)

Report: So, where were all the rest of you on Wednesdays exciting weather event at Berryessa? There were only 3 rigs at Markley's ramp area - plus Matt Allen somewhere out there taking photos of our water spout that hit the lake in the afternoon thunderstorm! The 3 of us made it back to the ramp just as the rain and hail hit - and it was a major hit! I am no fan of lightning out on the water. As for the fishing, I had a client from Florida who now loves Berryessa! He did very well and caught is first-ever spotted bass - and several more that keep getting bigger, up to 3 lbs. Now he knows how those spotted bass fight!! He hit for the cycle too, getting a largemouth and a smallmouth. The cloud formations over the lake were absolutely amazing in the morning. As the day went on, they grew and grew, got darker and darker, it got windier and windier, and we quickly went 0 to 60 back to the dock!!

Tips: I have to make one more comment about my last trip to Bullards Bar (see report). I have always wondered what goes through a clients mind when they are out on a famous lake - like Clear Lake or Bullards Bar (no, it wasn't always famous), and catch an amazing big bass (7lbs14oz spot) in the first few minutes ever on the lake. Something like: Wow - this IS a good lake, or, this lake is EASY, or, this guide IS great - no - probably not that thought - LOL! And who get the biggest thrill - the client or the guide? There were some scary moments until she was in the net! Anyway, back to Berryessa. We fished in the narrows mostly. I was going to head out to the main body, but the narrows bite was good and getting better. We used Robo worms most of the trip. Could net get them to touch a Senko that day. Points were no good but the steep walls would produce a nice bass here and there. We did not find any concentration of bass, maybe because of all the weather turmoil in the past few days. When I did take him out to the main body, showing him the size and layout of the lake, it was nasty - big swells! So much for the main body! Gotta call Matt - see if he made it back in one piece!!
Monday, April 11th, 2016
Water Temp: 67 droped to 61.5

Water Clarity: Clear (4+ foot visibility)

Report: From: Sidney Silberberg (bestguide@hotmail.com)
Sent: Mon 4/11/16 10:31 AM
To: Sidney Silberberg (bestguide@hotmail.com); lake b Peter Kilkus new (pkilkus@gmail.com)

This time of the year is one of my favorite to go fishing the reason being that I can fish in shallow water and see the fish chase and hit the bait. Shore fisherman are doing well also because they can see the fish as they walk the shoreline and throw their bait where it will do the most good. Last weekend Jim and his son Joshua went out with me and had a good few hours out on the water and landed a nice 4 pound bass (see photo). The next day Albert and I headed out and caught a nice limit with the largest fish weighing in at 3.6 pounds (see photo). This weekend I took John out to an area of thee lake he had never been to. I showed him the bass nesting in the shallow water and there were quite a few nests he was fascinated. I went into a cove where we saw fish swimming and I cast out a Carolina rig set up and was immediately hit by a nice size bass. It was a beautiful warm day almost like summer but that evening it started to rain and the next day I went out with John and Albert wearing our rain gear and it did rain all day long. We caught a limit of fish right in the area where we launched the boat. We could see a large cement slab in the water and the fish were roaming in that area. John and Albert were drop shooting and I was using the Carolina rig and on my second rod I was using a River2Sea crawdad. Our last stop of the day was at the tree laying in the water in Willie's ski school and the amazing thing was an approximate 10 pound bass was swimming next to a one pound bass and of course we all tried our best to lure the big one or tempt her but to no avail but it was fun trying. We headed in for the day a little damp but we had a good time.
'til next time..................................................good fishing!!!!!
www.fishingconnection.net If you have any questions or stories you would like to share or are interested in booking a guided fishing trip please email me at bestguide@hotmail.com or call me at 650-583-3333.

Tips: I Love pro cure scents works all the time ,if you want more fish try it the fish hold on longer to set the hook
Tuesday, April 5th, 2016
Water Temp: 65

Water Clarity: Clear (4+ foot visibility)

Report: Fish are starting to nest water temp is 65

Tips: story will come soon fishing with sid
Friday, March 25th, 2016
Water Temp: 60-65

Water Clarity: Stained (2-4 foot visibility)

Report: It is amazing that sometimes the most beautiful spring day can bring a slower bite. I have heard a lot of bass anglers talk about that. Instead, stormy days can be great! After talking to a few guys taking their boats out yesterday at Markley Cove, they thought the bite had slowed a little from last week. It was kind of hard for me to tell since I was working with a client on his first-ever bass trip. He decided he wanted to get into bass fishing, and was a good student - even took notes!! I wish the bass were a little more active, He had several hits, but was slow on the hookset. He did finally catch a nice smallie - so he is on his way! I caught a several smallies and spots, showing him different techniques we use, but couldn't break 2 1/2 lbs. A couple of other guys told me the same thing - no quality bass. We worked up to near Pope creek, only finding one willing bass in most areas. Most of our bass were still on points - the crank bass was the only one in the back of a cove. Three different colors of Robo worms seemed to work best for us, though I did get one the of bigger ones on the crankbait This being Easter vacation week, the parking lot was full - lots of rigs!! The main ramp is now open and it is possible to launch 2 boats at a time.

Tips: A little weed is beginning to form and some of last years growth is now under water. Someone told me the lake is still down 29-30 feet. It seems more than that to me. I was hoping for a nice breeze to come up, maybe helping the bite. It tried - but died!!
Monday, February 15th, 2016
Water Temp: 54

Water Clarity: Muddy (0-2 foot visibility)

Report: On Monday I took Lloyd and his son Blake out for a day of fishing. Lloyd had requested to learn some of the key spots on the lake for catching bass so that was our agenda for the day. I set up two rods for trolling one with a blue and silver Speed Trap lure and one with a fire tiger Speed Trap lure. It was a beautiful sunny day with a little breeze on the main lake the water was stained with about a one foot deep visibility. We fished for about thirty minutes with no luck so I moved on to the back of the Monticello Ski School with the intention to show Lloyd where the minnows hide in the grass and the bass follow the minnow but that area was all dry as we turned to troll out to the main lake Lloyd hooked up with his first fish which was about a 1.5 pound bass now we were getting excited. We trolled about ten minutes more and tried top water at the same time with no luck. I moved on towards the Ranch house and again saw no indication of fish. I kept going north at full speed looking for any signs that would indicate fish in the area. While Lloyd and Blake were having their lunch I drove to the back of Big Island to the furthest point which was pretty shallow. Lloyd hooked his second bass there so we stayed for awhile and sure enough he landed another nice bass drop shooting in 2 to 5 feet of water. Heading back towards the Bureau of Reclamation we fished parallel to the shore line. The wind was picking up and would push me from 4 feet deep to 12 feet so I was moving the boat back towards the shore line all of a sudden Lloyd gets smacked in about 3 feet of water his rod is completely bowed and he is reeling like crazy with a huge grin on his face he hands the rod to his son so he can share in the moment too. The bass was about 7 pounds with a good size girth. After taking pictures with their catch they released the bass so it could keep growing. That ended our day on a very happy note (see photos).
'til next time.............................................................................good fishing!!!
www.fishingconnection.net If you have any questions or stories you would like to share or are interested in booking a guided fishing trip please email me at bestguide@hotmail.com or call me at 650-583-3333.

Tips: plastic was the success in 2 to 4 feet
Sunday, February 7th, 2016
Water Temp: 52-53

Water Clarity: Stained (2-4 foot visibility)

Report: I was supposed to guide Friday, but the guys went to the wrong area and we could not connect. That was a first for me in over 30 years of guiding at Berryessa. We later decided to postpone their trip - so I fished solo for about 4 1/2 hours -from noon to 4:30. In one spot I caught 3 largemouth up to 2 1/2 lbs in about 10 minutes - in the narrows! That was a shock!! In the main body I landed a 13" spot but ended the trip with a great 3 lb 11 oz spot! That made the trip home much better!! Lake is in good shape - a little color, and my fish were in the top 10 feet. I was pretty happy with the bite since it was a post-front day. This warm front now might get an early Feb bite going - until the next storm.

Tips: The 2 1/2 lb largemouth took a brown/purple jig while all the others hit a MM111 6" Robo worm - Texas rigged! I was lazy!!! All were caught on rocky ledges close to shore. I memorized some new structure last fall with the low water - it worked!! The lake only seems to be up about 6 feet. You can STILL get your daily exercise launching at Markley Cove - health tip of the day!!
Tuesday, January 5th, 2016
Water Temp: 52-53

Water Clarity: Stained (2-4 foot visibility)

Report: So, who would be dumb enough to guide on a Monday after a 3 day weekend? Well - me, I guess. They sounded like great guys on the phone, so we went - out of Markley. This was my first time to guide on my private lake - yes, Lake Berryessa. No kiddin" - we were the ONLY rig in the parking area!! We saw one other boat - all day! I think that was a first for me in several decades!!! The bite was slow of course, but with the 8 rods they brought, something should have worked, and it did! They had about 8 to 10 hits and landed 4, the biggest a 2 1/4 lb smallie. I caught a largemouth about 2 lbs. The lake was dead flat calm in the morning until a big wind came up as the next front moved in. That killed the bite, but we stuck it out 'til 5 pm.

Tips: Tips are tough since they threw all types of baits all day. Their biggest smallie was caught on a Senko - I think!! Very hard to find any bait on the meter, but found a few bass sitting on the bottom. I did hook a good bass trying a Blade Runner spoon, but lost it. The willing bass we did find were in about 30-50 feet of water on steep bluffs. The lake has not come up any - as of yesterday. Maybe the rain this week will help - lets hope!!
Friday, December 4th, 2015
Water Temp: getting cold

Water Clarity: Clear (4+ foot visibility)

Report: My family and I celebrated Thanksgiving at the lake. We got there on Wednesday early afternoon and my son and I headed right for the lake. There was a definite chill in the air but the water was fairly calm and we had bundled up pretty well so we headed out to the west side. In less then an hour and a half we had double hook ups and a total of eight bass from three to five pounds. We headed back to the house to warm our frozen bodies but were very happy with our catch (see photos). Thanksgiving morning my son's friend Steve joined us but this time the water was not calm. There were white caps all the way to the Narrows and let me tell you it was a rough ride but we made it and the water was calmer. We started fishing heading towards the dam and we started hitting nice size bass almost immediately. We fished for a couple of hours till we couldn't take the cold any longer and headed across to the west side towards home and trolled our way in using crankbaits #1 color was silver and blue and 2nd choice was chartreuse and green. We tried top water with no luck. Luckily the white caps worked in our favor as they pushed us in. We had a great time and landed limits and now we were heading to the house for a scrumptious feast (see photos). It was a great couple of days and I hope everyone had a wonderful Thanksgiving. 'til next time......................................good fishing!!!!!!!!!
www.fishingconnection.net If you have any questions or stories you would like to share or are interested in booking a guided fishing trip please email me at bestguide@hotmail.com or call me at 650-583-3333.

Tips: Fish loading up for winter
Saturday, November 7th, 2015
Water Temp: 62-63

Water Clarity: Clear (4+ foot visibility)

Report: Another great trip yesterday as I took a media personality, helping him get into a good spoon bite. And did he get into the program! After we found a good school of feeding bass, we put 2 1/2 to near 3 1/2 lb smallies into the boat for almost an hour straight. Two bass anglers were watching the show in their boat, They came over and we showed them what we were doing. I saw them catch one or two after that. We fished other parts of the lake and found the bite kinda slow. Again, in the afternoon, no topwater bite! As always, we used 1 1/2 oz Blade Runner spoons with UV Morning Dawn the best color. On the way in, I spotted a new rock area that just became visable. We fished it and spooned a few more and I was able to spoon a 4 lb spot. Great spoon bass!! Lake is still dropping, but slowly.

Tips: The Lowrance is your friend. Move around 'til you find the bait!
Thursday, October 29th, 2015
Water Temp: 68-69

Water Clarity: Clear (4+ foot visibility)

Report: I took one of my favorite clients to Berryessa Tuesday, finding cloudy skies and calm wind. We were going to work on spooning mostly, using Blade Runner 1 1/2 oz spoons. I had him used the new UV morning dawn color and I used a few different colors. All spring and summer long I have wondered, as others have, where all the spotted bass were. Bingo - we found them - and they have been growing!! We located a school of them feeding on shad and we spooned 3 to 3 1/2 lb spots for about an hour, with a few smallies mixed in. We weighed several of the spots to make sure the weights were accurate. These were the fattest spots I have every seen at Berryessa. This makes me think the lake is in excellent shape because it has been a big largemouth year also. We moved around the lake for hours looking for other baits balls with bass, but didn't find many. We went back to our morning area and caught a bunch more before we left. Funny, like Almanor last week, fishing great on the sunny day and slower on the cloudy day.

Tips: We saw bait on my new Gen 3 Lowrance meters from 10 to 60 feet, but the spoon bite was best at about 35 to 40 feet. As for surface activity, there was NONE! Never saw a fish come to the surface. We did get a few bass drop-shotting Robo worms, but they were smaller bass. After all the largemouth this summer, we only caught three this trip - two dinks and a 13 incher! Guess they were on vacation!!
Saturday, September 26th, 2015
Water Temp: 70-75

Water Clarity: Clear (4+ foot visibility)

Report: I took a good fisherman to Berryessa yesterday, teaching him about off-shore structure and - new to him - spooning! He has now become a fan of the Rick Tietz designed Blade Runnner spoons. His first spoon bass with a big 1 1/2 oz spoon was a 3 lb 2 oz smallie!! He even caught a few more. He had started off with some of Rick's smaller spoons. As I was showing him how to work the spoon, I nailed a quality smallie at 3 1/2 lbs! I told him all spoon fish are like that - (yea, right!). I was using one of Rick's new UV morning dawn spoons. We started early in the morning and the lake was DEAD!! No bites and no small bass chasing shad on the surface. Had one small bass hit a topwater. We started spooning around 11 am and the bite was fair - but not great. In a cove I like, we saw a wolfpack of big bass chase a school of bait. What a sight! As they went out to deeper water, we spooned those 3 pounder smallies I mentioned. I was metering a bank off Big Island with my new Gen 3 Lowrance 12"meter (really a TV screen!) There was nothing on the meter - bait or fish. I was trying the MM111 Robo worm for fun and soon a 3 lb largemouth crunched it! The invisible fish!!! We wound up with a fair amount of spoon bass with our best 5 about 12 1/2 lbs.

Tips: This is the time of year to move around. The bait moves - and so should you! Again, I am impressed with the size of the bass this year. No big largemouth this trip, but the smallies are amazing - big and fat! I'm sure drop-shotting would be good now with shad colored baits, but again, my largemouth hit a Texas rigged worm. If the summer heat would ever give in to a cool fall, the bite will improve!!
Friday, September 4th, 2015
Water Temp: 78-79

Water Clarity: Stained (2-4 foot visibility)

Report: I guided two good fishermen from the east coat who have fished for everything, but not black bass! This was a 5 hr trip because of their busy schedule. We had to fish mid-day, from 11 am to 3:30 pm - Not the best time! After catching several sub-legal largemouth, we ventured out into the main body which was a slick as glass after Wednesday's windstorm. One of the fella landed the big bass of the trip, again using a MM111 Robo worm. His smallie went 2 3/4 lbs - great fight!! They caught a few more, with the biggest a 2 1/4 lb spotted bass. I was very pleased with a fairly good mid-day, flat water bite. They missed several bites while learning the secrets of plastic worm fishing!

Tips: The lake is still dropping, but slowly. I think the pre-fall slowdown has hit the lake a bit. Some areas that were real good during the previous weeks were void of bass and bait yesterday. The day-before north wind might have moved the fish too. We did see a few stray bass bust shad on the surface. After Labor Day - come quickly fall bite!!!
Sunday, August 30th, 2015
Water Temp: 80

Water Clarity: Stained (2-4 foot visibility)

Report: This past Friday evening just before sunset I took Travis and his son Alejandro out for a couple of hours. We fished along the west side and within the first ten minutes Alejandro landed a nice bass which had him grinning from ear to ear!!!! The next fish was caught by Travis trolling a chartreuse lure that went down approximately eight feet. As the sun was setting and we were heading in for the day Alejandro caught a 3.5 pound smallmouth bass and there was that grin again good job (see photo). Next day bright and early Albert, John and I set out for the day. We started by the rock structures heading towards the Narrows. Albert is throwing top water lures with no success and I landed a couple of nice bass using a silver and blue crank bait. We decided to try the back of the big island where you can only use an electric trolling motor. In the back coves we saw many minnows and many three inch bass. I thought this would be a great spot but it turned out to be difficult because of the dense grass just below the water line. John was throwing a drop shot with about 22 inches between the weight and hook and he was catching small bass and a sunfish but nothing of any size. Albert caught a nice bass using the same rig set up (see photos). We will come back to this spot again in the future. We had a very enjoyable day. 'til next time...................................................................................good fishing!!!!
www.fishingconnection.net If you have any questions or stories you would like to share or would like to book a guided fishing trip please email me at bestguide@hotmail.com or call me at 650-583-3333.

Tips: Water down over 41feet coves that existed before are now dry ,we found new stumps humps trees and bushes should be noted and new coves
Friday, August 21st, 2015
Water Temp: 79-82

Water Clarity: Stained (2-4 foot visibility)

Report: I had another very nice trip Wed with a father and 13 yr old son. I was looking forward to some productive topwater fishing but a chilly wind (I didn't expect that) killed that plan. We saw no early morning surface activity at all. As we were heading to the main body, I saw a point still in shadows - one that I hadn't fished in years! Within a few minutes, the young client was fighting with a good bass. I netted his near 3 lb spotted bass - great start! It was the first spot in three trips! As we moved around the main body, I was looking for a shallow island with some deep water access. Bingo!! I found one. Remember, everything is different with the low water. In the next hour, dad puts a near 3 1/2 lb smallie, another 3 lb smallie, and a 2 3/4 lb spotted bass in the boat! Wow! also, he lost a 5 lb+ largemouth as she jumped, and I hooked a big bass which I lost in a few moments. A really good hour! Dad caught a few more before we quit in the afternoon.

Tips: I must confess that I love the guide trips where we are able to get into some quality bass, rather than numbers. I love big bass and so do my clients!! August has been a good month for me the past several years. Again, the best bait by far was the MM 111 6" Robo worm! We were going to drop shot, but the 'ol Texas rig worked fine. Most of the bass they caught were about the 20-25 foot depth, except for the early morning spotted bass. Their limit was about 14 1/2 lbs! Fun day!!!
Saturday, August 15th, 2015
Water Temp: 78-82

Water Clarity: Stained (2-4 foot visibility)

Report: I had two guide trips this week at Berryessa. The lake was beautiful but the ride in from Winters wasn't!! What a shame!! Anyway, Wed I did a 6 hr afternoon trip with a great angler visiting from Sweden! Jolly good fella, AND - a good fisherman, though there are no bass in his country! I hope Berryessa would show its best manners, and she did. He caught several bass, but the three biggest went just under 12 lbs - including a 5 1/2 lb largemouth, taken at dusk on a MM III Robo worm. That color continues to work! Also a 3 1/4 and near 3 lb smallie for him on the same color worm. I took a guy and gal yesterday afternoon/night and found the bite much slower. Weather was perfect as was the first trip, but big fish bite was way off. Don't know why, except that is bass fishing! He caught several nice bass, but nothing bigger than 2 lbs. Wed saw several bass surfacing, chasing bait, active birds - where Friday was like the Dead Sea. NO activity - heard one fish the whole trip and no birds anywhere. I did see 2 skunks race my truck as I left about 1 am!!

Tips: We did try the spoon bite on Wed but didn't find big schools of shad - a bit early yet. We lost 3 good bass on the blade runner spoons and landed a few small ones. I tried Senkos on both trips - not a bite!! Most bass were on "new" off-shore structure - some I had never seen before. His 5 1/2 came from such a structure - I WILL remember that place!! Not a topwater hit on both trips - usually I get at least one in August and it is a good fish! Last night, the 7" black Berkely Power worm was again the bait of choice - bass were hitting it well after dark.
Wednesday, July 22nd, 2015
Water Temp: 77 to 82

Water Clarity: Clear (4+ foot visibility)

Report: This past Thursday I took Ken out. We headed out at 7 AM sharp Ken had asked me for a tour of the lake and that's what we did first. We went to the Narrows then the ranch house all the way to the stumps and then the vineyards which were under water two weeks ago and now are part of the shore line. We headed to the boy scout camp which is past the bridge and we started fishing in the trees. Up to now no fish and the water was less then one foot visibility. I decided to go where the water was clearer and deeper which was by the Big Island and we started catching bass. At the end of the day he had a nice limit with bass up to 4 pounds (see photos). The next morning at 7 sharp Lawrence and Pete headed out with me . We started catching fish almost instantly. When Lawrence caught a fish Pete netted it and vice versa . We had limits (see photos) so we took a tour of a few spots on the lake that I know they will like to fish in the future in their boat. As we were starting to head in for the day I couldn't start the main motor. I turned to my back up motor and it would run for about twenty feet and die not good!!!! I got hold of the sheriff and they came out and towed us in. In case of emergencies we are very fortunate to have the services of the sheriff's department. Luckily I only needed a new starter which was repaired that afternoon and I was able to use my boat Sunday with Mark and his kids Akiva, Yakira and their friend Zusya. We started to troll and the kids wanted to jump in the water because it was very hot out. Since it was so hot the kids wanted to stay in the water so I decided to go to the Monticello Ski School and let them swim in a safe and enclosed area if no one objected. When we got there it was Kid's Day and Lucy invited the kids to stay and participate in all the events. Needless to say they had a fabulous time (see photos). 'til next time...............................................good fishing!!!!!!
www.fishingconnection.net If you have any questions or stories you would like to share or are interested in booking a guided fishing trip please email me at bestguide@hotmail.com or call me at 650-583-3333.

Tips: Thank you Lucy,Frank ,David,lonny,and all the members of the Monticello ski school for making 3 kids very happy.