Clear Lake and Reports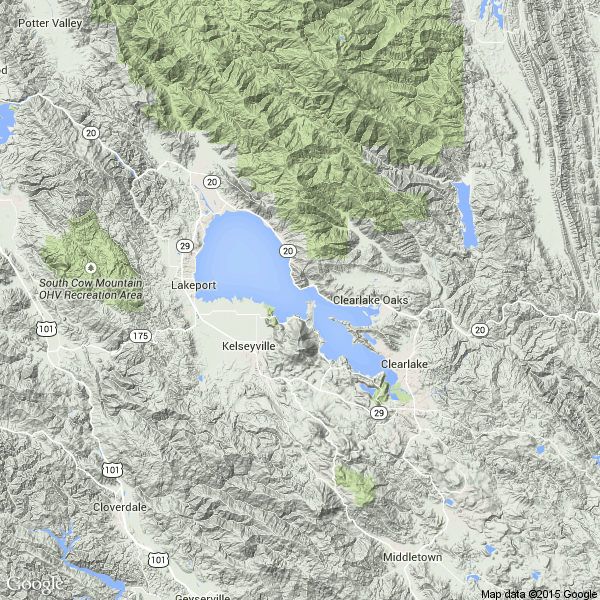 Click for Navionics/Google interactive map
Thursday, Apr 26


Monday, July 17th, 2017
Water Temp: 82-88

Water Clarity: Stained (2-4 foot visibility)

Report: Took the family to Clear Lake for four days (Wed-Sat) July 12-15. The bite was very steady for fish in the 2 pound class, but the bigger fish were a little harder to come by. This trip was mostly for the kids and not so much for me, so I stuck with techniques that would get them numbers. We fished mainly from Henderson south concentrating on rock piles and rocky ledges. We caught close to 60 fish a day and only fished from sun up to about noon. The kids threw Texas rigged MM III and brown and purple 1/2 ounce jigs with oxblood sweet beavers as trailers. The worm seemed to get more bites and the slightly bigger fish. We did manage a few over 3 lbs and my daughter lost a six that got tangled up in the Talon brackets (dad's fault). On the last day I did pick up a buzz bait for about 30 minutes and managed a 5 plus, a 4 and several other fish in the 2 plus range. The buzz bait bite was very aggressive. I tried throwing a whopper plopper, but the fish were just swatting at the bait and the ones I did catch were foul hooked. I also managed a few frog fish as well out of isolated weed clumps along rocky banks. I'm guessing the top water bite and frog is really going to start heating up in next few weeks. Their was a big algae bloom going on which really affected the water clarity. All in all it was a great trip and I assume if there are two guys in the boat fishing all day they would easily catch a 100 fish a day.

Tips: Buzz baits and frogs around isolated weed clumps. Jigs and worms on rock piles and ledges.
Friday, June 30th, 2017
Water Temp: 78.2-79.8

Water Clarity: Stained (2-4 foot visibility)

Report: Fished Monday, Tuesday & Wednesday nights. I have to say that the bite is still going strong. Hit town Monday evening & got on the water at 11:30 PM. I brought my daughter with me & this was a teaching trip! The goal was to teach her new techniques as she has always fished with just Senkos, so she learned to throw jigs, Texas rig, & blades this trip as well as the fine art of netting fish! Monday was a learning experience as we missed quite a few fish. We landed 9 that night with the best at 7.5 that I got on as jig. It was also her second fish to net & she did very well. The rest were 2.5 - 3.5 on jigs, senkos & Texas.Tuesday night started late on account of the Giant's game going 14 innings. We hit the water at 12:30 AM & ran right into a bite. Once again the majority were in that 2.5 - 3.5 range but we managed a big of 5.11. We hung around to see if there was a topwater bite & we caught quite a few small ones on the Whopper Plopper fished at a steady retrieve. They didn't want the stop & go. We boated 27 fish. Wednesday night we had my bud Manny join us & the bite was still brisk! Same pattern, 2.5's to 3.5's with a few 4 lbers & a big of 5.7. Well, actually, the big was 15.14 lbs. on a jig, but unfortunately it had whiskers! I wish I had a video of my kid netting that one! She couldn't lift it in as it was a load! I lost count of how many we boated, somewhere after 30. The topwater bite was softer, but they were busting in the weeds. Went to get my trusty frog pole out of the locker & realized I left it in the garage after I had the boat recarpeted! I guess I'm getting old & forgetful! I threw a 6" senko & worked it like a frog, got a bunch of blowups, but couldn't get the hook into them! I'm gonna go out on a limb & say the frog bite would have been outstanding! We stayed in Konocti again as there wasn't any real reason to move. The jig bite was the best. My kid lost a few on the jig, but managed a pair of 4's with it. I posted a pic in the fishing forum. She also killed it on the senko, her go to throw. They were either taking the jig on the fall or smacking the heck out of it. They seemed to be all over the place. Got them anywhere from 5" to 25" of water. The Texas worked well on the weed edge line & the Senko around rocky stucture. We fished it slow & the colors were darks with either red or blue. Reaction was soft with a few blade fish & no crank fish at all. The water was a little warmer than I expected, but they were on it! We didn't get the big fish bites like last trip, but we caught more fish! I dug out some old Don Iovino snakes & cow tongues the old man & I fished in Mexico together eons ago in rhythm & blues fished Texas & they got a lot of fish. He still makes them. The jigs were black or black & blue with black blue sweet beavers for trailers. They also hit the Big Texan double wide as well. The weeds are still not that bad, the fishings hot, so if you get the chance to go, do it & be safe!

Tips: We fished the Texas at the edge of the weedlines & when you felt some resistence, we'd shake the bait, then pull slowly. Sometimes it was a fish swimming with it, or a fish would smack it after you shook it & pulled it free! The jigs we fished in rocky structure & got them in all depths. A bunch of times you'd either lose contact with it only to find a fish had swum under the boat with it or it would feel heavy & then your line starts moving sideways (weeds don't do that! lol) The Senkos were just tossed out there & they'd grab them. They seemed to prefer weightless Texas style as opposed to wacky. They like watermelon with black flake and rootbeer with all kinds of sparklies, I don't think they make it anymore as Jess used them all up! 6" was the ticket! The wind was not too bad, just the usual Clear Lake summer & the weather was gorgeous this week! We'll be back in a few weeks! (Don't forget your frog pole!!!)
Wednesday, June 28th, 2017
Report: by clearlakeoutdoors » Wed Jun 28, 2017 2:04 pm

I havent been fishing much so havent been doing reports.
I went last Saturday ,water ranged fom 78-82 and got off the water at 10:30 am.
Caught 3 fish on a frog early biggest was a 6+
also caught fish on jigs offshore and we cranked some fish and caught shakeyhead fish also.
Went back out yesterday and caught 2 on a frog and 4 on a buzzbait early.
jig bite was good offshore and caught some more on the shakeyhead.
crankbait bite wasnt as good as its been, no wind
I caught around 20 fish before 10am big fish was a 5
Algae bloom not bad in am but gets worse as it warms.
Lake is still really full and lots of shad and hitch
Dave
Monday, June 26th, 2017
Water Temp: 73-76

Water Clarity: Stained (2-4 foot visibility)

Report: I went out to Clear Lake for the weekend at my Aunts house on the Lake. It was a family trip so I didn't get a ton of fishing in but the fishing I did was great. Got out for a couple hours both Saturday and sunday. I fished the south only Jago to Konocti. Off shore rock produced good numbers but not great quality. The bigger fish I did catch were on deeper docks. I threw drop shot, frogs and jigs (black and blue) and the jigs ended up being the bait that worked the best for me this trip. I only fished from 10-2 both days and I caught close to 50 fish during both days. Most of the fish were in the 2-3 pound range with a couple 5 plus (pictures are in the forums). All in all it was a great couple days on the lake I wish I would have got a little more time on the water but a great trip all in all. Glad to see the Jig bite is getting really good again.
Saturday, June 17th, 2017
Water Temp: 71-75

Water Clarity: Stained (2-4 foot visibility)

Report: SO - clum - you caused the wind! I guided Thursday and Friday - day trips - with horrible wind both days, all day!! Huge rollers! Could only find some protected areas to fish. I had 3 clients on Thurs and they all caught a lot of bass - biggest at 5 lbs. All the dinks that had been pestering us have disappeared for the time being. They caught about 25 to 30 between them, many in the 3 to 4 lb range with a few bigger. Friday I had my 2 clients working the east side of the lower lake - trying to find some wind protected areas. I think the bass had the same idea since the bite was the best I have seen in recent memory. Clients started off at 6 am catching quality bass up to 4 1/2 lbs and the bite never stopped by the time we quit at 2 pm! I lost count of the bass they caught - well over 50 with only 1 dink! The limits were well over 20 lbs both days. Finally, these trips, only one or two crappie!! Nearly all the bass caught both days were from 3 to 15 feet - a few down to 20 feet. Bass were everywhere - docks, retaining walls, points, and weed edges. The weeds are forming but not bad yet. Lake is green at Red Bud area but fairly clear a little further north. We used 6 and 7 inch Robo worms most of the time with MM111 coming on strong! Morning Dawn is still good. Bass are beginning to look at beaver type baits also, along with the Yamamoto Flappin' Hog.

Tips: As clum found out - the night bite should get better as the months go by. When the weather settles and the water warms, topwater and frogs will come on strong, I could not figure out what caused the heavy winds both days. There was a small storm up north of the lake which could have caused the pressure change, and the winds. The nice thing was - air temp was only mid '80's both days!!
Thursday, June 15th, 2017
Water Temp: 68.6 - 70.4

Water Clarity: Stained (2-4 foot visibility)

Report: Got up here Sunday night & fished Monday, Tuesday night & Wednesday night. The lake is going off right now which is surprising as we arrived right after a small storm system. I can't tell how long this bite will last but it's been crazy the past few days. Brought my daughter this trip, caught around 30 Monday afternoon but they were all small 1.5 - 2.5 range. Got better at night best 5 going 22.2, lbs big fish was 6.9 but they were active. Tuesday was friggin nuts. Big jig bite, best 5 going 5.5, 6.11, 7.7, 7.9, & 9.5 for a 36 lbs 5 oz limit! We boated 23 & tanked a few more that might have been big. It was one of those nights when you set the hook, you know that it might be huge! They were strong, really heathy and active. Wednesday night was really windy & we had to work to keep the boat on our spots. Started pretty slow then picked up around 1:30 AM on Senkos & blades. We caught 12 in a few hours in the 2 - 3 lb range as we couldn't really concentrate on any given spot. At least they were still biting! We only fished south in Konocti this trip. The weeds aren't too bad yet, but with this upcoming heat wave, they should really bloom fast. The fish weren't all that deep, in the 5-8ft range. Jigs, Texas double wide & kinky beavers, senkos & blades all caught fish. Even got a few on crankbaits rolled slow. (used some Norman DD22's that I found in a drawer & threw them as I was fishing some really abrupt struture!) I don't know what this hot weather will bring, but if you get a chance to give it a try up here, stay safe & have a great time!

Tips: Every thing we fished, we fished slowly. Colors were some dark browns with red flakes (Big Texan!) They seemed to be in rocky structure & holding pretty close to shore. We were able to catch quite a few in each spot so they seem to be schooling up. They are in really good health with bright color & big bellies! I think that's why we didn't graph an abundance of bait fish; they're eating them up! The jig bite is great to run into, I think it will get better as the crawfish are now getting really active. We had to use heavy weights on Texas & jigs to deal with the wind. They picked up the bait & swam with it on occasion , so beware: that weed you think you're stuck on may very well be a big fish! All the reaction fish we caught hammered it, so pay attention or they will rip the rod out of your hands! Be back in a few weeks! Tight lines!
Sunday, June 4th, 2017
Water Temp: 70-74

Water Clarity: Stained (2-4 foot visibility)

Report: I took 3 young men to Clear Lake Saturday. They wanted a day on the water and hoped to catch some bass. They did - and some other species as well! This is the "new" Clear Lake - you never know what you are going to catch!! I had them using 6" Robo worms of various colors which motivated various species to bite. Lets see - they caught bluegill, several crappie, the token catfish - mud cat this time about 7 lbs - and many bass. Like yesterday at Berryessa, clients did better on quality bass in the afternoon. Weird! We fished the south end up to the narrows. Though one or two of them had not fished in a long time, their casting skills were quite good. So was their SNAGGING skill - LOL! They did find a lot of rocks, but hey, they were fishing along the bottom as they should. Those days happen. They did wind up with several bass in the 1 1/2 to 2 1/2 lb range.

Tips: We are in the summer pattern now - most of the south end water is green with a thin layer of algae while above Wheeler Point, the water is clean. Weeds are beginning to show in the shallows and tule lines are well-defined. There are still some very shallow quality bass as we saw a fellow catch a 5 1/2 pounder next to the tules. We took his picture - fun!!
Wednesday, May 24th, 2017
Water Temp: 70.5

Water Clarity: Stained (2-4 foot visibility)

Report: Finally get to write a decent fishing report! Fished Sun night thru Tues nite. Hit the water around 11PM Sunday & got into fish right of way. We fished at night, all south & primarily stayed in the Konocti area. It seems some of the fish are coming off post spawn & are starting to be more active. We ended Sun day night with 17 fish, best five going 29.12 highlighted by an 8.8, 6.12, & 6.6. Tried to change out that last 3.8 for a 3.12 to get over 30 lbs but we just could not get 'er done! They were hitting the Texas rigged double wide beaver, Yamamoto cut tail worm, blades, cranks, & a few on the jig. (big fish came on the jig!) No takers on the Senko. Colors were dark with some red in them. Oxblood worked really well for us! Monday nite was slower with only 8 fish, but we did manage four 6's with the rest around 2 lbs. Tues nite was the small fish night, we had to work for them & manages one 5.15 on a blade. I think the small system coming in started to affect the bite, when we get more stable weather, I think the bite will get more consistent!

Tips: Move around, we only had one spot where we caught more than one fish & throw a lot of different baits. They were up fairly close. The muck algae is starting to form, so you have to throw deep enough to avoid it, around 5 ft of depth or so. They seem to be hanging just off that weedline. Fished deep also to see if they were on rocky humps & did manage one 6lber in 18 ft of water, but for the most part, deeper water was pretty slow. All of the fish looked really healthy & I hope the jig bite picks up when the crawdads start to get active. I think they are getting more & more active & we will be back in 3 weeks to try it again! Stay safe & have fun!
Saturday, May 20th, 2017
Water Temp: 70-72

Water Clarity: Stained (2-4 foot visibility)

Report: I had another guide trip on Wed at Clear Lake and found the fishing to be better than my last few trips. The bite started slow but got goin' around 11 am. She brought some of her own equipment and baits. In addition to over 20 bass, we caught 2 bluegill (again!) and 2 crappie. We caught bass a little deeper this trip, down to 20 feet. Robo worms, Senkos, and Flappin' hogs worked best on this trip. We just stayed in the south end, fishing off-shore rock and a few docks.

Tips: It seems that most of the bass have moved off the bank by now. I think a good post-spawn bite should start soon and maybe last thru June - if - we ever get some normal weather! Starting to see some floating cover now down south. Topwater and frogs around the corner??
Saturday, May 13th, 2017
Water Temp: 59-63

Water Clarity: Stained (2-4 foot visibility)

Report: Man the bite has gone soft...still managed 31 with most in the 1-2.5 range. Biggest of the day was 4.5lbs. The wind was kicking our butts all day but stayed north all day so we avoided it as best as we could. Caught them on dropshot, jigs and crankbaits. Most of the fish are sitting in shallow cover. Didnt catch too many away from cover. Most bites came within a few feet of any exposed structure. Clear Lake is in dyer need of a string of hot days not followed by a massive cold front bringing rain and windy. The Bass have been banged around by this weather and most are still well in the spawn. The weather looks promising the next couple weeks so fingers crossed.

Tips: Stay North and fish slow
Thursday, May 11th, 2017
Water Temp: 70-74

Water Clarity: Stained (2-4 foot visibility)

Report: I had 2 guide trips - Tues and Wed - with typical Clear lake weather. Tues was very warm and the lake was FLAT most of the day. Wed the cold front came in with south winds and lots of white caps!! And we wonder why the fishing has been "interesting" this year? Tuesday my client did well, landing several bass in the 2 1/2 to 3 1/4 lb range. Could not find any willing larger bass. All the bigger bass my friend and I caught last week were no where to be found this week. Wed I took a fellow who just got off the plane from Japan to fish with my previous client who now lives in the bay area but is also from Japan. They had a nice trip and caught everything including 2 bluegill, crappie, several bass up to 2 1/4 lbs and the battle of all battles - landing a 15+ lb catfish on ultra-light tackle! I took a nap while he was fighting her - LOL!! It took him about a minute a pound to land her - about 14-15 minutes. That was something to watch!! Actually he did a great job to land her and was a happy camper!! A little earlier on the same rocky area, I was able to put a 5.1 lb bass in the boat. The wind made fishing difficult and slowed the bite a lot. Tues, we saw small bass and panfish everywhere around the lake. Wed we could not see any of those fish as they were all tucked in shallow cover.

Tips: I cannot give any tips on the baits my clients used as they were totally self-contained with their Japanese baits and ultra-light outfits. The great thing is that if they were making fun of my Robo worms, I couldn't understand them, They spoke Japanese all day! They were both great casters and worked their baits very effectively! Tuesday we had a lot of success on Robo worms but I am too embarrassed to tell you what color - yet! More on the water tests! Senkos worked as usual. Tuesday we both lost a big bass - not sure why. I was sorry that the south end wasn't any better. The better days may be just ahead - or - many of the southern bass have been moved to the north. Naw, that wouldn't happen.
Friday, May 5th, 2017
Water Temp: 68-74

Water Clarity: Stained (2-4 foot visibility)

Report: First time ever fishing Clearlake May 1 to 4. The guy's at Clearlake Bait & Tackle said the bass bite was very slow and recommended fishing for crappie as they're biting very well. We did spend some time fishing for bass, caught a few 4.5 lb bass and one 10 lb bass on live minnows. I threw lots of keitech swimbaits and only caught a few 8" bass. All our bass were in the konocti bay. Others were saying there are fish on beds on the north but they weren't more specific. We threw the small keitech easy shiners in electric shad and couldn't keep the crappie off our hooks. Average size for crappie 1.2 lbs. Crappie are biting pretty much everywhere on the lake. There are lots of shad right now as well so not sure if that is whats slowing down the bite or not. Good luck and tight lines!

Water Temp: 71-74

Water Clarity: Stained (2-4 foot visibility)

Report: A friend and I fished the lake from 5:30 pm 'til about 11 pm. We did well in the lake afternoon, catching bass from 3 inches to 5 1/2 lbs - and my 4" bluegill that took a Robo worm. We did see a huge bass - maybe 10 lb class - and the 4 lb male on a bed. He caught the male! We put together a 20 lb limit and maybe 30 bass total. As evening came, the famous flying Clear Lake gnats made their first summer appearance for us. I don't think I have ever seen as much surface activity at Clear Lake as I saw until dark. Fish of all sizes were on the surface feeding on the gnats and maybe some baitfish. You see that type of feeding at other lakes, but not so much at Clear Lake. It was happening on-shore and off-shore! After dark, the bite totally died - nothing. We left!!

Tips: We fished many of our favorite areas of the south end. Rocky areas and tulle lines held bass of all sizes. All bass were caught in the top 10 feet of water. Areas that were protected from the north winds were the best. It was a special day as the wind was from 0 to 5 mph. Yes, it does happen once in awhile!! Senkos, Yamamaoto Flappin' hogs, and beaver type baits seemed to work the best. We tried to fish afternoon shadows as much as possible, so no sight fishing. Lake level is still very high, around 7 1/4 to 7 1/2 feet. Did not see any debris on the water.
Saturday, April 22nd, 2017
Water Temp: 58-62

Water Clarity: Stained (2-4 foot visibility)

Report: Fish are in the Spawn. Talked to a couple guys in the Wild West Tourney and Clear Lake Outdoors, they all said the same, the bite is TOUGH. Lots of bass up in the shallows but have no interest in biting. Threw everything under the sun and the only thing they would have some interest in was a drop shot Robo. Bite did get better in the afternoon but, it still wasnt as good as weeks prior. Fished North Lake, didn't travel past Soda Bay. Hopefully the weather stays in a warming pattern and the fish get out of the Spawn soon. Please remember to post reports of the lake. It helps everyone have more success on the water. Plenty of fish to go around.
Thursday, April 6th, 2017
Water Temp: 59-62

Water Clarity: Clear (4+ foot visibility)

Report: Fished 4/2 - 4/5, Sunday evening to Wednesday evening & to sum it all up in a nutshell, it was very slow. We usually fish south, but ventured north on Monday & the bite was pretty much non existant for us! There are huge schools & tight balls of Threadfin Shad all over the south portion of the lake. The conditions were good & the few fish we caught were literally stuffed! We were here a few weeks ago & did pretty well & I thought we were going to run into a "lights out" bite this trip, but I was wrong. We threw Senkos, blades, cranks, all kinds of Texas rigged plastics, ripbaits, swinbaits, jigs ect & could not get anything going! I hate to write a report like this & I hope it was just us! Will be back to give it another shot in 2 or 3 weeks!

Tips: We went to Lake Mendocino on Tuesday as I figured we had nothing to lose & ran into a great Smallmouth bite there! I post a report there! As for Clear Lake, I have none this time!
Sunday, March 12th, 2017
Water Temp: 54-62

Water Clarity: Clear (4+ foot visibility)

Report: Fished for three days & nights starting on Sunday the 12th. Pretty calm conditions. The evenings produced larger fish & the days more strikes. We fished south in Konocti Bay & Buckingham.Ted caught a 9.4, 8.8, & 6.7 for the trip, all at night around 2AM. They were hitting Texas rigged Flapping Hogs in Watermelon/Red Flake with the most consistency with strikes on the Kreaturebait & Double Wide Beaver also. During the day, they actually hit Senkos & also a few Crankbait fish. Most of the day fish were in the 2-3.5 range, I think they were mostly males staging. The best day was Tuesday which was the warmest & the water temp climbed into the 60's. The strikes were very subtle as most fish were just picking up the bait & running with it. Our best limit was around 20 lbs as we could not string any of the big fish together. A lot of that was due to me as I lost more than my fair share of good bites! I was snakebit this trip. Could be the speeding ticket I got pulling into Clearlake jinxed me! Lol. Ted had to carry the load! There were no blade, jig, or swimbait bite for us which was suprising; especially the lack of jig bite for us. It's usually one of the most consistent techniques. Also threw jerkbaits but no takers. All of the fish were fat & happy, there's a ton of baitfish in the water. Not a bad trip for early in the season.

Tips: Move around until you run into fish. We were fishing slow as faster didn't get us any strikes! We were fishing an area in Konocti in front of a trailer & caught 6 fish one right after another. Then it took us 4 more spots until we got another bite. You just have to find them. Monday they were under docks in 14-20 ft, Tuesday they were shallower toward walls & structure. All of the structure I'm used to is under water right now, so you have to fish varying depths to find them. A small system came in Weds & slowed things down so I bet it's day to day for awhile. Coming back in a few weeks to see if the bites improving before spawn hits! Good luck & be safe!
Friday, March 10th, 2017
Water Temp: 52-57

Water Clarity: Stained (2-4 foot visibility)

Report: Launched out of 3rd street ramp. Surprisingly we saw only 15-20 boats on the lake all day and we travels from Lakeport down to south lake. Water was at 52 degrees in the morning and jumped up to 58 around 4pm. Water was remarkably clear, i've never seen the clarity in the narrows like that which is a good sign. Bite was a little tough in the morning with most of the fish caught on an A-rig. Debris was not as bad as i expected, only debris we had to watch out for was the east part of north lake. When the water temp hit 55 the bite came on hard! Hitting Drop shot, Jigs, underspins and the A rig. Most fish came at around 10-15 foot mostly around the docks at their furthest pillars. We did catch fish in the shallows when the water temp went up. They should be in the shallows soon. North lake produced the most bites. The bite should only get better as the warm temp heats the water up. Remember no wake 1/4 mile from shore. The marshall was patrolling most of the day. Happy Hunting! Fish on!

Tips: Don't wait until the last minute to get back to the dock. 5th st. ramp is closed so when the sun sets and everyone came in at the same time, it was traffic jam at the ramp. By the time you get on trailer, it will be dark.
Tuesday, February 7th, 2017
Report: by clearlakeoutdoors » Tue Feb 07, 2017 12:04 pm

Ok guys the county had a meeting today and came up with new regulations. They imposed a no wake zone out to 2500 ft off shore.There is still alot of debris out there so i would not suggest running wide open out there.
DO NOT RUN THE BANKS FAST OR THEY MIGHT CLOSE THE LAKE.
Midlake remains fish able and the crappie bite is taking off .
No news on county ramps opening but State park and Konocti vista ramps are open
Dave

Report: DanIsaac » Tue Feb 07, 2017 9:15 pm

Clear Lake this week 2/7/2017

Wow, what a past couple days. Lake level is now at 8.69 Rumsey and climbing.
Predictors have it topping off at 9 Rumsey or above by Thursday afternoon, coming with that minor to moderate low level flooding.

Updates on the reduced speed are varying, though Dave at Clear Lake Outdoors has reported the County has modified its previous guidelines, having lifted the 5 mph limit 2500 feet from shore.

This basically translates into idling out away from the launch facility into the middle of the lake, where you can then proceed on plane. You then must shut down once again 2500 feet from shore when you arrive at your destination. I still advise you to proceed with caution as even more debris fields have developed around the lake with the rising waters.

All County ramps remain CLOSED at this time, with State Park, Konocti Vista, and Red Bud remaining OPEN.

Ok, fishing report. Fishing has been good one day and then bad the next with regularity.
Fish have been averaging 2-3 pounds with an occasional 5-7 pounder for most. A-Rigs, LV500s, TN70s, and jigs have all been doing their fair share of damage. Pick your poison as they say!

Once this crazy weather breaks and we have a continued warming trend, with clearing waters, I suspect the bite will improve dramatically for quality fish. I would expect that is still a couple of weeks away though, but only time will tell.

Still spring is not too far away. Hang in, we'll get there!...;)
Monday, January 23rd, 2017
Report: Clear Lake this week 1/23/2017

Well, as I sit to write this the rain is beginning to hit the skylights once again. We could use a serious break no doubt. This past week as the rain did subside one could actually catch a few fish here and there. Still, water temperatures continue to hover in the low to mid 40s, and as the water clarity continues to decline, both are adding to what I would still characterize as a tough bite.

However, right now the bite is not the main issue as the lake continues to rise and creep closer to "9" Rumsey and trouble for some who reside around the lake. To this point the near 17 inches of rain already received since January 1st has been more of a blessing than nuisance.

Unfortunately, from this point on real concern should not be merely dismissed as unfounded. The lake currently sits at 8.31 Rumsey and will most likely continue to rise from all of the run-off despite the current flows at Cache Creek Dam.

Having driven through the valley this past Saturday it was quite easy to see why Yolo County cannot just increase the flows to max in order to lower the lake quicker. Any further release would just have nowhere to go with all of the overflows currently downstream in the valley.

Conditions around the lake vary of course depending on where you are. Creek mouths are pretty bad as flows continue to be quite impressive, as is the size of some of the debris seen floating merrily along here and there. Sufficed to say you don't have to back down into any of the ramps around the lake as nearly all are topped out.

Forecasts for continuing rain will most likely continue to contribute to worsening conditions and at some point this week I would not be surprised if the lake was not closed should it get to or past "9" Rumsey. I'll try and get that info up asap should it occur.

I personally doubt that will happen, then again, I don't think anyone expected to get more than half of last year's rain total in just 23 days either so stay tuned.

My schedule remains open this week and next. Anyone considering reel service should get them sent in now before the rush in February begins. Please feel free to call anytime if I can answer any questions. I now provide service on Shimano, Revo, Lews, Daiwa, and BPS products.