Clear Lake and Reports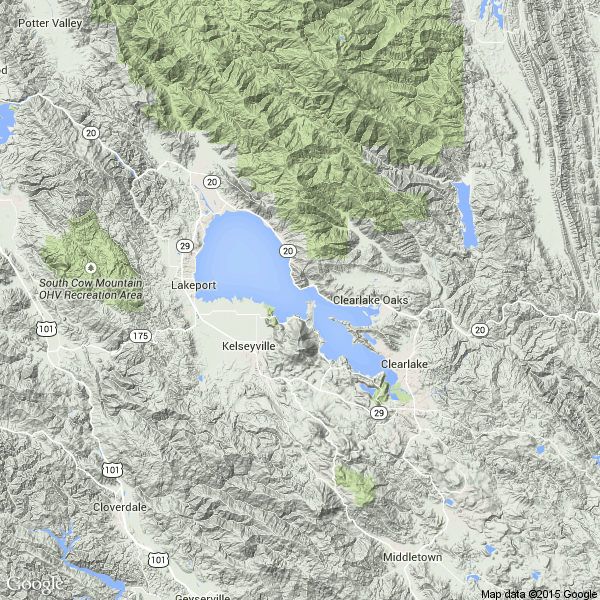 Click for Navionics/Google interactive map
Saturday, Feb 17


Friday, May 27th, 2016
Report: Clear Lake this Holiday Weekend

Lake level is 6.57 Rumsey, and with the weather stabilizing and the warmer temperatures, the bit is improving daily.
Top water frogs, hollow as well as solid along with jigs are all beginning to produce better numbers, as well as quality, as does the drop-shot.

Rattlesnake, the south Keys, and Rocky Point areas of the lake are all kicking out fish.
Another encouraging sign the post-spawn may be winding down, at least for the majority of the fish that have already done their thing, is that the crank bite is also beginning to take hold.

Water conditions have improved immensely as well. Algae at this time is at a minimum, and with the decreased winds, one can get around without too much trouble.

The crappie bite is on fire in the Rattlesnake arm so if you want to get the kids on an afternoon bite they are there for the taking. Any of the usually set ups will work on these lil battlers, bobber or non-bobber, both are working equally well.

Overall, with the forecast for nice weather this would be the weekend to get up here and run around.
ReelEx, your source for quality, professional service on your Shimano reels.
Guaranteed 96 hr turnaround on service.
650-454-4938 www.reel-ex.com
Thursday, May 26th, 2016
Water Temp: 68

Water Clarity: Stained (2-4 foot visibility)

Report: Started today at 10am out at rattlesnake island then moved into the keys at 1pm. The fishing was very slow. The fish where chewing very softly. Started off in 15 feet of water looking for a jig bite for nothing and moved to drop shot. Started to catch straight away with small fish. I did catch a 16 lb 10 oz catfish on the dropshot. By mid day the fish moved to the back of the reeds. The fish seemed to be chasing Bluegils and Shad. The fish that I caught seemed to be around the gil beds. I did not catch any big fish though. Once we moved into the Keys we caught fish under docks but no size all 2-3 lb fish.

Tips: Drop shot early in open water around the weeds in 15 feet water with shallow weed beds.
Monday, May 23rd, 2016
Report: Clear Lake this week 5/23/2016

Well, June is nearly upon us and this has to be one the most unusual Springs we've seen in a long time. If it's not the wind, it's the lack of water clarity, or grey skies, or rising water etc. etc. etc. One way or the other you've had to be versatile to say the least in order to be successful to this point, and yes, if you haven't had a spinning rod on your deck, at some point during the day you wish you had.

Now approaching the Summer, it will be interesting to see how things develop as our lil green friends begin to come out of their post spawn blues, which from the looks of things just might be happening now as witnessed by this weekend's BBT event on Saturday. Eighty boats participated and it took 33lbs. to take the victory, and nearly 21 lbs to crack the top 10. Looking closer, the number of 5 lb plus fish weighed in was much higher than the past couple events held here, twenty teams weighed in at least one 5 lb plus fish. Not bad!

Meanwhile, while the water level continues to drop, and is now 6.2 or so Rumsey, I would suspect the rock piles should begin to hold some more numbers of fish willing to eat, and the flats will definitely start kicking out some top water fish if this past weekend is any indication.


North, South, East, or West? Well, that would be the question of the week, but considering the North end went first, it should also be the first area the fish begin to start chasing in earnest. Finding schooling fish chasing bait would be my early morning hope, and I'd start focusing on docks and top water weed areas as the afternoon progresses.

Underspins, Dropshots, Frogs, Buzzbaits, and smaller Jerkbaits have all been catching fish. Move around and cover water to find the more productive areas, don't grind it out, move around and cover water and you should be able to find the more productive areas. Hint, it can change on a daily basis, so look around!

Weather forecasts for this week are for milder temps, lighter winds and some cloud cover so top water would be my first choice, and a drop shot around docks would be my second pick, but that's me!
ReelEx, your source for quality, professional service on your Shimano reels.
Guaranteed 96 hr turnaround on service.
650-454-4938 www.reel-ex.com
Wednesday, May 18th, 2016
Report: lear Lake this week 5/18/2016

Water Conditions

This week we find the lake level at 6.88 Rumsey and falling.

Water clarity is poor to very poor, with a very bad algae bloom covering most of the lake by noon, especially up north.

Water temperatures are 68-76 degrees.

Fishing

Reports have the lake fishing extremely tough as witnessed by the lower weights than normal at both the BBT and ABA events held here last weekend.

We are definitely feeling the effects of post spawm, and when it will end is anyone's guess.

Giant crappie still biting bass baits BEWARE!

Baits

Buzzbaits, spooks, frogs and underspins lead the pack, with dropshots and senkos around docks filling out the reports.

Summary

Having just driven down Highway 5 this week, I'd seriously consider taking a trip to Lake Shasta. The bite is good and the water conditions are the best they've been in 7 years. This bite here will bounce back but it will probably take a couple weeks. Something about clear blue water! I couldn't resist and stopped for a couple of hours.
Glad I did.

I have to apologize for missing last weeks report as I was out of the country and forgot to publish it before I left.

Resized_20160518_220818.jpeg
Photo courtesy of Clearlake Family Guide Service
ReelEx, your source for quality, professional service on your Shimano reels.
Guaranteed 96 hr turnaround on service.
650-454-4938 www.reel-ex.com
Saturday, May 14th, 2016
Water Temp: 64-65

Water Clarity: Stained (2-4 foot visibility)

Report: One often hears, and rightfully so, how well smallies and spots fight compared to largemouth. Of course, largemouth can make up some of the with a weight advantage. I have written in articles before that hooking a female largemouth a month or two after they have spawned, will often give you a fight that will amaze - IF - you are skilled enough to land her. I experienced that yesterday at Clear Lake with a slimmed-down 6-1 female bass. I did have a medium action rod, but it took forever to get her in the net. Both big bass would not quit!! Some of my clients and I have experienced that several times, as well as some of you! My clients yesterday were a great father/daughter team. We worked with her during the day making her a pretty good caster at the end of the trip. They got into a good bite right away (she was wide awake when I met them at 6:30 am!) and she started catching bass right away. Unfortunately, unlike the last cloudy-all-day trip, the good bite didn't last too long at the bright sun took over. The early bite was good on Robo worms while the 2 big bass were caught around noon, on Senkos. Maybe the cold-front wind that started around 11 am might have triggered a bigger bass bite. Who knows. Dad got a nice bass a little over 3 1/2 lbs, and our best 5 was near 16 lbs.

Tips: The 2 biggest bass were very shallow. The bigger one was on the edge of a tulle line - in the middle of nowhere! We just stayed in the Clearlake arm - fishing mostly rock and tulles.
Sunday, May 8th, 2016
Water Temp: 63-65

Water Clarity: Stained (2-4 foot visibility)

Report: I did a 2 boat guide trip yesterday - I guess I was the lead boat - we took turns!! We just fished the Clearlake arm in a very dark, cloudy, but rain-free day. Fishing for dinks was lively all day with quality bites early. My crew (two 20 year olds) caught a ton of bass up to 2 1/4 lbs, but lost 3 good ones. The biggest one that was lost was not his fault - she hit right at the boat. When I grabbed the net I wasn't confident she would stay on - and she didn't. Their dad and 2 other men took the prize with an 8 1/2 pounder, but was the only big one they caught. We all watched them release her - always a cool sight. The lake was dead calm most of the day - and calm boat-wise. No tourneys I guess.

Tips: We caught some on worms, but the 5" Senkos were our top bait for sure. Didn't matter what color we used - they wanted them!! Interesting - #222 was the best color. I don't usually use that until summer. Maybe the bright color on a dark day was a key. All our bass were in the top 15 feet, and some very shallow. That will probably change with bright sunny days coming up.
Wednesday, May 4th, 2016
Report: Water conditions

Lake level is at 7.30 Rumsey, with flows at Cache Creek Dam at approximately
500 cfps. The lake is beginning to see some effects from the high winds and the water draws, as one can begin to see the difference from one week to another now.

Surface temps 58-64 degrees.

Water clarity is poor to fair, and I would average at approximately 2-3 feet in most areas around the lake.

Fishing

Fishing continues to be on and off for most with the minnow dunkers really out performing most, as there's obviously all three stages of the spawn going now. Fry can be seen almost everywhere around the lake, and most of the fish we have been catching are indeed post-spawn.

However, as I mentioned we've experienced all three spring phases this past week.
One, there's been a bit of a rip bait bite here and there for what appeared to be all pre-spawn fish. Second, crawl up and behind the tules and trees and one can also find some bedding fish as well, at least where the water clarity allows. Yes they're shallow, in 1-2 feet or water. Third, it's time to pull out the frog and buzz bait. Cover enough water with either or both, and you will not be disappointed.

The Bite

Overall, I'd rate the bite at fair to good, and yes, north still continues to dominate conversations. Personally, I think we're in a post spawn phase with the majority of the bigger fish having already gone, tough I still think there's a big wave yet to come this month as we're just not seeing a ton of cruising, or sunning fish anywhere.

This has indeed been a strange spring, and I think it's really shuffled the fish around timing wise. So I guess time will tell. Personally, I suspect the reaction bite will begin to really come on strong in the coming week(s) as the second wave should be about ready to start chewing.

I believe most of the FLW fish were first phasers, and I suspect phase two should really start chasing anytime now if I'm correct. If so, that would mean we could probably see spawn fish through June like the ole days, with a big time crank bite to come thereafter.
I sure hope that's the case.

Forecast

With the weather turmoil of late and the forecast for much of the same, I'd come prepared to "junk fish".

Baits

Underspins, drop shots, carolina rigs, senkos, wake baits, jerk baits, buzz baits or frogs!
One of em' will get ya bit. So, get out there and get after them, and good luck!
Resized_20160502_142905.jpeg
watch out for these fellas, they're everywhere
ReelEx, your source for quality, professional service on your Shimano reels.
Guaranteed 96 hr turnaround on service.
650-454-4938 www.reel-ex.com
Monday, April 25th, 2016
Report: Well, another big tourney come and gone, and with it, our stable weather! While the lake is at 7.46 Rumsey, just below full pool, the wind and rain continue to muddle up what was once a promising spring bite. Water clarity has suffered immensely, as has the day time water temps, now hovering in the low 60 degree range.

FLW anglers got to experience a little bit of everything last week and through the finals Saturday, and as expected, the post spawn fish looked to have made the difference. One could hope for a big bed fish and there were a few caught, but from the looks of it, post spawners were not all that hard to find, and most were willing if the right offering was made.

The fish being bait related the birds and the dark colored bait schools would show most the way to some decent bags. I know the eventual winner stated he was throwing a combination of a-rigs and underspins, and that seemed to be the pattern at least half of the top ten was chasing, and I know for certain what third place finisher Wade Curtiss was chasing as well, underspin Keitechs and stand up jigs with Lil Creeper Sunfish. Underspin jigs with a 3.8 Keitech for the bait chasers, and stand up jigs tipped with a Lil Creeper Sunfish for the bed fish. I also know he's now missing a few he thought he had. Just kidding, he was nice enough though to leave a few before heading home. Wade has his own line of jigs and swimming baits, and he can be reached on the internet @ Ladies Man Custom Baits, or by text at 949-735-2943. Check his baits out, quality made custom, according to your specifications; color, size, hook etc. etc.

Now for the forecast; already winds have taken their toll on anglers both yesterday as
well as today. Extremely high winds and big water took this boat and it's anglers by
surprise and they were lucky to be able to walk away. Their boat, not quite so lucky, and
these kind of occurrences happen all of the time up here. When this water does get big
up here it is usually extremely hard to get up on top of, so my advice is DO NOT try.
Stick your bow up in the air and take your time. Better to get back in one piece than risk
this here. That said, I'm sure this happened so fast they didn't have much of a chance.
One more tip, should something like this happen to you, try and stay calm, do not panic,
and check you kill switch if you're motor will not re-fire. Trust me, I've been there!
Hopefully the remainder of the week will go as forecast and we will begin to see some
warmer, more stable weather come our way. Once it does, I suspect the bite is gonna pick
up, especially down south, or at least we can hope!

ReelEx, your source for quality, professional service on your Shimano reels.
Guaranteed 96 hr turnaround on service.
650-454-4938 www.reel-ex.com
Wednesday, April 20th, 2016
Water Temp: 68=70

Water Clarity: Stained (2-4 foot visibility)

Report: I took a father/son team visiting from the mid-west yesterday. They wanted to see and fish the lake. I'm sure they saw more bass boats in one day than they would in a year back home!! We visited all three arms, fishing different on shore and off shore structure. They caught a lot of bass - several keepers, but nothing big. Dad tried a sort of buzz-bait technique with a plastic bait he was using. Kind of a weird technique, but several large bass came up to look, No takers however. The lake is in beautiful shape and weather was perfect. The 3 day tournament will provide a variety of weather patterns - probably with some wind and rain.

Tips: No tips before a major tournament.
Monday, April 18th, 2016
Report: Yep, FLW is in town this week, and with the Lake at 7.59 feet Rumsey anglers are running around everywhere just hoping to figure something out, but it is not easy, and I guarantee you it isn't what most expected. Really? Absolutely, this place has spun more than one good stick out this past 4 or 5 days, and what's to come offers even more challenges.

Water temps are now in the low to high 60's with an area or two reaching into the 70's.
Bait is everywhere, mainly shad and fry is all over the place. So, obviously February did indeed harbor some illicit activity in the tules. As a result we have some pre-spawners, some spawners, and a ton of post spawn fish around the lake. I suspect the later will play a larger role than the others when it comes to this week's event, just as I suspect it did this past weekend when CTT was here.

The coming forecast for the remainder of the week is warm through Thursday with possible rain on Friday and Saturday. The other twist I eluded to earlier. What's going to be the result? Well, with the continued poor bite down south, I'd expect the north end to get fairly crowded, but who knows, this one is gonna be a tough one to call.

We made it out today for a six hour trip and we had to work for our 24 lbs of bed fish, and I mean work. Six fish total for six hours. Not your typical mid-April by any means,
still, this lake has not been this alive in 10 or 15 years. There's shad everywhere, tule perch, hitch, crappie, bluegill, black fish, silversides, and yes an occasional bed fish.

All we need now is some clean water and calm winds……..it'll happen!
ReelEx, your source for quality, professional service on your Shimano reels.
Guaranteed 96 hr turnaround on service.
650-454-4938 www.reel-ex.com
Monday, April 11th, 2016
Report: Clear Lake this week 4/11/2016

Today the lake level rests at 7.64 Rumsey, above full pool of 7.53. Flows have been reduced to approx. 175cfps at Cache Creek Dam.

Water temps continue to range from 60 degrees up to 68 degrees on sunny afternoons.

Clarity continues to change daily as a result of the afternoon S,SE winds which have resulted in some significant wave action hitting the entire N, and NE corner of the lake, while other areas of the lake are dealing with pollen issues along the banks.

These conditions along with the overcast and rainy skies have limited the bed fishing action of the past couple of weeks, and drop shotting, Carolina rigs, and jerk baits have begun adding numbers to one's limit. While these fish remain on the slighter end of the scale, say 2-3lbs. it is the most consistent bite right now. The exception is when you can find cleaner water and the sun comes out. When that happens there are some good fish shallow.

This week we have CTT here on the weekend, and the warmer, sunny skies should at least help some put 25+ lbs in the live well. FLW follows CTT next week, and with the forcasted sunny week, this one could be be a shoot-out. Still, in general the bite remains "haves and have-nots" when it comes to quality, and for the most part, the south end bite remains shut-down compared to most springs, as does the Rattlesnake arm.

Obviously, this is in direct conflict with most springs. However, the bait has finally begun to break up, and I suspect we will see a dramatic improvement in the bite down south and in Rattlesnake once the water clarity improves.

So, with the coming warm weather, and rising moon, the end of April could really be something special. Be safe and watch for debris which continues to move around the lake. Hope ya catch a bigun'!
Monday, April 4th, 2016
Report: This week we find much of the same around the lake. Have's and have nots….

Yes, it's that time of year when the fish move to the bank and get picky, unless you are throwing a minnow.

Minnow anglers are stacking up some impressive numbers and one guide reported he had clients that went through ten dozen minnows on one recent trip last week. Most fish ran 3-5 lbs but they had a couple of 8 plusses to go with them.

A-rigs and SWavers continue to do their part as long as you don't have a ton of company on the water you're attempting to fish. The fish are on the spooky side with all of the boat traffic and quiet is definitely a huge bonus if you can find it.

Bed fishing is also beginning in earnest with a ton of fish under the docks as well as along young tule edges. Grab the Costas and go for a look once you finish your morning
reaction run.

The best areas remain mid-lake north as the south end continues to be on lockdown for the most part. Everyone asks, "what about down south"? Answer, it's just not there.
The water temp is there, and conditions are optimal, but the overabundance of shad continues to hold the bass hostage.

Second most asked question; "how about the keys, or Rattlesnake"? Just like the south end, everything says yes, the fish continue to say no.

Forecast? I would say more of the same, especially with the coming heat and rain; I believe the bed fishing will really continue to gain strength and the "junk fishing" will begin to wane.

Lake level is currently at 7.66 Rumsey and flows have been reduced to 412 cfps.

In closing, I would rig a spinning rod for some crappie action as there's literally thousands of bedding crappie everywhere on lake, and trust me, there are some giants!

We go 5 years without seeing a crappie and this year there are literally hundreds of thousands around the lake……sound familiar? Keep your eyes open for hitch, they're around too!
Monday, March 28th, 2016
Report: Clear Lake this week 3/20/16

Ok, the usual, Lake level is 7.77 Rumsey as of this writing with releases at a very high 2000cfps. Water is 52-64 depending on time of day and sun. I'll call the "bite" fair
to good.

That said, what a week of weather and fishing. We've seen both the best and worst of both. Nonetheless, LCCC held its yearly event this past weekend and 108 boats brought nearly 3000 lbs of fish to the scales over the course of the two day event, with 13 fish over 8 lbs and 6 fish over 10lbs. It's been a number of years since we've seen that kind of quality.

I snuck out Friday afternoon for 4 or 5 hours and found water from 56 to 64 degrees, and as you would expect, fish in a variety of stages. I even managed to boat the first two bedfish of the year, so it wasn't a total bust. Our "junk fishing" efforts produced nine or so fish from 1-7pm , with the best five at around 28lb. Flipping, LV's and small swimbaits were our top 3 performers.

What would I expect for the coming week? More of the same most likely? Either way, one has a legit shot at a DD this coming week, and that in itself should get ya out on the water. Just be careful though, WON BASS is holding its Open event here Monday through Friday, so there will be mucho boats with mucho debris floating about randomly so please be exercise caution, especially up north.

Hint, if you don't have a glide bait or two, stop by one of the local shops here and get one!
ReelEx, your source for quality, professional service on your Shimano reels.
Guaranteed 96 hr turnaround on service.
650-454-4938 www.reel-ex.com

Report: lear Lake this week 3/28/2016

Happy belated Easter to all, I hope everyone had a great weekend. I know the weather up here was awesome!

This week we find the lake at 7.83 Rumsey, so we are beyond full pool for this first time in some 3 years or so. Water flows at Cache Creek have been reduced to right around
1000cfs, down from nearly 3000cfs last week.

How bout the fishing? Well, as witnessed by the tournament here last week, this lake is fishing as small as I have ever seen it. Whether its high water, abundance of bait, or just a lack of boat traffic down south. The south end is in a major lock down, and mid-lake north seems to be where everyone ends up.

I know three really good fishermen who spent several days trying different areas and different techniques down south with lil to no success. Everything is there for the bite to
Be off the hook; water temp, water color, etc etc, they just won't bite. I suspect the overabundance of bait is the culprit. Especially when you consider finding 60 degree water almost everywhere down south.

One good sign however is there are a few fish finally beginning to show up in the Rattlesnake arm. Still, it's far from where it should be here as well.

Up north we had no problem finding 60+ degree water in the afternoons, and while it can be tough some days (haves and have nots) at least the minnow guys are catching them pretty good up there.

In general, jigs fished close to cover, jerk baits, a-rigs, carolina rigs, and shakey heads will all get you bit. Quality? Just depends on the day as they say, but the big girls are definitely around. As tough as it has been, your still just one bite away from the fish of a lifetime, and it could happen on any cast this time of year.

We could use a week of calm winds and warm afternoons, and it will all change for good I believe, and just wait for May/June, we should finally see one of those famous Clear Lake topwater bites……….

In closing the Wednesday Night Shootout guys asked if I could post the schedule for this year. They begin next Wednesday night, and it's $35 per angler. Biggest bass wins!
Friday, March 18th, 2016
Report: clearlakeoutdoors » Fri Mar 18, 2016 5:11 am

I was out yesterday . There is clear water and there is muddy water ,your choice on what to fish.I had better swimbait bites in water that was stained. Water was in the mid 50s.
Monday, March 14th, 2016
Report: Clear Lake this week 3/14/2015


Well, as usual I am two weeks late with this. Whether the flu, or internet service issues, these past two weeks have been a challenge. Oh yeah, I will be doing this for the coming year once more. Thank you WBass.
Ok, on with it.

As of this morning the lake is at 7.53 Rumsey, with "full pool" being 7.56 we are there, and the lake will most likely see 8.0 Rumsey by weeks end. Water temps are in the low to mid 50's.

So, yes, as most have heard, Clear Lake has been at its finest since the first week in February. No, the rumors of 40 lb bags were not rumors. Trust me, I've seen more than one guide service put the hurt on em' to that tune, and I too was fortunate enough to have six big bags over a ten day period in mid February. We are truly spoiled when you find yourself amongst five or six other anglers, and you are complaining about a 34 lb bag.

This past weekend had some big weights and big fish weighed at the Fed event and Charlie Almassey had a GIANT this past Friday. I believe we will see some more of that short term, but with the lake becoming much more busy over the next month with the Lake Commerce, WON Bass, and FLW Costa, I suspect the big weights may become a
tad tougher to achieve. Still the fishing is quite good.

That's the way it was, and now with this rain and wind tapering off, I suspect a more stable bite over the next couple of weeks is to come.

To point, the lake being FULL is changing everything versus the past couple of years, especially up north. The lake is starting to fish as it had back in the early 2000's.

Swimbaits, LV500's, TN70's, Glidebaits, and ARigs have been the go to's this past month, and with the first wave already up, there should be a second push with the warming waters this week. Primetime fellas, now's the time!

Stay tuned!

Dan
ReelEx, your source for quality, professional service on your Shimano reels.
Guaranteed 96 hr turnaround on service.
650-454-4938 www.reel-ex.com
Thursday, February 25th, 2016
Report: From Clear Lake Outdoors

Lake is at 4.89 now so we still need some rain to fill it up (full is 7.56)
The rain and cold fronts dropped the water temps last weekend back in to 49 degree range but the warm days this week have brought it back in the 50 s.
Crappie limits everywhere!
Guys are getting fish on everything.Throw what you have confidence in.
Lv 500 ,jigs, ripbaits and swimbaits are getting the better fish.
Monday, February 15th, 2016
Report: From Clear Lake OUtdoors

Its been a amazing couple of weeks with the warm weather, just wish I could get out fishing!
Water was up to 56 degrees yesterday. I've heard of so many limits over 30 pounds I've lost count. Fish up to 14 pounds have been caught. I've even heard of some fish on frogs and spooks already.
Guys are coming in and saying its the best fishing they have ever had here. They are getting them on everything. Crappie limits everywhere and the Crappie have started to move shallow. The rain coming Wednesday thru Friday is going to be a warm storm so it shouldn't effect the bite , might even make the swimbait bite better!
Dave
Wednesday, February 10th, 2016
Water Temp: 51-52

Water Clarity: Stained (2-4 foot visibility)

Report: So, who says Clear Lake is always cold in the winter - I have!! Not yesterday though! What a beautiful afternoon. Buddy Mike and I started fishing about 4 pm, until about 9 pm. Just had to test it out after a month or so. The bite was ok, especially around dusk. We caught them from Jenson area to north of Henderson. The 9 we caught were from 10 inches to my 6.63 pounder. Mike had a 4 and a 6.36. Mine was soooooo much bigger - LOL!! We did have a little over 21 lbs for our 5 best, so the long trip home was good! The first one I caught - at Jenson - was a grown up dink - 14 inches! Those 10 and 11 inchers should be keepers this summer!

Tips: We caught our early bass on Senkos. Robo worms, and beavers. In spite of the warmth. all our bass, big and small, were over 20 feet deep. Mike's and my 6's were again caught on D&M Piranha swimjigs with Yamamoto Heart Tail trailers. Those are awesome trailers - and the big bass think so too!! It was my turn to miss two more big bites - both being right under the boat - which are often very hard to hook well. As is normal for this time of year, the bite really slowed down after 8 pm
Sunday, February 7th, 2016
Report: clearlakeoutdoors » Sun Feb 07, 2016 7:15 am

Lake is in great shape and fishing is good for 48 degree water. ABA today should have some good bags.Our local club tournament yesterday took 26 + to win. I took third with 20.87. Fish being caught on A rigs, swimbaits , Rattletraps, Jigs, Dropsot, Chatterbaits, ripbaits . If it stays warm the bite should really turn on this week.
Dave