New Melones Lake and Reports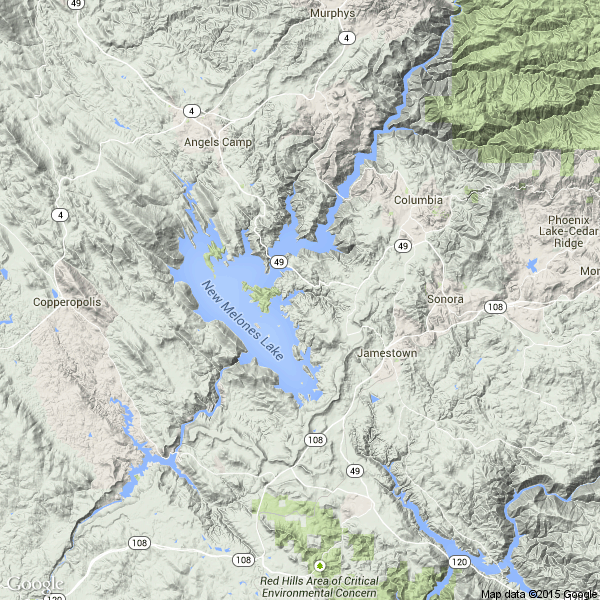 Click for Navionics/Google interactive map
Sunday, Feb 18
Storage

(ac. ft.)

Ouflow (ft.3/sec)
Inflow (ft.3/sec)
Precip.

(in.)

Evaporation (ft.3/sec)
1,960,422
1,475
577
0.00
39
Monday, Feb 19

Monday, January 21st, 2013
Water Temp: 50.9

Water Clarity: Clear (4+ foot visibility)

Report: Got on the water about 730 am, fished the damn all the way up the right side out to the point and fished left side up the river between the bridges and only caught 1 all day on 3/8 jig. We threw everything from Drop shot,Alabama rig,swimbait,crankbait,live bait,senko's....just everything. The only one we did catch was by the Dam in about 30ft. Super Tough!
City: Modesto

Tips: Cant really give any tips, because we didnt catch any!
Friday, November 2nd, 2012
Water Temp: 67

Water Clarity: Clear (4+ foot visibility)

Report: Fished the main lake as the baitfish have not made there way to the back of the creeks. caught fish throught the day on jigs and drop shot.In the morning the fish were feeding heavy on bait down in 25 to 30 feet if you have a good graph you can see the fish crashing through the bait, all you have to do then is hit them in the head and they would eat it.We did catch a few on jigs and spinnerbaits.
City: san lorenzo

Tips: use your electronics if you are not comfortable with them now is the time to go out because the fish are right where they should be, with the bait. keep your eyes peeled and look for the bait around mainlake points
Tuesday, July 17th, 2012
Water Temp: 75

Water Clarity: Stained (2-4 foot visibility)

Report: Started at 5:30 am, got some slaps on a spook, no hookups. Back seater on Dropshot with basstrix style worms started catching right away. Fish early am were on windy or deeper side of long tappered points. Switched to a small cranck and picked up fish inmediately. Moved arpund as bite slowed and picked up a few on underwater humps with a jig and the drpshot. Moved to a rocky bank with big boulders and sandy bottom and picked a school of very active fish, dartheaded 5 inch worm worked best. Great day out. 20+ fish around 9 lbs for best 5. This lake is healthy and fun to fish
City: Oakdale
Sunday, April 22nd, 2012
Water Temp: low 60's

Water Clarity: Clear (4+ foot visibility)

Report: Fished 4/17, 4/18, and 4/19 the soft plastic bite was fantastic. mostly threw wacky sinkos with a slow twitch retrieve. I noticed the east side was more productive than the west.dart heads,texas rigs also worked. In the end boated about 120 fish to 3 lbs. Great fun
City: berkeley

Tips: Get off your couch, Help your wife, than go fish!
Saturday, March 31st, 2012
Water Clarity: Muddy (0-2 foot visibility)

Report: some spots were nailed by trouters trolling crawlers. Local legend Willy targeted cats with whole troutheads and nailed a 20#er.
City: Twain Fart

Tips: If willy approaches you act like you def of he'll talk till your ears bleed.
Saturday, March 10th, 2012
Water Temp: 53-57

Water Clarity: Clear (4+ foot visibility)

Report: The fish are starting to move up. Still drop-shotting a lot of fish in deep water, but was pleased to catch a limit on rip baits , including a largemouth, on the bank real quick first thing. Water level good and stable for the last few weeks, should see a large wave of fish coming shallow soon

Tips: drop-shotting shad and natural colors 30-60 ft. is producing good numbers of small keepers. Rip fish were better quality.
Sunday, January 1st, 2012
Water Temp: 52

Water Clarity: Clear (4+ foot visibility)

Report: On the water at daylight - first stop on main lake point - hooked up with a double on dropshot, 2 1/2 and 3lb spots - fat and healthy, full of shad. Hooked 5 others in next 30 minutes.Fish in 60 ft water... double dropshot rig, most fish hitting upper bait in shad pattern. Several other smaller fish on Dropshot, hitting points up in Angles Creek and then good numbers past 49 bridge in Coyote creek - 60 ft water.25 fish total with best 5 going 12lb.
City: San Mateo

Tips: Dropshot deep and slow - shake and let sit - all pressure bites. Double Drop shot with craw pattern on bottom and shad pattern on top.
Saturday, December 31st, 2011
Water Temp: 51-56

Water Clarity: Clear (4+ foot visibility)

Report: got on the water around 7:30 fished until 2:30. Tried reaction in the morning nothing. around 10 start drop shotting deep 50' to 70'. Shad pattern worms. very slow and lite bite. had around 8.5lb
Saturday, September 3rd, 2011
Water Temp: 82

Water Clarity: Stained (2-4 foot visibility)

Report: Made two afternoon trips 9/1 and 9/3. Bite is not wide open ,but not bad. Best fish on 9/1 was a 3lb. spot and 9/3 was a 4 lb. spot. TYhe lake is super healthy and so are the fish. I have not seen summer bass this healthy in a long time. Lake is laoded with shad.
City: Sonora

Tips: Best fish came on 3/8 Sculpin and Xmas Tree Pro Guide Jigs. Best depth is 8 to 20 feet.
Saturday, July 16th, 2011
Water Temp: 75+

Water Clarity: Stained (2-4 foot visibility)

Report: The Modesto ambassadors held there July outing On saturday night. Blasting off at 6 pm, weighing at 12, and fishingagain at 1 am til 7am. Fishing was tough, with only 3 limits brought to the scales. Most reported catching there fish on worms and jigs. First place was Team Douglas/Barse with 9 fish for 14+ lbs.

Tips: Bite was slow with now reported topwater bite. If you are interested in becoming a member of the Modesto Ambassadors, check out our website for details.
Saturday, July 9th, 2011
Water Temp: 79-82

Water Clarity: Clear (4+ foot visibility)

Report: Hit the water at 5:45 am hoping for a Topwater bite...nothing, nada. Switched to medium crank baits and rattle traps, nothing on rattle traps and 2 small spots and 1 keeper on crank bait. Switched to drop shotting Robo worms until 1:00 pm, caught 23 fish but only 2 keepers; not sure where all th big fish went???Didn't hardly recoginize the lake, last time I was there was about 1+ years and all my usual fishing spots were no where to be seen except about 20+ feet down. Oh well had a nice moring on the lake and enjoyed the day.
City: Elk Grove
Wednesday, May 11th, 2011
Water Temp: 65-70

Water Clarity: Stained (2-4 foot visibility)

Report: WHERE ARE THE LARGIES? did find about 10 spots in a main lake cove holding on wood. Fished from 7am to 3pm. Caught a total of about 15 fish.
City: Castro Valley

Tips: no ryhme no reason. there is no pattern, fish seemed to mostly be suspended. tried jigs with no luck. dropshotting seemed to be the only way to catch any fish.
Monday, May 9th, 2011
Water Temp: 62 to 65

Water Clarity: Clear (4+ foot visibility)

Report: Daughter was visiting from Paris, so went fishing with Johhy C. as the guide. Had a great day, with some BIG spots (4 to 6 lbs.)& about 20 fish for the day.Using dart heads, & Senko's. It rained at the very last. Daughter would not hold the fish, because they BITE. Super Day.
City: Linden

Tips: Watch the Electronics. Look for pressure Bite, will not tap,tap,tap.
Wednesday, March 9th, 2011
Water Temp: 53-58

Water Clarity: Clear (4+ foot visibility)

Report: Got on the water around 1030 at Tuttletown and water is getting close to being at the top ramp. Havent fished New Melones since September but immediately caught a decent rainbow on a shad swimbait. Fished from 30'-50' but only brought one fish to the boat by 1pm. Started fishing shallower from the bank to 25' and began to catch bass. Biggest fish was only 3 lbs but it was a great looking largemouth. In the back of one cove the surface temp reached 58 degrees.

Tips: Tossed baby brush hogs, dropshot green-weenie magicworms, and once in awhile a roboworm ez-shad swimbait.
Saturday, October 2nd, 2010
Water Temp: 72

Water Clarity: Stained (2-4 foot visibility)

Report: 2 on top water popper, 2 on texas rigged greenie weenie. Lots of miss hits and thrown hooks. 1 on top water around 5pm before a fast, incoming storm forced everyone off the water. All were healthy 2-3 pounders barely hooked on the lip.
City: San Jose

Tips: Let them bite a millisecond longer before setting the hook. Wear your life vest. Afternoon was sunny/hot. Sunset storm caught everyone by surprise. Even the camp host wasn't expecting a sudden wind/rain storm.
Monday, August 23rd, 2010
Water Temp: 76

Water Clarity: Clear (4+ foot visibility)

Report: Fished mostly up river above Parrots ferry bridge. Top water popper bite great early on rock walls with wood. Crank bait bite decent mid day when wind picked up. Caught a few on texas rigged worms. Caught mostly small spots. Only two largemouth came up the coyote arm. One about a pound on Norman crank the other a three pounder on t-rigged worm. Where are all those nice 2 pound spots that used to hammer everything? Should I be fishing the main lake? Any advice would be welcome. Tightlines everyone!!
City: Bishop Ca.

Tips: If you want to get a kid hooked on fishing. Find wood on rock walls upriver, and throw topwater early.
Tuesday, June 29th, 2010
Water Temp: 71

Water Clarity: Stained (2-4 foot visibility)

Report: an ok day...caught a lot of smaller fish on drop shot and texas rigged worms. Nothing on top water in the morning. Fished the bridge piling and produced 5 keepers the largest 2.5 pounds. Lot of activity on the water as a trout derby was going on and water skiers in the afternoon, Over all caught 27 bass.
City: SACRAMENTO
Monday, June 14th, 2010
Water Temp: 70s

Water Clarity: Clear (4+ foot visibility)

Report: awesome day out on the kayak. caught 15 fish from between 6am and 1pm. biggest was almost 3 lbs. caught them on pretty much everything but the kitchen sink. guy about the float tube, go to the free launch ramp and just go up and down both sides of the bank. good luck!
City: modesto

Tips: throw it all, try everything u got
Tuesday, June 1st, 2010
Water Clarity: Muddy (0-2 foot visibility)

Report: Does anyone know of good areas to float tube here. Somebody's of mine will be camping here and I was inrterested in bringing my float tube. Thanks.
Sunday, May 16th, 2010
Water Temp: 61-66

Water Clarity: Clear (4+ foot visibility)

Report: began the morning off fishing timber using dropshot and topwater. nothing on topwater though we did catch five on dropshot then when the sun was up we moved into coves and points with wood using dropshots and jigs. caught about 10 until the bite slowed down then the wind picked and the bite went crazy caught 3 two pound largies in a row on consecutive cast down a creek channel. the largies r in lookin for beds. we decided to stick to this pattern and looked for creek channel with wood around them and as we were fishing we started seeing a bunch of fish suspended on the wood in the back of this coves and then a big with two huge laregmouth guarding it. soo we backed off and came back in and after 45 mins finally pissed her off enough to bit it turned out to be a 6 pounder.
City: castro valley

Tips: finished the day with 45 fish all using dropshots and jigs and senkos. sight fihsing was fun.in some spots u could see 20 ft down in others about a foot. using a watermeleon dropshot wrom and also shad patterns like holo shad.