Sonoma Lake and Reports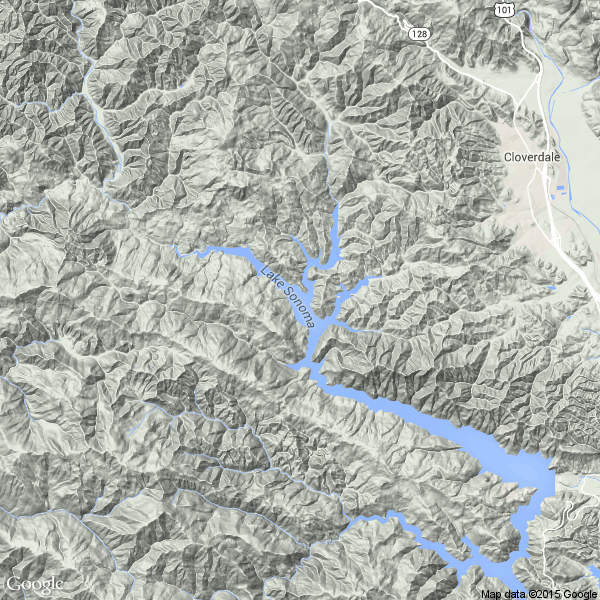 Click for Navionics/Google interactive map
Saturday, Oct 22
Storage

(ac. ft.)

Ouflow (ft.3/sec)
Inflow (ft.3/sec)
Precip.

(in.)

Evaporation (ft.3/sec)
208,877
98
???
0.00
???
Sunday, Oct 23

Mostly Cloudy
Precip: 17%
Sunday, June 7th, 2015
Water Temp: 71

Water Clarity: Clear (4+ foot visibility)

Report: Got to the lake at first light and headed over to Warm Springs. Started with a spook and started catching bass right away. Top water bite lasted until the sun hit the water, then switched to a jig on my Dobyns DX795. Caught a couple small keepers. Had small limit by 7:00 then bounced around until noon and called it a day.

Tips: Get out early for some great top water action.
Friday, April 24th, 2015
Water Temp: 65

Water Clarity: Stained (2-4 foot visibility)

Report: Fished Thursday evening and Friday morning in very windy conditions that made it difficult to fish. Caught half a dozen bass to two pounds. Best lures were shaky head and worm, and jigs. Lost a big fish on a jig. Bass have pulled away from the bank and seem to be in 5' to 15' of water.
City: Novato

Tips: I tried everything - no particular pattern or locations.
Thursday, August 28th, 2014
Water Temp: 75-78

Water Clarity: Stained (2-4 foot visibility)

Report: Fished small side during morning hours prior to work. Threw spinnerbait shallow along long points and trees. Caught 10 fish, biggest about 3 lbs. When the fog cleared, the bite pretty much shut down. A few boats in the parking lot but I was the only boat fishing the small side.
City: Windsor

Tips: Reaction baits in the morning.
Saturday, February 1st, 2014
Water Temp: 49-50

Water Clarity: Clear (4+ foot visibility)

Report: Launched around 8am and headed to the southwest arm. Caught 1 LMB (2lb 6oz) next to island view campsite. Then hit the main body of the lake with no success. Had a first on the water experience in seeing a DEER several hundred yards from shore in the main body. It was almost hit by another boater and turned around. I knew deer could swim but hadn't seen it in person before and wouldn't have thought it would try to cross the whole lake.
City: Santa Rosa

Tips: Slow down. Drop shot is the only thing that has produced for us so far this year.
Sunday, January 26th, 2014
Water Temp: 48-50

Water Clarity: Clear (4+ foot visibility)

Report: Four fishermen on two boats, launched at 8am off the water at 2pm. My partner and I headed north from the main ramp, slow day. My partner boated 2 smallmouth, best went 1lb 15oz. I had one follower and that was it. The fishermen on the other boat fish Sonoma pretty often and had a better day. They boated 7, all largemouth nothing over 2lbs. All fish from both boats were caught is dropshot.
City: Santa Rosa

Tips: It's a grind, if you go fish slow. Fish seem to be holding in 15-30 feet of water.
Wednesday, November 6th, 2013
Water Temp: 63 - 65

Water Clarity: Stained (2-4 foot visibility)

Report: Wednesday, 11/6/13, it was our goal to find bass chasing shad. Again, as was the case about 2 weeks ago, we didn't find any. During the day, we fished Cherry Creek, the Warm Spring Branch and Smith Creek. Several different top-water baits, hard and soft body jerk baits, rattle traps, swim baits and drop-shot worms were tried. Of these, only drop-shotting 4½ and 6 inch RoboWorms caught fish. We did manage, off and on during the day, to catch 10 fish. Several fish were between 3 and 3½ lbs. The others were between 1 and 3 lbs. Two trout were also hook on RoboWorms but lost at the boat. This was good as there was no need to handle them for release.
City: Pinole

Tips: Hooking two trout in near shore and trees could be an indication that shad are schooling in close to shore. It should be just a matter of being in the right place and time of getting into a school of bass chasing shad and having real fun time catching many fish.
Friday, October 25th, 2013
Water Temp: 65 - 67

Water Clarity: Stained (2-4 foot visibility)

Report: Friday, 10/25/13, We started fishing halfway back into Cherry Creek using top water baits with no success. We were looking for breaking shad but seen none. As the sun hit the water, we switched to drop-shotting. By 1:00, we caught only a few fish with one about 3 lbs . Other techniques were also tried with no success. Next, we tried part way up Dry Creek without success. About 4:00 we moved to Smith Creek (where the outhouse was) and fished the first 100 yards on both sides. Over the next hour,6 more fish were caught all drop-shotting 4½-inch RoboWorms. We ended the day with 10 fish.
City: Pinole

Tips: Look for bass chasing shad on the surface. Last year at this time with the water temperature at 65 – 67º (same as this year), we had two really good days by finding breaking shad.
Saturday, June 15th, 2013
Water Temp: 71

Water Clarity: Clear (4+ foot visibility)

Report: Fished the Redwood Empire Bass Club tourney on Saturday. We fished in Yorty and Brush creek. Found a little top water action before the sun hit the water catching a 7 & 4 pounders. Then started throwing small swimbaits and flukes. Caught a lot of fish but most were under 12".

Tips: Bait fish were busting the surface everywhere and saw a lot on the graph. Slow roll the baits in 8'-10'. Watch your graph for fish.
Saturday, May 4th, 2013
Water Clarity: Clear (4+ foot visibility)

Report: Fished from 9am-3pm. Launched at the main ramp and shot up to Yorty. Quickly got a small SMB and buddy picked up a small LMB. One on jig the other drop shotting. The bite slowed so we motored up cherry creek. Between the 3 of us we boated 7 more fish; the best went 3-09 the rest were under 2lbs. 2 of the last 7 were jig fish the rest were drop shotting, one was pulled off a bed the others were hugging submerged trees in coves and on points.
City: Santa Rosa

Tips: Jigs in green or orange with dark color craw trailers and drop shotting bold bluegill roboworms.
Wednesday, April 24th, 2013
Water Temp: 61-69

Water Clarity: Stained (2-4 foot visibility)

Report: Haven't send any reports in a while so I thought I would post one. Fished last weekend in the REBC tourney and everyone had a tough time. Only 10.5 lbs for first. Went out again Wednesday evening and the daytime bite was still tough. However. The night bite really turned on. Caught a 4-13 at 10:30 pm slow rolling a brush hog then we switched to blades and the bite really turned on after 11 pm. For the next 3 hours we landed close to 20 bass up to 4 lbs. best 5 fish was in the 19 lb range.

Tips: Water was cloudy from all the wind. Daytime bite was still tough. Water temp on the main lake was only around 60, but 68-69 in upper Cherry Creek. Night bite use spinnerbaits with a single Colorado blade. Cast to the shore and work down the bank. Fish were still not on beds, but the upcoming warming trend should move the bass shallow.
Saturday, March 9th, 2013
Water Temp: 56 to 58

Water Clarity: Stained (2-4 foot visibility)

Report: Fished again from ~10:30 to ~5:00 and only hooked 1 largemouth which I didn't land and miss another. Water seemed a little murkier overall and colder with the cold front that came through last week! Tried about everything to entice them so it was a hard day but still fun fishing!!!!
City: HEALDSBURG

Tips: Hard fishing so enjoy the outing!!!
Friday, March 1st, 2013
Water Temp: 55 to 57

Water Clarity: Stained (2-4 foot visibility)

Report: Went out again later in the morning at ~10:30 and fished to ~5:00. I hooked 4 and landed 3 of them which where all keeper size being ~2.0, ~3.0, and the biggest ~5.75 lbs. Landed all these on senko's and swim baits.
City: HEALDSBURG

Tips: Fish slowly and be patient while the water keeps warming! Hopefully the colder weather and rain next week doesn't hurt clarity and water temp to much!
Friday, February 22nd, 2013
Water Temp: 52 to 54

Water Clarity: Muddy (0-2 foot visibility)

Report: Fished from around 10:30 in the morning to about 5:00 when is stared cooling down fast again. Water was still stained with only about a foot of visibility!! Water temp was 52 to 54 with a couple of spots hitting 55, but the minute the wind blew registered 54 again. Caught 2 Largemouth Bass of ~3.5 and ~5.25 pounds, so it made my day!
City: HEALDSBURG

Tips: Be patient and fish slowly!!
Thursday, February 14th, 2013
Water Temp: cold

Water Clarity: Muddy (0-2 foot visibility)

Report: On the water at 630am. Fished until 2. Tried everything in my boat. First top water zara spook. thought Id get lucky. Still way too early in the season. Tried soft plastics, jigs, spinners. Didn't resort to drop shotting. Water is muddy and I dont plan on trying this lake again until at least the middle of March. Going to try lake Medocino tomorrow. Ill post on that lake. Talked to one guy he said he caught three on a plastic worm he threw all day. Good Luck out there.
City: Santa Rosa

Tips: Wait till spring. lol.
Saturday, January 19th, 2013
Water Temp: 50-52

Water Clarity: Stained (2-4 foot visibility)

Report: The Redwood Empire Bass Club held their first tournament of the year and it was tough fishing all around. Very few fish caught overall with none over 2 lbs. Primary tactics were a drop shot using lighter colored baits. Big difference from last week when I fished and caught several on 7" black worms and brush hogs. Those same baits didn't produce this week.
City: Rohnert Park

Tips: Drop shot on main lake points with shad colored Roboworms down 40'-50'. Water is clearing everyday. Fish the rocky areas over the wood, but when you fish an isolated tree, use your electronics to find fish holding tight to the cover.
Friday, December 14th, 2012
Water Clarity: Muddy (0-2 foot visibility)

Report: Mr. Benjamin John Crowley. I am desperate for some action. its already December 14, but was wondering what part of the lake you found the steelhead and bass chasing shad? That bite may be over by now but i was thinking of barrowing my buddy's boat and heading up to the lake hoping and wishing for that kind of action.
City: san mateo
Thursday, November 22nd, 2012
Water Temp: 62

Water Clarity: Clear (4+ foot visibility)

Report: Epic fishing today, Thanksgiving Day. Huge schools of Shad with hundreds of Steelhead and Bass underneath. Crystal Clear water and the fish were biting well. Caught over 30 bass myself and caught 2 limits of Steelhead between my dad and I. Best freshwater fishinf I have ever seen. Caught on castmasters and 2.5 inch Rapala Countdown.
City: San Diego
Saturday, November 3rd, 2012
Water Temp: 67 - 70

Water Clarity: Clear (4+ foot visibility)

Report: Saturday, 11/3/12, My buddy and I started fishing Cherry Creek. I started with a top water bait followed by a shallow diving crank bait, a spinner bait and a rattle trap. My goal was to target larger fish throughout the whole water column, I had no takers over three hours. . During this same period, my buddy almost exclusively drop-shotted a 4½-inch RoboWorm. The bite was slow for him but by the time I decided to go to my confidence technique (drop-shotting), my buddy had at least 6 small fish to my zero. By about 3:00, I also had 6 small fish. At this time we decided to move to Dry Creek. We started fishing about a half mile up Dry Creek on the South side across from the mouth of Cherry Creek. As winter approaches, the sun is moving across the southern sky thus creating early shadows on the northern side of the hills. As we approached a large shadowed area, we saw a lot of fish chasing shad in the trees and in open water outside of the shadows. Also, the fish finder was marking a lot of fish and bait balls. At this point my buddy put on 6-inch soft swim bait. He immediately, caught a 2 lb. bass. The fish took the bait very aggressively and totally inhaled the bait. So, I immediately put on a 4-inch soft paddle tail swim bait and threw to some breaking shad and caught a 2½ lb. bass. A few casts later to another group of breaking shad, my swim bait was slammed hard and the fish took off running hard. It took me a few minutes to land the fish. It turned out to be over a 3 lb steelhead trout. The larger swim bait and a bass assassin weren't working for my buddy. So he switched to a smaller hard jerk bait and immediately caught a 2 lb bass. A few casts later, he landed a 2 -3 lb squawfish which had a large belly and was spitting up small shad (I didn't know there were squawfish in Lake Sonoma). A few casts later, it was my buddy's turn to land about a 2½ lb steelhead trout. While this was happening, I continued to catch bass. After about 30 minutes, the bait turned off. But during this 30 minutes of fast action, we caught at least 8 fish all at least 2 lbs. Great fun! We ended the day with over 20 fish.
City: Pinole

Tips: If you see breaking shad, cast to them.

Water Temp: 62 - 65

Water Clarity: Clear (4+ foot visibility)

Report: Great day on the water, the sun shined all day and there wasn't much wind or a crowd. Took my son & his friend stayed mostly on the main lake right before the narrows, found a spot that had 8' @ rocky shore to 20' with trees & then 30' -40' drop off. Found fished staged on deep ledge, threw crankbaits in silver shad to catch fish until noon, then switched to jerkbaits in afternoon. When we would catch a fish you would see others following. Caught 20 fish between all 3 of us, with 2 biggest 3lbers, my son lost a 5+ (that was chasing my hooked 1 1/2lb), was still exciting to see that.
City: Pacifica

Tips: Caught most of fish on Jerkbait, then crankbait, a couple on Dropshot & one on Zoom Fluke. All baits were Shad color or white,
Thursday, September 13th, 2012
Water Temp: 69 - 72

Water Clarity: Clear (4+ foot visibility)

Report: Saturday, 10/13/12, We started fishing halfway back into Cherry Creek with top water baits. A couple of small ones were caught. As the morning sun hit the water, the top water bite turned off. A lot of fish were observed on the fish finder in 15 to 30 ft of water along with a lot of bait balls with fish near by. Multiple techniques were tried to catch these fish. Only a small 4½-inch RoboWorm worked. We even found that a 6-inch worm of the same color did not work. Very few fish were caught further than halfway back into the creek. Our fish were caught in the first half of the creek, also just outside the 5 mph zone and on the south west side across from Cherry Creek. More fish were generally caught in areas where the bass were breaking water chasing shad. We ended the day with about 30 fish. A few weighed 1 to 1½ lbs. with one weighing 4 lbs 3 oz. All the rest were in the 8 inch to 13 inch range.
City: Pinole

Tips: When fishing with artifical worms, size matters. If the fish are not biting on larger worms, down size. The opposite sometime also works.