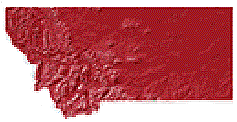 Montana Bass Fishing Reports
The map to the left will take you to each lake's page. There you will find details about lake facilities, launch fees, anglers input and tips on lures and patterns that are catching bass.
On each page there is a link to the FISHING REPORTS PAGE. Let us know about your latest fishing trip by filling out this report . It will be posted on the appropriate lake page.
Also join in our FISHING DISCUSSION FORUM where you may talk about your favorite fishing subjects or issues dealing with our sport.
Tongue River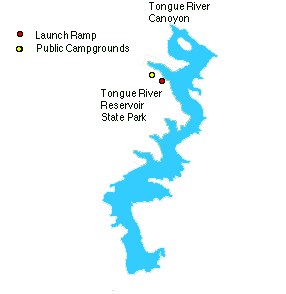 The impounded Tongue River provides a 12-mile long reservoir set in the scenic red shale and juniper canyons and open prairies of southeast Montana. The reservoir lies at an elevation of 3454 feet in Big Horn County as part of the Tongue River Reservoir State Park.
Smallmouth bass fishing is the available to the angler. Also present in the lake are rainbow, brown, bull and cutthroat trout as well as crappie, walleye, northern pike and channel catfish. Open entire year for walleye, northern pike, burbot and nongame fish to spearing with rubber or spring-propelled spears by persons swimming or submerged. Up to six lines with six hooks per line may be used to fish through ice, but the angler must be in the vicinity and within visual contact of the line(s) or rod(s) at all times.
This is a rather remote destination, so plan accordingly.
Four state record fish have been pulled from its waters. Records for northern pike, rock bass, white crappie and yellow bullhead were set on this body of water.
Located 6 miles north of Decker on Secondary 314, then 1 mile east on county road.
For more information: Tongue River Reservoir State Park P.O. Box 1630 Miles City, MT 59301 Phone: 406-232-0900
Or - Montana Fish, Wildlife & Parks 1420 East Sixth Avenue P.O. BOX 200701 Helena, MT 59620-0701 (406) 444-2535 FAX: (406) 444-4952 or e-mail: fwpgen@state.mt.us
Tuesday, Apr 28
Hi: 72˚ F

Lo: 42˚ F

Mostly Sunny
Precip: 0%

Mostly Clear
Precip: 0%