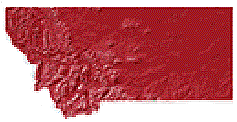 Montana Bass Fishing Reports
The map to the left will take you to each lake's page. There you will find details about lake facilities, launch fees, anglers input and tips on lures and patterns that are catching bass.
On each page there is a link to the FISHING REPORTS PAGE. Let us know about your latest fishing trip by filling out this report . It will be posted on the appropriate lake page.
Also join in our FISHING DISCUSSION FORUM where you may talk about your favorite fishing subjects or issues dealing with our sport.
Noxon Rapids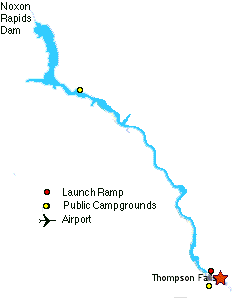 Noxon Rapids Reservoir rests at an elevation of 2,330 feet in Sanders County as part of Kanisku National Forest. The reservoir is 30 miles long, 2 miles wide and has a maximum depth of 160 feet..
Largemouth and smallmouth bass fishing is the available to the angler. Also present in the lake are rainbow, brown, bull and cutthroat trout as well as lake and mountain whitefish, northern pike and yellow perch.
Noxon Rapids Reservoir which hosts numerous Montana BASS tournaments every year. This secret spot is so hot that it was the backdrop for the 1994 BASS Western States Tournament. This lake is the best bass fishery in the State.
The reservoir is created by the Noxon Rapids Dam on the Clark Fork River. Water is usually drawn through the dam's generators during the day and refilled at night. On some days the water level may flucate up to 3 feet. Because of the flucuation boaters need be aware of shallow areas where rocks, logs and stumps lie just below the surface. Boaters will enoucounters floating debris from the nightly high water.
For more information: Montana Fish, Wildlife & Parks 1420 East Sixth Avenue P.O. BOX 200701 Helena, MT 59620-0701 (406) 444-2535 FAX: (406) 444-4952 or e-mail: fwpgen@state.mt.us
Monday, Mar 2
Hi: 36˚ F

Lo: 12˚ F

Snow
Precip: 78%

Snow
Precip: 87%