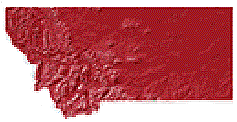 Montana Bass Fishing Reports
The map to the left will take you to each lake's page. There you will find details about lake facilities, launch fees, anglers input and tips on lures and patterns that are catching bass.
On each page there is a link to the FISHING REPORTS PAGE. Let us know about your latest fishing trip by filling out this report . It will be posted on the appropriate lake page.
Also join in our FISHING DISCUSSION FORUM where you may talk about your favorite fishing subjects or issues dealing with our sport.
Fort Peck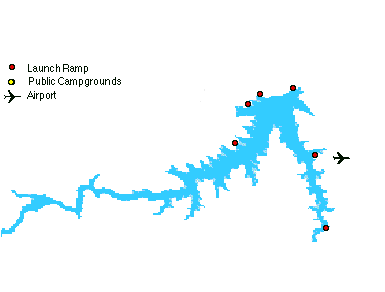 Fort Peck Reservoir is a quarter million acre lake formed by a large earth filled dam on the Missouri River and is part of the Charles M. Russell NAtional Wildlife Refugee. The shoreline extends more than 1700 miles with many bays and points..
Smallmouth bass fishing is the available to the angler. Also present in the lake are walleye, sauger, northern pike, perch, ling cod, lake trout and chinook salmon..
President Franklin Roosevelt approved construction of the Fort Peck Dam on the Missouri River in 1933. During the height of the Great Depression, the project provided much-needed work for the legions of unemployed men. When filled to capacity, the dam impounds a reservoir of 247,000 acres. It stands 250 feet high and is 3500 feet wide at its base. The Fort Peck Dam Powerhouse Museum offers a fossil record of the plants and creatures of the late Cretaceous period to help explain the geological history of the river. The lobby has models and exhibits which tell the story of the building, operation, and benefits of the dam. Tours of the massive power plant are available.
Fort Peck Indian Reservation - About 6000 Sioux and Assiniboine live on the reservation, encompassing more than 2 million acres of land just east of Fort Peck Reservoir, extending almost to North Dakota and from 50 miles south of Canada to the Missouri River.
This sprawling lake is located in parts of Garfield, McCone, and Valley counties. v For more information: Montana Fish, Wildlife & Parks 1420 East Sixth Avenue P.O. BOX 200701 Helena, MT 59620-0701 (406) 444-2535 FAX: (406) 444-4952 or e-mail: fwpgen@state.mt.us
Sunday, Dec 21
Hi: 42˚ F

Lo: 30˚ F

Rain/Freezing Rain Likely
Precip: 59%

Chance Snow Showers
Precip: 36%