FPT get ready to "rumble" at Clearlake this coming Saturday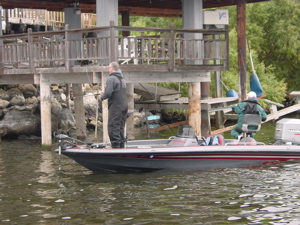 KELSEYVILLE - Ca, There is no question, for anyone in the know, that Clearlake is a big-bass factory that has proven itself time and time again as being perhaps the best big bass fishery in the country. And Future Pro Tour anglers will be hoping that the "factory" is in full swing, when they descend on the lake during the tour's fourth stop of the 2008 season, June 7th, at beautiful Konocti Harbor Resort and Spa in Kelseyville California.
And the "factory" has a tough act to follow coming on the heels of the FPT's May 10th shootout on the California delta in which it took anglers in a field of 175 teams, almost twenty pounds just to make it in to the top 40. And where Clearlake may not be able to size up with the delta in multiple big limits for anglers that will compete, it is for certain that double-digit fish will be commonplace for the lake in which Steve Kennedy set a then 4-day B.A.S.S. record of over 122 pounds, and dozens of anglers posted five-fish limits close to, or over the 30 pound mark.
In fact, in last year's FPT event on Clearlake, Ron and Rob Bettiga, set a new 5-fish record for amateur competition posting a five-fish limit weighing close to 39 pounds! So, with all of the fish catching that has gone on over the past year, should Future Pro Tour anglers be setting their sights high? You better believe it! As you can best believe there are still plenty of big bass left in this oversized pond just waiting to be caught!
As Future Pro anglers plan their strategies for the event, many will keep in mind that doing well will help them accumulate the points needed to secure a berth in this year's Future Pro Tour Classic to be held November 8-9, in which the winners will receive a fully rigged Ranger 188vs, powered by an Evinrude 150hp E-Tec outboard engine, MinnKota trolling motor, and Hummingbird electronics.
Dave Koeber Sr, and Dave Koeber Jr, currently sitting in 3rd place in the race for Angler of the year, who always do well in Clearlake venues, are optimistic about their chances to do well in this event and possibly take over the lead for a title that is for sure the most prestigious accomplishment in amateur bass fishing.
"We took a brief hiatus from the Tour last year, but we are back, and feel we are fishing strong and at the consistency we know we are capable of", commented Dave Sr., obviously proud to be fishing with his son.
But the father and son team of Cliff and Colby King of Elk Grove, who are currently leading the race by 13 points simply aren't having any of it.
"We are at the top of the pile...and don't plan on moving off the top of the pile until we take the AOY title, noted Cliff, in a confident tone. Colby has that "big fish thing" dialed in, and seems to be able to catch em' we he gets ready to, so we are definitely ready for the big bass at Clearlake".
And for those of you that don't know…Colby is only 11 years old, but trust me....he can throw a swimbait almost as good as Byron Velvick!
Roy Desmangles, a perennial favorite, coming off an impressive year on the FLW Stren series, where he captured the 2008 Angler of the Year title in the co-angler division, is really looking forward to a "big bite" on Clearlake, after disappointing performances at both the Berryessa, and Delta events. "If you think you are going to come into one of these events and rest on your laurels from what you did somewhere else, you are in for a rude awakening and can quickly get your feelings hurt", noted Roy in serious tones.
"There are a lot of good amateurs in these FPT fields, and you have to bring your best when game day rolls around. But on the flip-side of that, many times someone enters one of these events who has never fished in an organized tournament - and wins….which is the thing that makes these events challenging and so much fun…anybody can win one!"
For those of you that don't know, the Future Pro Tour is an amateur level team circuit that offers a great opportunity to learn the basics of competitive bass fishing, meet lots of great people, and just have fun. Our goal simply put, is to provide a venue in which entry/amateur level anglers can improve on their bass fishing skills in a friendly yet competitive environment. Requiring only a nominal entry fee, we encourage all participants to share information, and be part of making our events a fun experience for all.
The Future Pro Tour is a team format and features 2 divisions - Div I (0-90hp) and Div II (91hp and above), where anglers in each division fish for that division's prize money. At the end of the year, teams with the most points from each division will qualify for the end of year - Future Pro Only - tournament of champions dubbed the Future Pro Tour Classic!
An optional pre-registration seminar for this event will be held on Friday, June 6th at Konocti Harbor Resort and Spa's conference center from 4-7pm featuring some of the Future Pro Tour Pro-Support Staff members who will give you valuable tips on how to fish Clearlake in the early spring. Some of the Pro-Support Staff members scheduled to be on hand are:
- Jimmy Reese
An FLW National Guard and Stren series touring Ranger pro, Jimmy has made a name for himself in the west and the odds-on favorite to win ANY major Clearlake event in ANY circuit - at ANY time of year. And for all of you Delta "rats" that have never fished Clearlake before, Jimmy, an "imported" Delta rat in his own right, is without a doubt the best person to help you understand the important similarities Clearlake and the Delta both share.
- Mark Crutcher
Perhaps the best "swing for swing" bass angler on Clearlake, Mark is an expert at catching BIG BASS. Setting a then 10-fish record of over 74 pounds in the 2007 America's Vanity Cup event, Mark has a knack for consistently finding BIG fish, and more importantly, putting them in the boat on game day. He is a noted swimbait EXPERT and will be able to communicate the nuances of this popular technique to those that attend.
- Jerry Tilton
A Clearlake resident, (Lakeport) Jerry is perhaps the most versatile pro angler on the West Coast, and has won major events on just about every body of water in the west. A 14-time West Coast Bass Classic Qualifier, and Champion, Jerry (affectionately dubbed the "Godfather"), now makes his home in Clearlake and really has a "bead" on these Clearlake bass. You won't want to miss what this wily veteran has to say about Clearlake fishing in the late spring.
- Jeff Huth
A touring Ranger/Mercury pro from the central valley, Jeff is well versed in all bass fishing techniques and will give you all-important tips on how to fish more effectively in team competition.
After the seminars, there will be a FREE raffle for premium Lucky Craft baits, Berkley, Tru-Tungsten, Snagproof, and Gamakatsu product, culminating in a FREE grand prize drawing for an on-board Minn Kota battery charger, and a Humminbird fish finder each valued at over $300!
Everyone... this is the perfect opportunity for your whole family to participate in your bass fishing adventures - without them having to stay in a stuffy hotel bored while you fish all day. Konocti Harbor Spa and resort has something for everyone including: 2-Olyimpic size pools, a complete health spa with massage, manicure/pedicure and facial treatments, tennis courts, miniature golf, full fitness center, and 1st class restaurant. Wine tasting, and Casino action is also just minutes away, so bring the whole family a make a small vacation out of it!
The launch site for this event will be at the Konocti Harbor Spa ramp, but you can always launch from other ramps and drive over. Late check-in will be available the morning of the event in the Konocti convention center from 4:00 -6:30am. Be sure check in early, as this is sure to be another 150+ team event! As always, a $5 per-event membership fee will be available for those that want to try out the Future Pro Tour.
So what are you waiting for!? Come on up to Clearlake....bring your BIG BASS BAITS, and join us for what is sure to be a really fun event!
Can you say 5 bags….?!?
See you all at Clearlake !!!
(This event will be televised and will be aired two weeks after on Comcast Sports.)
Director - Future Pro Tour Tournament Trails
916-768-0938 www.futureprotour.net
Vince Harris President/Director, Future Pro Tour Tournament Trails
3117 Merrywood Dr. Sacramento Ca, 95825 (916)768)0938 www.futureprotour.net vince@futureprotour.net
Source: futureprotour.net (2008-06-02)