Spring Lake
Spring Lake rests in the Sonoma County Regional Parks Department near Santa Rosa. It is a small 75 surface acre lake.
But don't let that fool you, this lake has some big bass. On March 1, 1997 Paul Duclos caught and released a twenty pound+ largemouth bass from Spring Lake, on a Castaic Largemouth Baby Bass Hard Bait.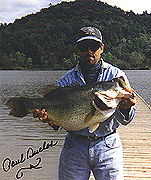 Because Paul was more concerned about releasing the fish alive then weighing the fish and taking the chance on it dying in the process, we'll never know just how heavy that fish was.
The lake has camping for tents and RV's as well as group camping, seasonally. There is a swim lagoon during the summer months as well as a visitors center/museum.
Spring Lake is open to non-powered boating only.
For more information call (707) 539-8092.

Name: kwoicicki
Date: 2013-02-02
Location: santa rosa
E-Mail: beebroan@netzero.com
Water Temp: 49-51
Water Clarity: 1
Report: fished from 9am till 1pm 2 fish in 2' of water 1- 3lbs 1 -6.5lbs no fish caught untill the fog lifted both on drop shot margartita robo worm

Tips:
---
Name: Skandy
Date: 2012-05-04
Location: Rohnert Park
E-Mail: 4skandys@comcast.net
Water Temp: ?
Water Clarity: 1
Report: Fished Friday afternoon and caught 2 on a Senko, 2 on a drop shot and 1 with a popper. Lost another on the drop shot. Launched from the ramp and went to the north. First came within 30 yds. All others came around the island on the inside. Made it as far as the north corner by the dam but only 1 bite in that area. Water appears to be clearing along the shoreline but dirty everywhere else.

Tips: Weightless senkos along the shorelines work top waters slowly. Shad color baits worked better tha. The darker colors.
---
Name: Nate
Date: 2012-03-24
Location: Cotati
E-Mail: natesheedy@yahoo.com
Water Temp: Chilly
Water Clarity: 1
Report: Fished in a rain storm from my float tube. The only bite I got, I landed and it was 6.2 lbs. Caught him off the island with a weighted senko. Went in after about two hours and my jacket was soaked through.

Tips:
---
View All Reports