Pine Flat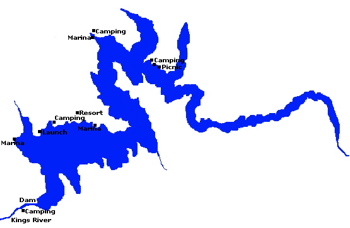 Pine Flat Lake is located at an elevation of 952 feet in the Sierra Foothills east of Fresno. It has 4,300 surface acres with over 67 miles of shoreline.
The lake features largemouth, smallmouth, as well as rainbow trout, catfish and panfish.
There are many sites for tent and RV camping for individuals and groups. There are group picnic areas and camping as well. The U.S. Army Corps of Engineers has jurisdicition over the lake. The lake is used for warterskiers, boaters and swimmers alike. Also self guided hiking trails and river raft trips are a feature here.
Call for current infomation as there can be extreme fluctuation in the water level of this lake.
For more information, call (559) 787-2589 for reservations and information. OR
USFS - Kirch Flat Camp Sites (559) 855-8321
Fresno County Parks (559) 488-3004
Lakeridge Resort (559) 787-2260

Name: kdawg
Date: 2012-05-17
Location: Fresno
E-Mail:
Water Temp: 74
Water Clarity: 3
Report: Nice day on the lake. Was hoping to nail some nice largemouth but could only manage 8 spots in about 4 hours fishing. Started at about 7am and fished till around 11am. Seems the bite is better closer to the dam. Very, very clear water. Probably around 15 ft. Biggest was about a 2 pounder, nothing larger. Still a fun day tho.

Tips: Used jigs and senkos. Probably a better jig bite. Didn't try reaction baits too much but will next time.
---
Name: mort
Date: 2012-04-03
Location: clovis
E-Mail:
Water Temp: 58-62
Water Clarity: 3
Report: had a nice day with the wife. no rxn bite, but we didn't start until 10am. best was with plastics in the river. 5 to 25 ft of water. all spotted and only a few small cruisers.

Tips: bald eagles are cruising the lake and looked amazing.
---
Name: Erich
Date: 2012-02-22
Location: Oakhurst
E-Mail: siebertdesign63@yahoo.com
Water Temp: 58
Water Clarity: 3
Report: The water clarity was more like 30 feet and fishing was tough for awhile but I ended up with 9 bass over 1.5# and the best 2 were about 2 3/4#. One bigger fish came off the bank in maybe 10' of water while the other bigger fish came out of 40' Of water. On the trailer by 1pm because I wore myself out throwing a stupid bama rig for an hour. Quit dropshotting after catching 3 trout in 5 casts at 30' deep.

Tips: I caught fish on 5 diff. things. Slow was the only common thing I can think of. No action on any reaction baits.
---
View All Reports