Baseball and Bass - For Charity
By Dan O'Sullivan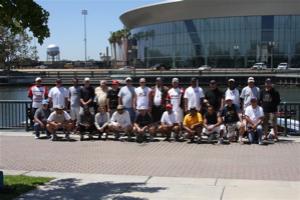 All photos courtesy of Dan O'Sullivan
Outside of my wife, my daughters and my faith, I've had two great passions in my life; baseball and bass fishing. Having played 19 years of baseball through college, and been bass fishing since I was a kid; some of my earliest memories include those two activities.
I received a call recently from Andrew Sayles, President of the California BASS Federation Nation who was helping to recruit volunteers for an event to raise money for charity. The event was to be put on by the Stockton Ports; which is an Advanced A minor league affiliate of the Oakland A's in the California League.
Fans had bid for an opportunity to go bass fishing for a day on the California Delta with a Ports player or coach and a local bass fishing volunteer. All told, 16 Ports personnel and fans were paired with eight boaters for a day on the Delta. The event was a fundraiser for the Ports' Anchor Fund charity, which raises funds for local community projects and schools.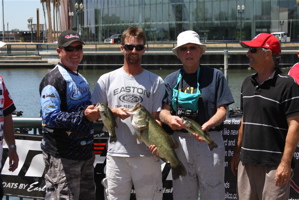 "I first worked with The Ports last year when we held our State Casting Kids Championship at one of their games," told Sayles. "So when Danielle (Alt, Ports' Community Relations Manager) called looking for help, I told her it would be a pleasure."
The event was hosted by the Stockton Ports, and sponsored by the California BASS Federation Nation and Xtreme Lubricants. The Ports provided the guest anglers, the players, trophies, a meal at the stadium following the event, and logistics. The California BASS Federation Nation provided the boats, and sponsor product for raffle afterward; including hats and oil from Mercury, trolling motor props from MotorGuide, and several other products.
Xtreme Lubricants, a Northern California based manufacturer of polymer based fishing reel lubricants provided reel tune up kits, which included a bottle of their Reel+ and Gear+ for everyone at the event. Of course, some of the banter among the tables at lunch included mentions of the Gear+ being used to aid the pitchers in attendance.
The Monday morning event fell on an off day for the players, who gathered with the fans at Weber Point Marina in downtown Stockton for an 8:00 AM blastoff. Each boat could catch and keep three bass, and normal tournament rules would apply. All artificial baits were to be used, and any member of the team could account for the fish caught.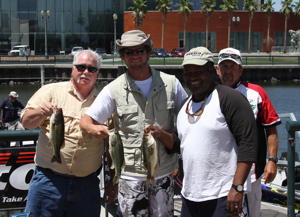 The anglers all donated their time, and fuel expense to the charity event, and the list included a variety of names, representing a variety of companies and organizations. Sayles and Ron Rushing represented the California BASS Federation Nation, as did Ken Hicks of the Basin Bassmasters, Dave Hill of Elk Grove, Phil Clark of Galaxie Marine; Dave Sanchez of Stockton Bass, and Powell Rods pros Bernie Gaunt of West Sacramento and Chad Martin of Yuba City represented their sponsors Galaxie Marine and Mossdale Boats respectively.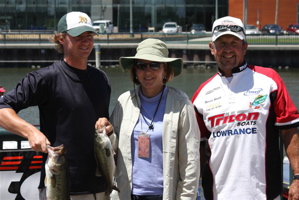 Each of the teams brought fish to the scales that afternoon, but it was Martin's boat the proved to be the winning team. However, the day was not without some frustration for the team as on the morning's first run, the compressor went out on their motor, leaving them stranded on the San Joaquin River.
The occurrence turned out to be a blessing though, as Martin described. "I called Mossdale, and they volunteered to bring me a loner boat from the shop," he said. "While we were waiting, we fished our way to the nearest boat ramp, and caught our biggest fish." That 8.82-pound Delta bruiser ate a Basstrix Paddletail swimbait, and anchored their winning sack. Along with the big fish, Martin said that the team caught fish on frogs as well.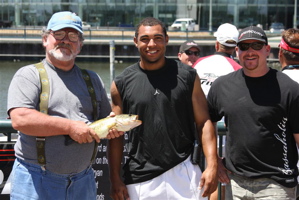 "I really want to thank Tim and Steve at Mossdale for going above and beyond," Martin related. "I wanted to show these guys a good time, and those guys really put out a bunch of effort and saved the day."
While golf events are popular among baseball players and fans, Alt said she wanted to do something a little different. "We wanted to do something to bring in some additional activities to the community, and being right here on the Delta; fishing seemed a natural fit," said Alt. "It wouldn't have been possible without the help of Andrew, and the anglers."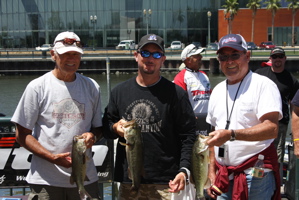 The event raised $2,000 for the Ports' Anchor Fund, and brought heated discussion over who would win next time amongst the players. "I think everybody had a good time," she said in closing. "This was a very popular promotion amongst the players and coaches, and we're looking forward to doing it again next year."
Podium Finishers and participants list
1st place
Overall Weight - 11.01 lbs.
Big Fish - 8.72 lbs.
Ports Player - Branden Dewing / Fan - Jim Dewing / Fan - Bob Whitaker / Boater - Chad Martin
2nd Place
Overall Weight - 8.67 lbs.
Big Fish - 4.12 lbs.
Ports Coach - Darren Bush / Fan - Jim Chapple / Boater - Ken Hicks
3rd Place
Overall Weight - 7.95 lbs.
Big Fish - 3.82 lbs.
Ports Coach - Tim Garland / Fan - George Steckler / Boater - Dave Hill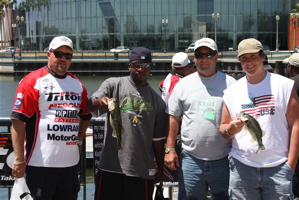 Graham Godfrey
Dave Jackson
Ron Rushing Boater
Jermaine Mitchell
Pat Riley
Phil Clark Boater
Craig Italiano
Stephen Valentine
David Sanchez Boater
Branden Dewing
Jim Dewing
Bob Whitaker
Bernie Gaunt Boater
Derrick Gordon
Kurt Smith
Daniel Smith
Andrew Sayles Boater