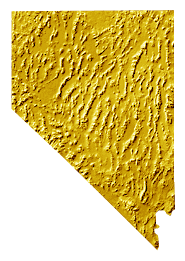 Nevada Bass Fishing Reports
The map to the left will take you to each lake's page. There you will find details about lake facilities, launch fees, anglers input and tips on lures and patterns that are catching bass.
On each page there is a link to the FISHING REPORTS PAGE. Let us know about your latest fishing trip by filling out this report . It will be posted on the appropriate lake page.
Also join in our FISHING DISCUSSION FORUM where you may talk about your favorite fishing subjects or issues dealing with our sport.
Lahontan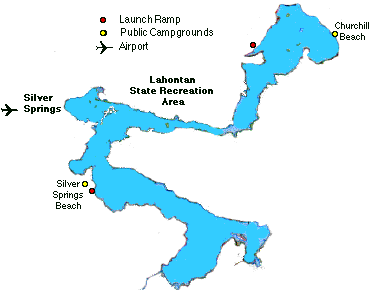 The reservoir is almost 17 miles long with 69 miles of shoreline. Surface area of approximately 11,200 acres at full reservoir storage.
The dam, completed in 1915, is 162 feet high, 1,700 feet long at the top, and contains 733.00 cubic yards of earth fill. The reservoir has a storage capacity of 274,000 acre-feet when full.
The reservoir is a warm-water fishery that supports white bass, walleye, white crappie, catfish, and brown and rainbow trout.
A health advisory has been issued by the State of Nevada regarding consumption of fish caught in the reservoir due to mercury contamination.
The reservoir was named after the Ancient Lake Lahontan which covered over 8,500 square miles of the western Great Basin during the Ice Age. It's ancient shore terraces may be seen high on the mountainsides of the surrounding region.
Lahontan became a Nevada State Recreation Area on July 1, 1971. Previous to that time it was operated jointly by Churchill and Lyon Counties.
Drirections: Located 45 miles east of Carson City on Nevada 50.
For more information, call Lahontan Reservoir - Lahontan State Recreation Area, 16799 Lahontan Dam, Fallon, NV, 89406, Phone: 702-867-3001
Thursday, Mar 5
Hi: 60˚ F

Lo: 26˚ F

Sunny
Precip: 0%

Clear
Precip: 0%