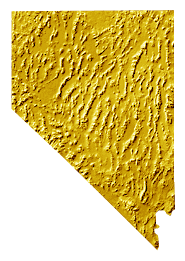 Nevada Bass Fishing Reports
The map to the left will take you to each lake's page. There you will find details about lake facilities, launch fees, anglers input and tips on lures and patterns that are catching bass.
On each page there is a link to the FISHING REPORTS PAGE. Let us know about your latest fishing trip by filling out this report . It will be posted on the appropriate lake page.
Also join in our FISHING DISCUSSION FORUM where you may talk about your favorite fishing subjects or issues dealing with our sport.
Mead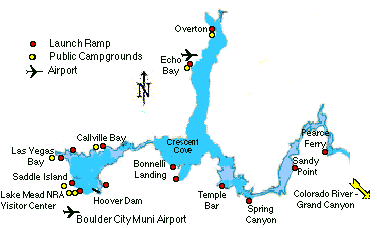 Lake Mead is located on the Colorado R. in Arizona and Nevada, the largest in the U.S., and is chief feature of Lake Mead National Recreation Area.
It has an average of 110,000 surface acres and a maximum of 162,000.
Impounded by Hoover Dam, it is 115 miles long, 1-8 mi wide, and up to 589 ft deep, and has a shoreline of 550 mi.
This huge lake caters to boaters, swimmers, sunbathers, and fishermen while its also has rewards for hikers, wildlife photographers, and roadside sightseers.
Lake Mead NRA is home to bighorn sheep, mule deer, coyotes, kit foxes, bobcats, ringtail cats, desert tortoise, numerous lizards and snakes, and a wealth of bird species.
Threatened and endangered species such as the desert tortoise and peregrine falcon are found here, as well as ancient Colorado River fish species.
Lakes Mead offers some of the country's best sport fishing. Largemouth bass, striped bass, rainbow trout, channel catfish, crappie and bluegill are found in the lake.
Boating of all kinds is popular.
For more information, call (702) 293-8907 for reservations and information.
Monday, Mar 30
Hi: 90˚ F

Lo: 63˚ F

Mostly Sunny
Precip: 0%

Mostly Clear
Precip: 0%