Rye Patch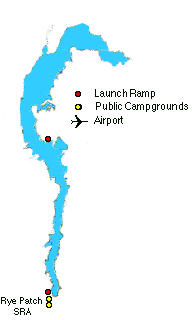 Surface area of approximately 12,000 acres at full reservoir storage. Fishing season is year-round. Warm-water fishery with game species including white bass, walleye, white crappie, largemouth bass, bluegill, brown bullhead, and channel catfish. Nevada State record walleye caught at Rye Patch.
Other points of interest are several old mine workings, with many specimens of chrysocolla, a striking blue-green mineral.
Directions: Located on the Humboldt River 26 miles north of Lovelock. Access is by paved road.
For more information, contact Rye Patch Reservoir - Rye Patch State Recreation Area, Star Rt. 1, Lovelock, NV, 89419, Phone: 702-538-7321

Name: Leo
Date: 2008-03-22
Location: reno
E-Mail:
Water Temp: 44 degree
Water Clarity: 1
Report: Fished all morning in shollows around south dam, looking for spawning walleyes or any bass bite. No takers. Finally caught three trolling 15-25ft of water on white cabelas walleye runner and yellow big "o".

Tips: Fish are not spawning yet. They should start is a couple of weeks as long as temp stays warm.
---
Name: Chris Gregersen
Date: 7/02/03
Location: Glenoma
E-Mail:
Water Temp:
Water Clarity: 3
Report: Fished rom 7-9 P.M. Fished with waders over shallow (1-4 t) gravel bars on Kosmos end. Used live nightcrawlers slowly cranked over bottom. Caught 7 ish. All 2 1/2 lbs, one 4 1/2 lbs. Ater 9 p.m., 10-15 inch catish in the same spot all ngiht every cast.

Tips: Most ish stay in 15 t. or less water most all year. Live bait very eective. Thin, clear line must.
---
Name: KC
Date: May 12, 02
Location: Kelso
E-Mail: cjwass@adelphia.net
Water Temp: 52-55
Water Clarity: 3
Report: Fished sun morning rom 7am until about 1pm when the wind blew us o the lake. Caught 14 smallmouth up to 2 1/2 pounds on crankbaits and jerkbaits in 3-5t on the Cosmos end. Also caught a ew on grubs ished with ootball head o stumps.

Tips:
---
View All Reports