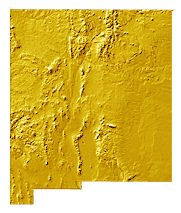 New Mexico Bass Fishing Reports
The map to the left will take you to each lake's page. There you will find details about lake facilities, launch fees, anglers input and tips on lures and patterns that are catching bass.
On each page there is a link to the FISHING REPORTS PAGE. Let us know about your latest fishing trip by filling out this report . It will be posted on the appropriate lake page.
Also join in our FISHING DISCUSSION FORUM where you may talk about your favorite fishing subjects or issues dealing with our sport.
Navajo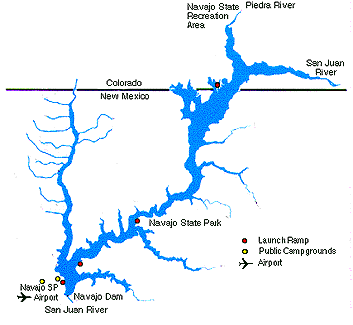 Navajo Reservoir is at an elevation of 6,200 feet in Navajo Lake State Park. The lake has 15,000 surface acres. Ther reservoir is 35 miles long and has over 250 miles of shoreline. About one-third of Navajo Reservoir is located in Colorado, the remaining two-thirds, in New Mexico. In order to fish both states legally one must be in posession of both state's fishing license.
Largemouth and smallmouth bass are available to the angler. Other species found in the lake are northern pike, catfish, rainbow trout, brown trout, black crappie, bluegill and kokanee salmon.
Three separate recreation areas comprise Navajo Lake State Park. Pine River, the most developed area along the lake, includes a visitor center with interpretive exhibits. Sims Mesa is across the lake, accessible by NM 527. The San Juan River area below the dam is world renowned for excellent trout fishing and includes wheelchair- accessible fishing facilities.
Summertime temperatures reach 85 to 100 degrees although quite cool at night.
Navajo Reservoir is located 5 miles north of Navajo City, New Mexico off New Mexico State Route 539.
For more information, New Mexico Game and Fish = Phone: 505-827-7911. Navajo Lake Marina 1448 NM 511, NBU #6 Navajo Dam, NM, 87419 - (505)632-3245 or Navajo State Park- 1526 County Road 982 (Box 1697) - Arboles, CO 81121 - (970) 883-2208- navajo.park@state.co.us
Friday, Apr 24
Hi: 62˚ F

Lo: 36˚ F

Isolated Thunderstorms
Precip: 21%

Mostly Cloudy
Precip: 10%