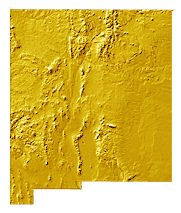 New Mexico Bass Fishing Reports
The map to the left will take you to each lake's page. There you will find details about lake facilities, launch fees, anglers input and tips on lures and patterns that are catching bass.
On each page there is a link to the FISHING REPORTS PAGE. Let us know about your latest fishing trip by filling out this report . It will be posted on the appropriate lake page.
Also join in our FISHING DISCUSSION FORUM where you may talk about your favorite fishing subjects or issues dealing with our sport.
Sumner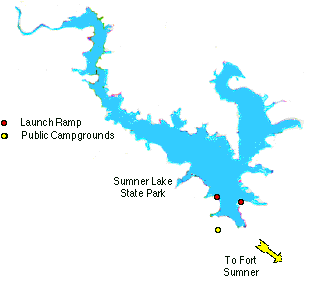 Sumner Lake is rests at an elevation of 4,306 feet. The lake has 4,500 surface acres.
This sparkling blue lake with a rocky shoreline and gently rolling hillsides of juniper provides a refreshing change from the flat grasslands of New Mexico's eastern plains. Sumner Lake State Park offers fishing for a variety of species including, bass, crappie and channel catfish, and is a winter haven for migrating waterfowl. The lake is busiest during summer months.
Fishing, Campsites with and without electric hookup, Showers, Restrooms, Drinking Water, Sanitary Dump Station, Picnic/Day Use, Launch Ramp (small fee may apply), Marinas, Fuel. Summer Lake State Park offers Recreational Camping.
Annual precipitation is 14.8 inches. Summer temperatures range from lows around 62 to highs around 92. Winter temps range from lows of 24 degrees to highs around 56.
Nearby is the Civil War relic, Fort Sumner, with many special historical events and interpretation. Billy the Kid's grave site also is close for outlaw buffs.
To get to Sumner Lake State Park from Fort Sumner, take US 84 northwest ten miles, and then head west on NM 203 for six miles.
For more information: Sumner Lake State Park, HC 64 Box 125, Fort Sumner, NM, 88316, Phone: 505-355-2541
Friday, Jan 30
Hi: 36˚ F

Lo: 33˚ F

Rain/Snow
Precip: 96%

Rain/Snow
Precip: 100%