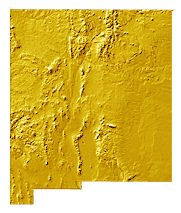 New Mexico Bass Fishing Reports
The map to the left will take you to each lake's page. There you will find details about lake facilities, launch fees, anglers input and tips on lures and patterns that are catching bass.
On each page there is a link to the FISHING REPORTS PAGE. Let us know about your latest fishing trip by filling out this report . It will be posted on the appropriate lake page.
Also join in our FISHING DISCUSSION FORUM where you may talk about your favorite fishing subjects or issues dealing with our sport.
Abiquiu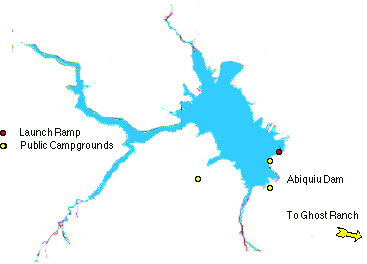 Abiquiu Lake has 5,200 surface acres. Abiquiu Dam was Albuquerque District's second reservoir project of its water resources development plan for the Rio Grande watershed in New Mexico. Located on the Rio Chama, Abiquiu Dam is one of our country's highest earthfill dams. Towering 338 feet above the Rio Chama stream bed and stretching out 1,540 feet.
Largemouth and smallmouth bass are available in the reservoir as well as rainbow Trout, Walleye, Kokanee Salmon,Channel Catfish with an occasional White Crappie, Bluegill, and Brown Trout being caught.
The area around Abiquiu has been a gathering place of tribal people since before the Anasazi settled here more than a thousand years ago. In addition to ancient Pueblo Indian ruins, the area includes: the mosque at Dar al Islam, the "White Place" or Plaza Blanca, painted and photographed by countless artists including Georgia O'Keeffe; a Benedictine monastery nestled in the beautiful Chama River canyon; and an Eastern Greek Orthodox monastery at the foot of imposing Pedernal Peak. The Ghost Ranch is close by and features 17,000 acres of hiking trails and a dinosaur quarry. Dinosaurs lived in New Mexico between 220 and 66 million years ago. These 154 million years encompass the Late Triassic Period and the entire Jurassic and Cretaceous periods of geologic history.
Renowned artist Georiga O'Keeffe was a resident of Ghost Ranch for many years and there is a museum in her honor nearby.
Abiquiu Lake is a mix of public and private property. There are 2 paved boat ramps on the north side with a fishing and swimming area on the south side.
Located 30 miles west of Espanola off U.S. 84.
For more information: (505) 685-4371
Friday, Nov 21
Hi: 49˚ F

Lo: 23˚ F

Partly Sunny
Precip: 1%

Partly Cloudy
Precip: 2%