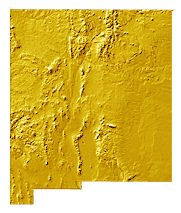 New Mexico Bass Fishing Reports
The map to the left will take you to each lake's page. There you will find details about lake facilities, launch fees, anglers input and tips on lures and patterns that are catching bass.
On each page there is a link to the FISHING REPORTS PAGE. Let us know about your latest fishing trip by filling out this report . It will be posted on the appropriate lake page.
Also join in our FISHING DISCUSSION FORUM where you may talk about your favorite fishing subjects or issues dealing with our sport.
Caballo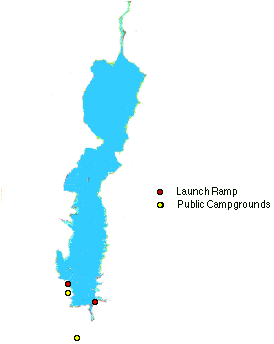 Caballo Lake has a surface area of more than 11,500 acres, making it New Mexico's third largest state park. Created in the late 1930's with the construction of an earth filled dam 96 feet high by 4.558 feet long, the lakes main purpose is to catch and store water released by Elephant Butte Dam (25 miles upstream) during electric generation. The water is released in the summer for irrigation. When full, the lake is 18 miles long and rests at an elevation of 4,100 feet.
The area is home to largemouth bass, walleye, white bass, catfish, crappie, bluegill, northern pike, sunfish, and an occasional rainbow trout. Best fishing is late April through August.
The Caballo Mountains serve as backdrop for Caballo Lake State Park, which boasts a full array of water sports, winter waterfowl watching, and cactus gardens in bloom. This park's claim to fame are the majestic Bald and Golden Eagles that migrate through. Beginning in late October both Bald and Golden Eagles arrive to nest at Caballo. Numerous Golden Eagles nest in the nearby Caballo foothills, while Bald Eagles will nest in a large areas around the park, as well as within the park.
Annual precipitation is 12.8 inches. Summer temperatures range from lows around 65 to highs around 95. Winter temps range from lows of 29 to highs around 61.
Caballo Lake State Park is 16 miles south of Truth or Consequences via I-25 exit 59 and NM 187
For more information: Caballo Lake State Park, P.O. Box 32 , Caballo, NM, 87931, Phone: 505-743-3942
Tuesday, Sep 2
Hi: 97˚ F

Lo: 65˚ F

Hot
Precip: 1%

Mostly Clear
Precip: 1%