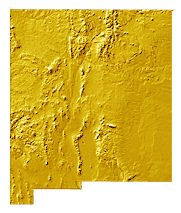 New Mexico Bass Fishing Reports
The map to the left will take you to each lake's page. There you will find details about lake facilities, launch fees, anglers input and tips on lures and patterns that are catching bass.
On each page there is a link to the FISHING REPORTS PAGE. Let us know about your latest fishing trip by filling out this report . It will be posted on the appropriate lake page.
Also join in our FISHING DISCUSSION FORUM where you may talk about your favorite fishing subjects or issues dealing with our sport.
Conchas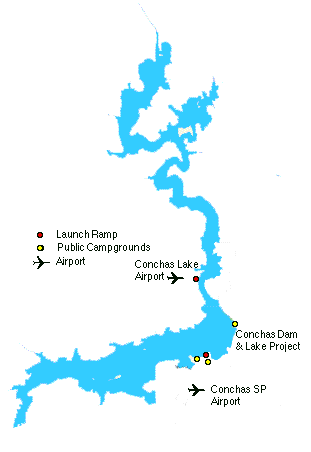 Conchas Reservoir is at an elevation of 4,200 feet and has 9,000 surface acres. Conchas is 25 mile long with over 60 miles of shoreline. The Canadian River has been dammed to form Conchas Reservoir.
Largemouth and smallmouth bass are available to the angler. Other species found in the lake are walleye, catfish, crappie and bluegill.
One of the state's largest lakes includes 60 miles of varied shoreline, secluded coves, canyons, and sandy beaches. Ancient rock formations date back to the Age of Dinosaurs. Observant visitors may discover the fossils of ancient sea creatures.
Fishing, Campsites with and without electric hookup, Showers, Restrooms, Drinking Water, Sanitary Dump Station, Picnic/Day Use, Launch Ramp (small fee may apply), Marina, Fuel. Home of Conhas Lake State Park.
Conchas Lake State Park is 34 miles northwest of Tucumcari via NM 104 .
For more information, New Mexico Game and Fish = Phone: 505-827-7911. Conchas Lake State Park- P.O. Box 976 - Conchas Dam, NM 88416 - 505-868-2270
Thursday, Mar 5
Hi: 41˚ F

Lo: 23˚ F

Mostly Sunny
Precip: 6%

Mostly Clear
Precip: 4%