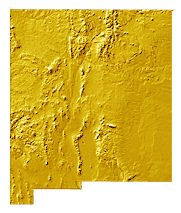 New Mexico Bass Fishing Reports
The map to the left will take you to each lake's page. There you will find details about lake facilities, launch fees, anglers input and tips on lures and patterns that are catching bass.
On each page there is a link to the FISHING REPORTS PAGE. Let us know about your latest fishing trip by filling out this report . It will be posted on the appropriate lake page.
Also join in our FISHING DISCUSSION FORUM where you may talk about your favorite fishing subjects or issues dealing with our sport.
Brantley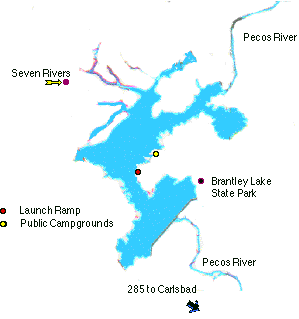 Brantley Lake is part of the Pecos River Chain and rests at an elevation of 3,300 feet. The lake has 2,800 surface acres.
Anglers can catch a variety of warm water fish such as largemouth bass, walleye, channel catfish, white bass, bluegill, and crappie. For conditions at Brantley Lake call 1-505-457- BOAT (2628) for the up to the minute report. Boaters are urged to use caution and scout the lake at low speeds.
Brantley Lake State Park is one of the modern day treasures existing within Eddy County. The newest state park in New Mexico, Brantley Lake is located 12 miles north of Carlsbad.
Annual precipitation is 12.8 inches. Summer temperatures range from lows around 65 to highs around 95. Winter temps range from lows of 29 to highs around 61.
Brantley Lake State Park is 12 miles north of Carlsbad via US 285 and 4.5 miles northeast on Eddy County Road 30.
People first lived there about 10,000 years ago, and most recently, Apaches, Spanish explorers, buffalo hunters and traders passed through. By 1857, a Wild West town, Seven Rivers (known for outlaws, gamblers, cattle rustlers and shoot-outs) had also grown up here.
More About Seven Rivers
Seven Rivers was settled by people who traveled by ox wagon from Virginia to the spot where seven arroyos fed into the Pecos River. At its peak in the 1880's, the settlement had a population of about 300. There were two stores, a post office, a schoolhouse, a hotel and two saloons. Seven Rivers became the county seat of Eddy County.
Seven Rivers grew to become a stop-over for cattle drivers, a gathering place for Pecos Valley ranchers and a hangout for outlaws, gamblers and cattle rustlers. The community gained a reputation for the wild west behavior of rowdies, and its cemetery became known as the "Boot Cemetery".
It's said that shootouts were a fact of life in this frontier town. And that there were removable hinged doors on the saloons that served as stretchers for customers too slow on the draw.
The decline of the cattle industry and the development of a new community to the south--now Carlsbad--led to the virtaul abandonment of Seven Rivers by 1896.
Friday, Mar 27
Hi: 81˚ F

Lo: 43˚ F

Mostly Sunny
Precip: 0%

Clear
Precip: 0%