Elephant Butte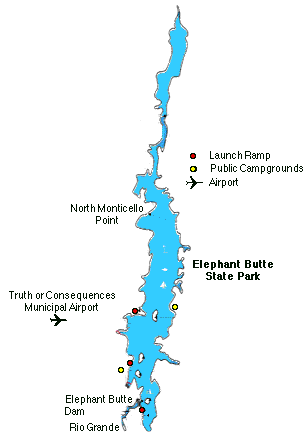 Elephant butte Lake is at an elevation of 4,700 feet in Elephant Butte State Park. The lake has 36,000 surface acres and over 200 miles of shoreline. The Elephant Butte Dam was completed in 1916 across the Rio Grande. Elephant Butte is really tweo lakes in one. An upper and lower lake connected by a narrow river gorge that has changed little since the Rio Grande ran there.
Largemouth, smallmouth and white bass are available to the angler. Other species found in the lake are walleye, striped bass, shad, channel catfish, crappie and bluegill.
The lake gets its name from the eroded core of an anciet volcano, now an island in the reservoir, that resembles the shape of an elephant.
Elephant Butte is best fished in the spring and fall months. After the weather warms it becomes a popular spot and can get a little crowded.
Elephant Butte is approximately 60 miles north of Las Cruces.
For more information, Elephant Butte Lake State Park - Phone: 505-744-5421 or New Mexico Game and Fish = Phone: 505-827-7911.

Name: Mark Hudson
Date: 2007-12-19
Location: El Paso
E-Mail: jmarkhud@hotmail.com
Water Temp: approx. 50
Water Clarity: 2
Report: I had a great day this day. Weather had warmed up into the high 60's. Started off with a jig and pig. Fished seemed aggressive all morning so I picked up my trusty Nichols spinnerbait and started working shorlines next to deep water. Picked up several small largemouth and about 4 small smallmouth. At about 1:00pm, I landed a nice 2.8 lb. smallie. About 10 minutes later a nice 2.5 lb. largmouth. Next cast, a 2.9 lb. largemouth. 25-30 minutes later a 4.9 lb. smallmouth, my best ever in E.B.. I continued to catch some small fish then at about 3:30 pm I hooking into a toad. Fought like mad and then landed a 6.8 lb largmouth. This turned out to be one of the best days I have had at E.B. since the water dropped dramatically about 5-6 years ago. Too bad I was not in a tournament! I hope this is a sign of things to come. Went up on 1-6-08 but had boat trouble. Did not get to fish. Will be up on 2-11-08 if it is not too cold.

Tips:
---
Name: lupe amesquita
Date: 1-20-.3
Location: el paso
E-Mail: boytruckee@aol.com
Water Temp:
Water Clarity: 3
Report: elephant butte lake

Tips: bass ishing
---
Name: Jack Eyler
Date: 9/16/01
Location: Albuquerque
E-Mail: jeyler@earthlink.net
Water Temp: 73
Water Clarity: 2
Report: Fished the Bass Bums yearly team tournament and things were pretty slow. Most people weighed in a couple o small ish each day. Algae bloom everyday starting around 10am made things tough. Most o our ish came on tubes (smoke/pepper) T-rigged or Pop'Rs in the early morning. Also got a keeper splitshotting a mourning dawn worm by the dam. My partner stuck a 6.65 largemnouth with 20 minutes to go beore Sundays weigh in and that gave us irst place with a little over 10 pounds and big bass or the weekend. Whenever the striper and white bass started busting shad around us the smallie bite would go away and we would have to move to a new spot.

Tips:
---
View All Reports