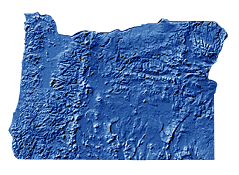 Oregon Bass Fishing Reports
The map to the left will take you to each lake's page. There you will find details about lake facilities, launch fees, anglers input and tips on lures and patterns that are catching bass.
On each page there is a link to the FISHING REPORTS PAGE. Let us know about your latest fishing trip by filling out this report . It will be posted on the appropriate lake page.
Also join in our FISHING DISCUSSION FORUM where you may talk about your favorite fishing subjects or issues dealing with our sport.
Prineville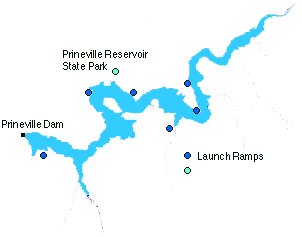 Mountain waters flow out of the Ochoco Mountain Range, joining together to form the Crooked River. This river, confined by its canyon and the Bowman Dam, forms Prineville Reservoir.
Prineville Reservoir when full is nearly 3,030 acre feet of water. Available species include largemouth and smallmouth bass, rainbow trout, brown bullhead, and crappie. Season open year-round.
Rockhounds travel to the Central Oregon area from all over the country to collect the many fine rocks found here. A few of the popular rocks found here are agates with dendrites, green jasper, thunder eggs, and petrified wood. Water skiing is the most popular recreation at Prineville Reservoir.
A fish cleaning building is provided. A boat ramp is located at the end of the parking lot with a beach and swimming area nearby.
Facilities include 22 full RV hookup campsites, 23 electrical campsites, 25 tent campsites, 1 campsite for people with disabilities. Campground open year-round. Max RV, 40 feet.
Quality experiences await visitors to more than 200 state parks managed for the public by Oregon State Parks.
Prineville Reservoir is located in central Oregon about 15 miles south of Prineville and about 30 miles east of Bend, Oregon.
Directions: Good access to north side of reservoir via Juniper Canyon Rd. South side and lower end of reservoir access via scenic drive up the Crooked River and over Bowman Dam. Turn off U.S. 26 in town of Prineville to reach both routes.
For more information, Contact Prineville Reservoir - Oregon State Parks, PLR Box 1050, Prineville, OR, 97754, Phone: 503-447-4363
Monday, Jul 28
Hi: 93˚ F

Lo: 58˚ F

Slight Chance Thunderstorms
Precip: 16%

Slight Chance Thunderstorms
Precip: 16%