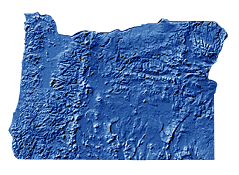 Oregon Bass Fishing Reports
The map to the left will take you to each lake's page. There you will find details about lake facilities, launch fees, anglers input and tips on lures and patterns that are catching bass.
On each page there is a link to the FISHING REPORTS PAGE. Let us know about your latest fishing trip by filling out this report . It will be posted on the appropriate lake page.
Also join in our FISHING DISCUSSION FORUM where you may talk about your favorite fishing subjects or issues dealing with our sport.
Siltcoos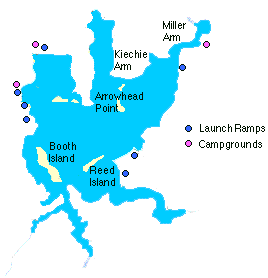 Siltcoos is a large, fairly shallow lake south of Florence. It is separated from the Pacific Ocean by the Oregon Dunes National Recreation Area.
Covering 3164 acres, the lake has good year-round fishing.
It is considered the best local lake for warmwater fish with good bass fishing in early spring. It is stock with rainbow trout and has moderate runs of searun cutthroat and steelhead.
Directions: Travel south on Highway 101 for seven miles. The trail is located on the east side of U.S. Highway 101, opposite Siltcoos Beach Access Road.
Wednesday, Oct 1
Hi: 70˚ F

Lo: 48˚ F

Partly Sunny
Precip: 4%

Patchy Fog
Precip: 2%