Ladies, The Time is Now
By Julie Smith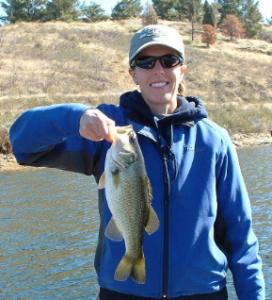 Fishing history was rewritten in February of this year when Judy Israel became the first woman to capture a co-angler tournament title on the FLW Tour. Israel is no newcomer to the competitive scene. She has an impressive résumé that includes being the FLW's leading female money winner and several top 10 finishes on the FLW Tour and the EverStart Series.
There have been other female firsts by Vojai Reed, Wanda Rucker, and Karen Savik to name a few. And if what they say is true - that fish don't care who's on the other end of the line - the fishing industry is in for plenty more.
According to the 2001 National Survey of Fishing, Hunting, and Wildlife, 26% of freshwater anglers are women. That equates to a whopping 7.3 million females! Only a small percentage of these women fish competitively, but the number continues to climb.
I believe the profession of female angler is in the budding stages and on the verge of explosion within the next 10 years. That may or may not seem like a short time to you, but if you look at the history of the Ladies Professional Golf Association (LPGA) or the Women's Tennis Association (WTA) 10 years is a blink of Ray Scott's eye. I have faith in my prediction for two reasons: 1) society and the sporting world are ready thanks to previous generations of women opening doors and 2) a multi-billion dollar industry is already in place.
The LPGA and WTA evolved over several decades with much of that evolution dealing with changing societal norms, industry standards, and making way for the previously unaccepted female athlete. We all remember the "Battle of the Sexes" between Billie Jean King and Bobby Riggs in 1973.
Contemporary female athletes, fishing women included, aren't necessarily battling for women's rights or having to prove themselves worthy of competition. It's over. They just get to play. I know that sounds overly simplistic and there are still stereotypes and stigmas to overcome, but the fact is if a female wants to compete at anything, she can.
Not conducive to equitable competition between men and women, several sports spawned female associations that have become extremely profitable. Bass fishing has the Women's Bass Fishing Association (WBFA), but I don't ever see it rivaling FLW or Bassmaster. The WBFA's tournaments are geographically limited to the mid-south and competitors fish for pocket change compared to the six-figure purses of the corporate sponsored tours. Truth is bass fishing is one of the only sports where men and women can compete on a level playing field for the same money, so why not test the water of the high-profile circuits?
Even though the door is open for women to take on the sport, the top echelon of the competitive arena remains exceedingly male dominated by seasoned veterans who are bankrolled by sponsors and benefit from advantageous endorsements. All this is gradually changing though as companies realize the potential women have at excelling in the sport and marketing products. And I don't mean lounging on the deck of a $45,000 bass boat, bikini-clad and looking voluptuous. Many fishing equipment manufacturers are hiring women to be part of company pro-staff which, besides competing, involves representing sponsors at boat and fishing shows, conducting seminars, acting as spokespersons for products, and guiding clients. More and more women are jumping into the profession of angling with both feet and winning trophies, cash prizes, and the eye of lucrative sponsors.
With ambassadors like Judy Israel, Carol Martens, Lucy Mize, Judy Wong, Kathy Magers, and Karen Savik leading the way, the path can only lead up. I look forward to the day a woman qualifies for the Bassmaster Classic or the FLW Tour Championship. Even the biggest naysayer would agree that it's only a matter of time before one of us makes it to the big show.
---
About The Author