Hensley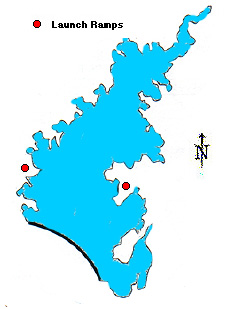 Hensley Lake is located at an elevation of 540 feet in the foothills northeast of Madera.
It has 1,570 surface acres and 24 miles of shoreline.
Lake is subject to periods of low water and submerged hazards come into play at this time.
The angler will find largemouth bass, bluegill, catfish, crappie and trout.
Campsites for tents and RV's are available as well as group camping.
For more information, call (559) 673-5151 for reservations and information.

Name: mark d. inman
Date: 2011-12-26
Location: madera ca.
E-Mail:
Water Temp: 52.0 to 54.9
Water Clarity: 2
Report: The bass here are being caught on jigs baby brushogs and on drop shot rigs. Alot of bass are between 12 and 15 inches there have been a few reports very few going to 3 pounds. Bass are holding in 20 to 40 feet of water dam area, long points deeper water on both side of the points also dropoffs and channels are all holding bass. Jigs in 1/4 oz Bullet head or 3/8oz. arkie or football head in green pumpkin/black green crystal & yamamoto 5" single or twin tail grubs in 208 color for trailers on the jigs. Traffic is light afternoon bite is better

Tips: Fish slow bite is much lighter than the eastman bite long points face of the dam river channela and dropoffs with deeper water near by stay in 20 to 40 feet of water
---
Name: cenvalleybasscat
Date: 2011-11-27
Location: madera
E-Mail: maderajones@gmail.com
Water Temp: 58
Water Clarity: 2
Report: Caught 7 on a square bill crank across the Damn. One good bite on a deep water hump.

Tips:
---
Name: mark d. inman
Date: 0000-03-15
Location: madera ca
E-Mail:
Water Temp: n/a
Water Clarity: 2
Report: There a good bite on bass from 1.5 to 4 pounds the lake is at about 60% and the bass are shallow. Jigs, hula grubs 5" senko's and 6" worms and baby brushogs are all working here. purple junebug watermelon red/black flake are some of the colors being used.

Tips: bass are shallow so the effort here is find structure and the bass are on it
---
View All Reports