FLW WALLEYE TOUR ACTION RETURNS TO FSN
Top pros invade walleye-rich waters of Lake Erie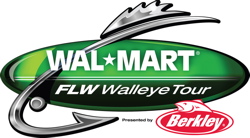 MINNEAPOLIS (May 22, 2008) - Tune in Sunday, June 1, to "FLW Outdoors" on FSN for complete coverage of the season-opening Wal-Mart FLW Walleye Tour event held on Lake Erie in Port Clinton, Ohio. The first tournament of the season, which included a full field of 150 pros and 150 co-anglers, concludes with the winning pro claiming a cash prize of $100,000. The stories evolve and the suspense grows throughout the one-hour show until the final weigh-in results are announced.
Pros and co-anglers are randomly paired each day and fish for a combined boat weight. Pros compete against other pros, and co-anglers compete against other co-anglers. The full field competes during the three-day opening round for one of 10 final-round slots based on their three-day accumulated weight. Weights carry over to day four, with the winners determined by the heaviest four-day weight.
After three days of competition, Walleye Tour rookie John Swanstrom has an incredible catch of 15 walleyes weighing 122 pounds. That means each of his fish have on average weighed over 8 pounds. During a four-day slugfest on Lake Erie, nothing is more important than consistency. Reconnecting with nomadic Great Lakes walleyes day after day is a difficult task. But the pro leader is making it look easy. Swanstrom grew up in Duluth, Minn., and has been around walleye fishing all his life. But he's never seen anything like this. In just three days, the 35-year-old has already surpassed the previous Walleye Tour cumulative weight record of 111 pounds, 8 ounces. Swanstrom is catching his fish by trolling crankbaits and spinners in an area located slightly north and west of North Bass Island. With one day of competition remaining, Swanstrom will attempt to defend his 18-pound lead and take home the first-place purse of $100,000.
By his standards, pro Larry Stephen Smith had a bad third day on Lake Erie. Keep in mind he still caught a five-fish limit weighing 31 pounds, 5 ounces. His total weight at the conclusion of the opening round is 103 pounds, 14 ounces, which puts him in second place. Smith, a guide on Green Bay and Lake Winnebago, is catching his fish on crankbaits trolled at speeds from 1.5 to 1.7 mph. As the water temperature continues to rise, Smith, who is fishing the northeast side of Rattlesnake Island, plans to switch to pulling spinners with night crawlers. Despite trailing the leader by 18 pounds, the Berlin, Wis., native doesn't think this tournament is over.
Erik Furseth, a friend and teammate of Swanstrom, is in third place after catching a three-day total of 102 pounds, 7 ounces. His limit on day three weighed 43 pounds even. Not surprisingly, he is sharing the same water as Swanstrom. Furseth said he literally trolled 100 yards behind the pro leader. Along with his other teammates, Alan Szoke and Steve Vandemark, the two found these fish on the second day of practice. The first day they bit in earnest was day one of the tournament. Since then, it has been getting better and better each day. Unlike Swanstrom, Furseth is using spinners almost exclusively - presenting his baits 8 to 10 feet beneath the surface in water 34 feet deep.
FSN broadcasts "FLW Outdoors" Sunday mornings. Check local listings for show times and channels in your area.
FLWOutdoors.com also provides an online guide listing upcoming episodes on "FLW Outdoors."
FSN is broadcast to more than 81 million homes through its network of 20 regional sports channels. Established in 1996, FSN is the only cable network that supplies national, regional and local sports programming. FSN serves as the cable TV home to 62 of the 82 MLB, NHL and NBA teams based in the United States, and produces more than 4,500 live events each year. FSN has an extensive catalog of original national programs, including "Best Damn Sports Show Period" and "Beyond the Glory" documentary series, along with national packages of collegiate sports. Based in Los Angeles, FSN is part of the vast FOX Sports television family. For the latest up-to-the-minute sports news and opinions, visit the FOX Sports/FSN website at www.FoxSports.com.
"FLW Outdoors" is also broadcast internationally to more than 429 million households in such countries as Germany, China, South Africa, Australia, Malaysia, Russia, Hungary and the United Kingdom, making it the most widely distributed weekly outdoor-sports television show in the world.
Tournament anglers aren't the only ones winning big this season. With the introduction of FLW Fantasy Fishing™, FLW Outdoors® offers anyone the opportunity to enter for their chance to land the catch of a lifetime with the opportunity to win $7.3 million in cash and prizes. Players can become a virtual pro angler by signing up for Player's Advantage, providing them with exclusive insider information that could guide them to a $100,000 victory at every Wal-Mart FLW Tour® stop and the Forrest Wood Cup. Player's Advantage will give them an edge over the competition and increase their shot for a $1 million cash grand prize that will be awarded to the FLW Fantasy Fishing cumulative points winner.
Those who visit FantasyFishing.com today can sign up for Player's Advantage and FLW Outdoors will include a $15 Wal-Mart gift card.
FLW Outdoors, named after Forrest L. Wood, the legendary founder of Ranger Boats, is the largest fishing tournament organization in the world. In 2008 alone the organization is offering more than 90,000 anglers the chance to win over $40 million through 230 tournaments in 10 circuits targeting bass, walleye, redfish, kingfish and striped bass. FLW Outdoors is also taking fishing mainstream with the largest cash awards in the history of fantasy sports, $7.3 million.
For more information about FLW Outdoors and its tournaments, visit FLWOutdoors.com or call (270) 252-1000.
For more information about FLW Fantasy Fishing and Player's Advantage, visit FantasyFishing.com.
Source: flwoutdoors.com (2008-05-27)