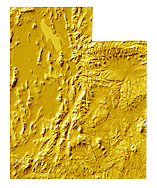 Utah Bass Fishing Reports
The map to the left will take you to each lake's page. There you will find details about lake facilities, launch fees, anglers input and tips on lures and patterns that are catching bass.
On each page there is a link to the FISHING REPORTS PAGE. Let us know about your latest fishing trip by filling out this report . It will be posted on the appropriate lake page.
Also join in our FISHING DISCUSSION FORUM where you may talk about your favorite fishing subjects or issues dealing with our sport.
Starvation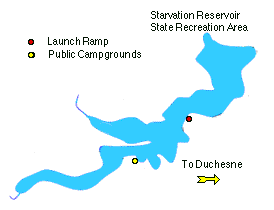 Starvation Reservoir rests at an elevation of 5,700 feet and has 3,371 surface acres.
Managed season is year-round with high use on holidays and weekends. Starvation Dam and reservoir, Central Utah Project, Bonneville Unit, on the Strawberry River is filled by surplus winter and spring flows from the Duchesne and Strawberry Rivers.
Recreation management at Starvation Reservoir is performed by the Utah Division of Parks and Recreation under agreement with the Bureau of Reclamation.
Fish species include walleye, smallmouth bass, and brown trout. Stream fishing on the Strawberry River below the dam.
All-weather access. From Salt Lake City, Utah, take I-80 east to U.S. Higway 40. Go southeast through Heber City on to the Duchesne city limits, turn left and go 4 miles.
For more information: STARVATION STATE PARK PO Box 584 Duchesne, UT 84021-0584 - (435) 738-2326
Thursday, Dec 18
Hi: 35˚ F

Lo: 20˚ F

Mostly Cloudy
Precip: 13%

Mostly Cloudy
Precip: 9%