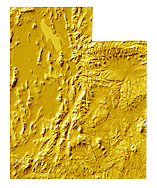 Utah Bass Fishing Reports
The map to the left will take you to each lake's page. There you will find details about lake facilities, launch fees, anglers input and tips on lures and patterns that are catching bass.
On each page there is a link to the FISHING REPORTS PAGE. Let us know about your latest fishing trip by filling out this report . It will be posted on the appropriate lake page.
Also join in our FISHING DISCUSSION FORUM where you may talk about your favorite fishing subjects or issues dealing with our sport.
Pineview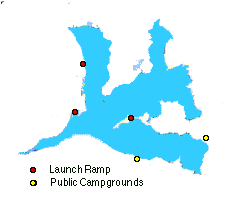 Pineview Reservoir, located east of Ogden, Utah has a surface area of 2,874 acres. The area receives approximately 3/4 million visitors each year. This warm water lake gets quite crowded on summer weekends and so the number of boat launches is limited to 300.
Largemouth and smallmouth bass are available to anglers. Other species include rainbow, cutthroat and brown trout, bullhead catfish, bluegill, yellow perch, crappie, tiger muskie and white fish.
In 1937 an earth and rock dam, 103 feet high and 550 feet long, was constructed in Ogden Valley under the direction of the Bureau of Reclamation. The purpose of the dam was to control and store Ogden River flood waters. This created Pineview Reservoir with a storage capacity of 44,175 acre-feet. In 1957 an enlargement of the original structure was completed. The 132 feet high and 600 feet long dam increased the capacity to its present 110,000 acre-feet.
Located off Utah State Route 39 near Huntsville. Or just 10 miles east of Ogden, UT.
For more information: Utah State Division of Wildlife Resource 515 E. 5300 So. Ogden, Utah 84405 - (801) 479-5143
Wednesday, Apr 1
Hi: 40˚ F

Lo: 23˚ F

Partly Sunny
Precip: 5%

Mostly Cloudy
Precip: 10%