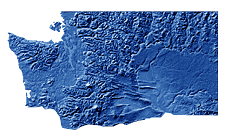 Washington Bass Fishing Reports
The map to the left will take you to each lake's page. There you will find details about lake facilities, launch fees, anglers input and tips on lures and patterns that are catching bass.
On each page there is a link to the FISHING REPORTS PAGE. Let us know about your latest fishing trip by filling out this report . It will be posted on the appropriate lake page.
Also join in our FISHING DISCUSSION FORUM where you may talk about your favorite fishing subjects or issues dealing with our sport.
Pend Orielle River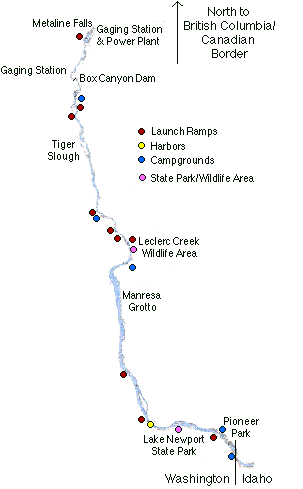 Pend Oreille River runs through Pend Oreille County in Washington and continues into Idaho where it eventaully turns into Lake Pend Oreille. It was named after the Pend Oreille Indian Tribal Nation, which resided on its banks.
The River features largemouth bass. Pend Oreille River also features brook ,brown, Rainbow and cutthroat trout, walleye, whitefish and panfish.
The U.S. Army Corps of Engineers provides much info on the Pend Oreille River Basin. Also the National Weather Service provides information from gaging stations.
Manresa Grotto is a glacially formed above-ground cave located on Kalispell Indian Reservation land. It was used for relious ceremonies by early Americna Indians and missionaries. Thre is a winding dirt trail to the cave, which features a dome-like room with stone benches and altar. The Grotto affords spectaular views of the Pend Oreille River and surrounding mountains.
The 1872 North Cascades Earthquake occured in this region on Decmeber 14, 1872. Here is an account of that day: EARTHQUAKE AND LOSS OF CATTLE - We are in receipt of a letter from I.N. Woods, written from River Station, Pen d'Orielle- River and dated Dec. 15, in which the writer says.. "We had a very severe shock of an earthquake on the afternoon of the 14th- At the time we first felt the earth move James Bradley was crossing his cattle and horses over the Pen d'Orielle River, on the ice, when the ice suddenly commenced jumping up and breaking to pieces, letting the cattle and horses into the river. Out of 71 head of cattle Mr. Bradley succeeded in saving 21 head. The horses all came ashore: some of them were badly cut up by- being jammed between the ice- This is all the damage that I have heard of being done. The water was about four feet higher than usual. It was a fearful shock here."
For more information, call (360) 753-6552.
Monday, Jan 26
Hi: 42˚ F

Lo: 32˚ F

Partly Sunny
Precip: 0%

Partly Cloudy
Precip: 0%