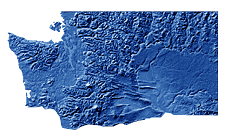 Washington Bass Fishing Reports
The map to the left will take you to each lake's page. There you will find details about lake facilities, launch fees, anglers input and tips on lures and patterns that are catching bass.
On each page there is a link to the FISHING REPORTS PAGE. Let us know about your latest fishing trip by filling out this report . It will be posted on the appropriate lake page.
Also join in our FISHING DISCUSSION FORUM where you may talk about your favorite fishing subjects or issues dealing with our sport.
Silver Lake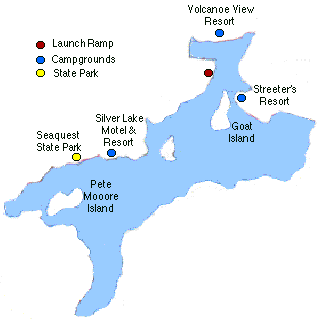 Silver Lake is located in Cowlitz County at an elevation of 485 feet. It has somewhere between 1650 and 2,996 surface acres depending on the amount on water in the lake which varies and 4 miles of shoreline. Average depth is 5 feet.
The lake features largemouth bass. Silver Lake also contains cutthroat & rainbow trout, catfish, and panfish.
There is a 14" minimum length restriction for bass on the lake and a limit of 30 boats for tournament purposes.
The lake is shallow with abundant lilly pads and weeds and has a nice view of Mt Saint Helens and a "no wake" zone.
For more lodging information, contact Streeter's Resort (360) 274-6112 Silver Lake Motel and Resort (360) 274-6141 Or Volcanoe View Resort (306) 274-2087
Monday, Mar 10
Hi: 53˚ F

Lo: 36˚ F

Rain Showers
Precip: 77%

Chance Rain Showers
Precip: 31%