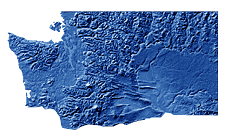 Washington Bass Fishing Reports
The map to the left will take you to each lake's page. There you will find details about lake facilities, launch fees, anglers input and tips on lures and patterns that are catching bass.
On each page there is a link to the FISHING REPORTS PAGE. Let us know about your latest fishing trip by filling out this report . It will be posted on the appropriate lake page.
Also join in our FISHING DISCUSSION FORUM where you may talk about your favorite fishing subjects or issues dealing with our sport.
Chelan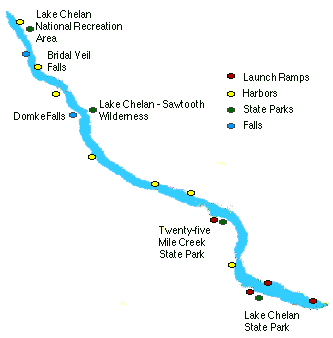 Lake Chelan is located at an elevation of 1099 feet in the Wenatchee National Forest in Chelan County. It is 55 miles long and is one of the most pristine waters in the United States. At 1,486 feet Lake Chelan is the third deepest lake in the nation, extending nearly 400 feet below sea level.
Lake Chelan is a landlocked fjord of the North Cascades, major portions of which are deeper then the Grand Canyon. The valley where it resides was gouged by glacier movement leaving steep cliffs and cascading waterfalls. Because of Federal protection, the communities in the upper end of the lake are not connected by roads to the outside world.
Smallmouth bass are the feature attraction to bass fisherman but the lake also holds kokanne & landlocked chinook salmon , mackinaw, lake trout & rainbow trout.
Take the Lake Chelan Virtual Tour.
Ferry rides on the lake are avaiable from Lady of the Lake 509-682-4584 OR E-mail info@ladyofthelake.com
For more information, contact Lake Chelan Chamber of Commerce -
Sunday, May 3
Hi: 62˚ F

Lo: 43˚ F

Mostly Sunny
Precip: 0%

Mostly Clear
Precip: 0%