Silver Lake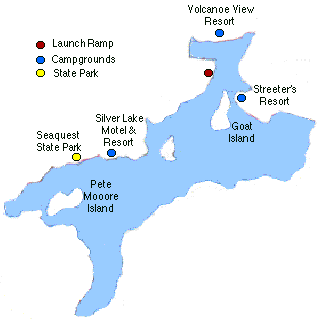 Silver Lake is located in Cowlitz County at an elevation of 485 feet. It has somewhere between 1650 and 2,996 surface acres depending on the amount on water in the lake which varies and 4 miles of shoreline. Average depth is 5 feet.
The lake features largemouth bass. Silver Lake also contains cutthroat & rainbow trout, catfish, and panfish.
There is a 14" minimum length restriction for bass on the lake and a limit of 30 boats for tournament purposes.
The lake is shallow with abundant lilly pads and weeds and has a nice view of Mt Saint Helens and a "no wake" zone.
For more lodging information, contact Streeter's Resort (360) 274-6112
Silver Lake Motel and Resort (360) 274-6141
Or Volcanoe View Resort (306) 274-2087