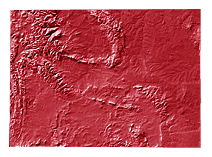 Wyoming Bass Fishing Reports
The map to the left will take you to each lake's page. There you will find details about lake facilities, launch fees, anglers input and tips on lures and patterns that are catching bass.
On each page there is a link to the FISHING REPORTS PAGE. Let us know about your latest fishing trip by filling out this report . It will be posted on the appropriate lake page.
Also join in our FISHING DISCUSSION FORUM where you may talk about your favorite fishing subjects or issues dealing with our sport.
Keyhole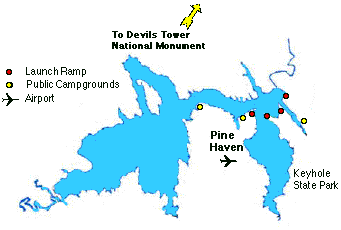 Keyhole Reservoir rests at an elevation of 4250 feet as part of Keyhole State Park neighboring Black Hills National Forest. It has a surface area of 9,000 acres and 53 miles of shoreline.
Smallmouth bass fishing is the available to the angler. Also present in the lake are walleye, northern pike, channel catfish, crappie, fresh water drum and perch.
Anglers are alerted that their fish must be dead before being transported from the water they were caught in. Anglers cited for transporting live fish from the water where caught could be fined up to $400.
French trappers settled in the vicinity of Belle Fourche and engaged in fur trading as early as 1854. Settlement in the area began with the gold rush to the Black Hills in 1876. Livestock became the principal industry in the general area. The Chicago and Northwestern Railroad reached the city of Belle Fourche in 1891 and for the remainder of the 19th century, the city was considered the largest original shipping point for livestock in the United States.
Keyhole is also a mecca for both resident and migrating birds of all species. Visitors have the opportunity to view many types of wildlife from whitetailed deer to wild turkeys. Within sight of Devil's Tower, Keyhole State Park is situated along the southeast shore of the reservoir
Located eight miles north off I-90 (Exit 165) between Moorcroft and Sundance.
For more information: Wyoming Game and Fish 307 -777-4600. Or - Wyoming State Parks and Historic Sites 353 McKean Rd. Moorcroft, WY 82721 Phone: 307- 756-3596
Monday, Mar 30
Hi: 62˚ F

Lo: 39˚ F

Mostly Sunny
Precip: 0%

Mostly Clear
Precip: 0%