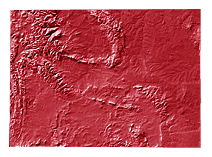 Wyoming Bass Fishing Reports
The map to the left will take you to each lake's page. There you will find details about lake facilities, launch fees, anglers input and tips on lures and patterns that are catching bass.
On each page there is a link to the FISHING REPORTS PAGE. Let us know about your latest fishing trip by filling out this report . It will be posted on the appropriate lake page.
Also join in our FISHING DISCUSSION FORUM where you may talk about your favorite fishing subjects or issues dealing with our sport.
Boysen
Boysen Reservoir rests at an elevation of 4,800 feet as part of the Wind River Indian Reservation Area. It has a surface area of 19,000 acres and 77 miles of shoreline. The reservoir is15 miles long by up to 4 miles wide. Boysen Reservoir was created in 1951 to provide irrigation water to 100,000 acres of farmland in the Bighorn Basin.
Smallmouth bass fishing is the available to the angler although largemouth bass are present but not in abundant numbers. Also present in the lake are walleye, sauger, perch, ling, crappie, bluegill; lake, rainbow, cutthroat and brown trout. Boysen holds the state record on three types of fish; the walleye at 17.42 lbs, the black crappie at 2.34 lbs and the carp sucker at 6.15 lbs. The walleye is also a world record through the ice.
Ice fishing regs allow anglers to fish up to six rods, but each line can have only one hook, and anglers must be within 300 yards of all lines. Limits here are: six walleye and sauger in combination; three ling; six trout but only one over 20 inches; 50 crappie. Fishing open year-round with State fishing license.
This reservoir was named after Asmus Boysen, who was born in Denmark in1868. He settled in Illinois. While he was on a mining exploration trip in 1900, he visited the Wind River Canyon and envisaged a dam that could provide electricity to nearby mines, and the water itself could be used for irrigation. He built the dam in 1908 at the mouth of the Wind River, costing two million. Currently, only a small section of the dam is left because floods ruined the turbines and threatened to flood the nearby railroad. Part of the original dam can be seen near the north end of the Lower Wind River Canyon.
The lake is located in Central Wyoming, at the head of the Wind River Canyon just north of Shoshoni. U.S. 20, northeast of Riverton and 10 miles north of Shoshoni. For more information: Wyoming Game and Fish (307) -777-4600. Or - Boysen State Park Boysen Rt. Shoshoni, WY 82649 Phone: 307- 876-2796
Tuesday, Apr 21
Hi: 66˚ F

Lo: 38˚ F

Partly Sunny
Precip: 5%

Partly Cloudy
Precip: 5%