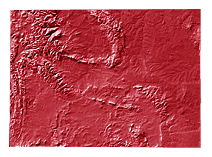 Wyoming Bass Fishing Reports
The map to the left will take you to each lake's page. There you will find details about lake facilities, launch fees, anglers input and tips on lures and patterns that are catching bass.
On each page there is a link to the FISHING REPORTS PAGE. Let us know about your latest fishing trip by filling out this report . It will be posted on the appropriate lake page.
Also join in our FISHING DISCUSSION FORUM where you may talk about your favorite fishing subjects or issues dealing with our sport.
Grayrocks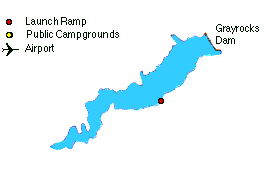 Grayrocks Reservoir rests at an elevation of 4,400 feet in Platte County. The reservoir is fed by the Laramie River. It has 104,000 acre-feet of water and is 8 miles long.
Largemouth and smallmouth bass fishing is the available to the angler. Also present in the lake are walleye, tiger muskie, channel catfish, crappie, pumpkinseed and bluegill.
The state record for a tiger muskie is 29.37 lbs., 49 inches caught here in1992 by Frank Rubrecht.
Althougth the lake does ice over, six inches is considered thick by locals so please be warned about his before attempting to ice fish this body of water.
The dam and reservoir is the principal water supply for the power plant, providing up to 19,000 acre-feet of water annually for steam and evaporative cooling. It also aids in flood control and has the potential to supply irrigation water to the region's farmers.
Directions - Access 1 mile north of Wheatland on I-25, then .5 mile east on Laramie River Road, then 2 miles north on WY 320, then 14 miles east on County Road 67.
For more information: Wyoming Game and Fish 307 -777-4600. Or - Wyoming State Parks and Historic Sites 353 McKean Rd. Moorcroft, WY 82721 Phone: 307- 756-3596
Sunday, Nov 23
Hi: 40˚ F

Lo: 22˚ F

Breezy
Precip: 13%

Mostly Cloudy
Precip: 7%