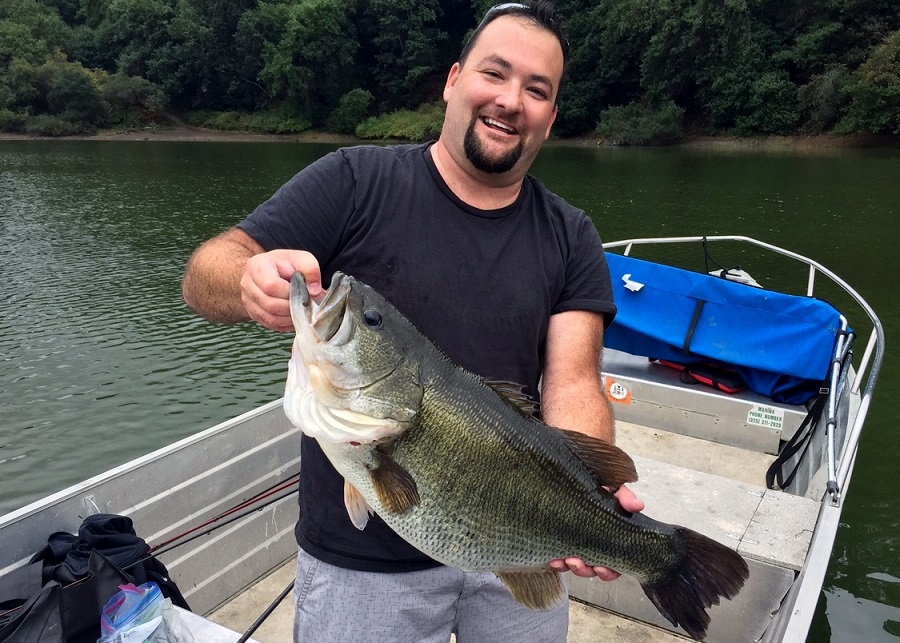 On October 28, 2016 Ryan Reynolds broke the lake record with his 19-pound largemouth bass catch on Lake Chabot Reservoir.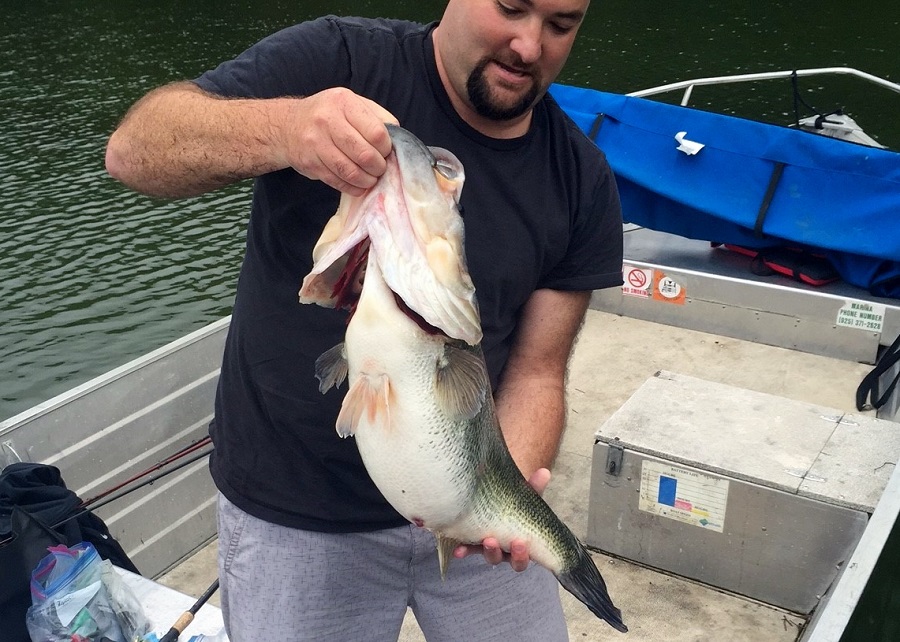 Ryan Reynolds of San Mateo, Calif. made the record books this past weekend when a couple of hours on Lake Chabot turned into one of the best days of his life – the day his personal best bass went from a 7-plus to 19-pounds.
Reynolds' largmouth shattered the standing lake record set in 2002 by Louis Vasquez for a bass weighing in at 17-pounds.
TIME TO KILL
"I had to work in the morning; so I was crossing the San Mateo Bridge and noticed how nice the weather was," recalled Reynolds. "I had a couple of hours; so I grabbed my fishing rod, went to Chabot and rented a skiff.
"Me and my brother pounded this lake all summer long and it's been so slow. Last year, we did really well. Not so much this year; so I wasn't really expecting anything."
YAMAMOTO HULA GRUB CATCHES A RECORD BASS
Sometime before noon, Reynolds hit an area near Alder Point. He made his second pitch to large submerged tree in 20- to 25-feet with a Gary Yamamoto Custom Baits Double Tail Hula Grub (black and blue) on a ½-ounce football head jig. At about mid-point of the fall, he was met with a "big tick" He answered with a hookset and the fight was on.
"I felt her shake her head a couple times and I figured it was a keeper bass; but when she breached the water, I saw her head was just massive," he said. "I immediately freaked out.
"I put pressure on her and she wrapped me around a tree limb. That freaked me out more. I fought her for about a minute, did a couple of figure eights with her – it felt like forever. I didn't have a net; so I reached in with my whole hand in her mouth and pulled her out."
Reynolds greeted his new PB with screams of excitement and an expletive or two.
LAKE RECORD BASS CATCH AND RELEASE
"I weighed her on a digital scale in the boat; but it kept bouncing around between 18- and 20-pounds," he said. "I knew what the lake record was, so I called up to the marina and asked them to meet me halfway.
"There are no gas-powered motors on the lake – electric only. The boats are super-slow and I didn't want to kill the fish; so I asked them to meet me to cut down the time that she would be in the boat. They did. They brought the scale, took pictures and we got the release on video. They said it was the new lake record.
Reynolds shared that as awesome as it was to catch the fish; the best part may have been the release.
"When I put her back, she just sat for about 10 to 15 seconds," he said. "She gave me a little life and I let her go. She splashed me in the face before she swam off and I knew she would be okay.
Reynolds fished his jig/ Yamamoto Grub on a G. Loomis GLW MBR 845 Flipping Stick paired with a Shimano Curado E7 spooled with 65-pound Sunline FX2 braided line.
An avid angler, Reynolds has been bass fishing his whole life. He typically hits Chabot once per week. Prior to this giant, his biggest on the lake in the six-pound class.
CHABOT A CENTURY OF OFF LIMITS
Completed in 1875, Lake Chabot Reservoir is a 315-acre lake in the East Bay developed to serve as a standby emergency water supply. It was closed to recreation for 91 years and opened in the '60's for controlled use.
MORE TO THIS BASS FISHING STORY
Is this a "Dottie" tale in the making?
Could a giant add three-pounds in only a year or is there a big fam of resident teeners looking up at us from the depths of Chabot?
"Last year around this time, my buddy caught a 16.6 around the same area," said Reynolds. "The gill around the middle part of the bass had a distinctive cut. It was kind of a mutant, odd-shaped bass and this one looked very similar."
RELATED BIG BASS CATCHES:
THE CATCH SEEN AROUND THE WORLD
NOT ONE, BUT TWO 36-LB LIMITS CONTINUE THE DELTA TRADITON
THE 36-LB BAG: A DELTA TRADITION CONTINUES ON
RIVER2SEA S-WAVER REELS IN 12-POUNDER AT MELONES