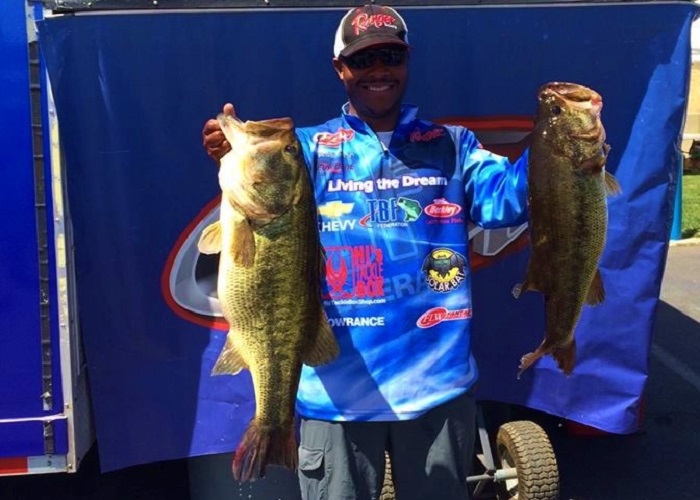 A quick trip home during a hiatus from the FLW Tour put another FLW championship trophy in the hands of Delta local Mark Daniels Jr.
Reaping the rewards of his "Living the Dream" victory, Daniels Jr. has spent much of this year traveling across the country in the FLW Tour; however a break in the schedule coinciding with Mother's Day sent him home to Fairfield, Calif. for some time with the fam and the journey home wouldn't have been complete without a little time on the water.
As luck would have it, a day of fun fishing for Daniels Jr. produced some noteworthy catches and with his stay in California aligning perfectly with FLW Western Division stop on the tidal water, he entered.
THE UPS AND DOWNS OF THE DAYS
As the three-day event kicked off, the strategy was the productive pattern from practice; however  the that didn't pan out as expected
Daniels Jr. sat in 21st on day one as he went to the scales with 17-07,. "I was up north on Thursday and I got a lot of fish - maybe 12 or 13," he said. "But, they just didn't have any quality."
Confident in his technique, he stuck to it on day two; but changing areas changed course of his tournament. "I went down south," said Daniels Jr. "There, I found a wad of pre spawn females that had not pulled up to spawn yet and they were eatin'. They were full-bellied and weighed as much as they will weigh this whole year. I caught less fish in this area, but it was a huge bag. I had two fish for almost 20 lbs!"
His total five fish limit on day two came in at 28-4 and rocketed him into 3rd place.
As he blasted off on the final day, less than one pound behind the leader, Daniels Jr. felt confident but realistic ... as all local anglers know, on any given day the Delta can give you 99 problems - this day - for Mark Daniels Jr. - a fish wasn't one.
 "There is the potential for anything on the Delta; but at the same time, the Delta can be stingy," he stated. "I knew I could go out there and catch nothing or five small ones. That is just how it is."
With two four pounders in the boat by 7 a.m., his day started off on a good note. He went through about two dozen fish and ended the day with 26-12 for the winning tournament total of 72-15.
THE BIG ONE
Daniels Jr. also  claimed the Big Bass honors of day two, when he punched a 10-14. "It was the strongest fish that I've ever caught in my entire life and it is the third 11 pounder that I've caught," he recalled. "When you're flippin', the range isn't that far away, so to set up on a fish that size and have it go buck wild in a mat is crazy. She was pullin' drag underneath the mat. I thought she was going to pull me out of the boat. You always worry when you're punchin' and you get a good bite, because you're in their environment and even though we have all the technology and great equipment, you just don't always get 'em. Anyone on the Delta will say it, you punch a lot of big ones - you lose a lot of big ones. That is just how it goes."
BITE DEETS
His punch rig included an 1 1/4 oz Picasso tungsten weight, a Paycheck Baits Punch Skirt in Bub's Money Craw and he switched between a Reaction Innovations Kinky Beaver in Black Neon and 420. "I was using an 8' Daiwa Steez Flippin' Stick with a 7:1 reel and Daiwa Samurai Braid," said Daniels Jr.
In addition to his rig, he also threw a Senko, buzzbait and frog during the event.
He credited his local knowledge for some of his success. "It's not like I was in a secret spot or anything; guys are out there all the time, but the place I was the last two days had no boats around me," stated Daniels Jr. "I was in a place that I've fished lots of times before and I know big fish live there. So, that was something I could maximize on."
The condition changes didn't have an effect on his fish. "On the Delta, punchin' is a finesse bite and it usually holds up regardless of the weather," he explained.
His punchin' mats intermixed hyacinth and primrose and had 1 1/2 to 4 ft of water underneath.  The top of the high, before the slack and about an hour into the outgo were the better bites for Daniels Jr. He ran about 30 different spots. "I was hopscotching place to place - 1/4 mile to one bank, then a 1/2 mile to another one, over and over," he said.
The celebration for his victory was short-lived as he is expected to make a flight out on Monday to resume the FLW Tour. He gave a special thanks to Harvey Pulliam and Kevin Arbet for the use of their boats and a gave a shout out to his home water fishing partner Jamond Andrews for an 18th place finish this weekend (in his first FLW event) and for carrying on their tradition of a 36 lb game day limit, while he was on tour.
He also expressed his appreciation for TBF, Ranger Boats, Evinrude and Hi's Tacklebox for everything they do to keep him fishing.