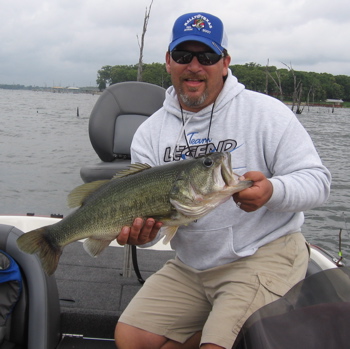 It's difficult to compare one fishery in California to other fisheries in California. Overall we have outstanding fisheries here in the state and the lakes that some might label as being poor might very well be labeled significantly higher then fisheries in other states in the country.
A debate is raging on in our northwest fishing forum.
It's my feeling that some anglers might just be a bit spoiled by the awesome fisheries that we have available to us in our great state. Our local studs fishing competitively in the East come back telling me that the fishing truly sucks in most states they have to go to and that we don't know how good we have it out here.
Overall the California Department of Fish & Game does a fine job of managing our fishing resources that exist in lakes where the main purpose of the lake is to provide water to our communities, farmers and the like.
It's all a matter of perspective and I'd suggest that those that feel some California lakes are lacking need to get on their ponies and do a bit of traveling to find out what a truly poor or dying fishery is like.
None of the lakes from a list in the forum of places that have had spotted bass introductions fit the description of a poor or dying fishery. In fact that list reads like a who's who of lakes I absolutely love to fish.
On some of those lakes time of year is critical to get into better fish but overall they fish pretty darned well. There isn't a lake on that list that I haven't experienced, some many times, and the catching is generally much better then what some are portraying in this thread. Sure, there are times when the average weight isn't comparable to other area lakes. If average weight is the criteria for what makes a good lake then I'm missing the point completely.
Sometimes what's being caught is merely a reflection of the anglers that are fishing it.
I'm worn down on people beating up on Oroville as a fishery. It shows a distinct lack of their longevity in fishing on that lake. A couple decades ago an angler would go all day both days without getting bit on a weekend trip there. There were tournaments that were won with one or two fish limits. That surely isn't the case anymore and it's because of the introduction of spotted bass. I've heard anglers whine about not getting bit on Folsom or Millerton, yet I've experienced some really good to great fish catching days on both fisheries. I used to fish Nacimiento regularly when I was living in Santa Cruz and have had some really exceptional days there. I've had trips out on Shasta, Folsom and Berryessa where all I caught were good limits of smallmouth bass. It didn't appear to me that introducing spotted bass to those lakes had forever damaged the resource. In fact if seemed to have enhanced the fishing experience for many anglers.
I'm not sure what the whining is all about but I believe it's coming from people that haven't truly experienced a poor fishery so they have no point of comparison. Just because your club went out on a lake and the bite was off shouldn't label it a poor fishery. All lakes have periods where the bite is tough.
We're blessed in having the fisheries resource that we do in California. If you don't like the way a lake fishes you can always take a drive to a lake that does match up to your expectations and skill set.