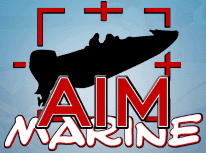 LAKESIDE, CA - Aim Marine is very proud to announce our involvement and support of the following organizations for the remainder of 2005 and into 2006. These are in addition to our open tournament events, and saltwater tournaments. It is our hope that you can join us in supporting these fine organizations, the more involvement from the anglers and sponsors, the better.
American Bass Anglers - American Bass Anglers is one of the largest tournament organizations in the Nation, and has existed in San Diego since the late 60s. This tournament is built by fisherman, for fisherman, and no region holds tighter to that ideal than the San Diego region which is directed by long-time angler Dave Brantley.
This tournament is unique to others in San Diego in that it has a draw format. Anglers can register as a boater or a non-boater, non-boaters are paired with boaters, and this is one of the best way for entry level anglers to learn the ropes of tournament fishing and increase their angling skills. The entry fees are $55 a person, with $15 in options available.
We have decided to support the San Diego American Bass Anglers by making their tournament trail feature a 100% payback. Aim Marine is extremely excited to support this organization, which is supported nationally by Triton Boats. Sign ups for the tournaments are held tournament morning at the front of the line prior to being let into the lake.
For any additional information, please call Dave Brantley at (619)449-0988 or Jeff Riley at (619)258-0465.
National Bass West - On the heels of a very successful year in the San Diego region, National Bass West will again be offering 100% payback in the San Diego region. Aim Marine will continue to be the major sponsor for the San Diego Region this year, and they have our full support.
Given the success of last year though, we have decided to also support the Diamond Valley, and the new Colorado River region with the 100% payback format as well. We are very excited to see those two regions flourish as well.
The first NBW San Diego tournament will be held on November 19th at San Vicente. The first NBW Diamond Valley tournament will be held on Sunday, November 20th, and the next Colorado River tournament will be held December 3rd out of Fisher's Landing on the lower Colorado River.
The San Diego region is directed by Mike and Lynne Peterson, for details on that region please call (760)497-8238. Sign-ups for the San Diego region tournaments will be held at Aim Marine's primary location in Lakeside at any time up until the tournament or the Friday before the tournament from 4 pm to 7 pm. Anglers who register then will be entered in a raffle for a free entry fee into the tournament. The Diamond Valley region is directed by Sonya Thanning who can be reached at (951)658-7410. You can sign up for the Diamond Valley events at Aim Marine's satellite location at Last Chance Bait & Tackle in Hemet. And the Colorado River regioin is being headed by Mike Evans, you can call him at (619)549-9314.
Full schedules for those three regions, and the rest of the National Bass West regions are available at www.nationalbasswest.com.
WON Bass - Aim Marine will be sponsoring a special bonus for San Diego WON Bass tournament winners this year. In addition to the regular payout, the highest place team in ALL options will be rewarded with two $500 gift certificates to Aim Marine.
The first WON Bass San Diego region tournament of the year is this Saturday, Novemeber 12th at San Vicente. Sign ups for all San Diego WON Bass tournaments will be held at Aim Marine on the Friday before the tournament from 4:00 pm to 6:45 pm.
Rich Serra will again be directing this region, and he can be reached at (858)679-3313 for any questions regarding this tournaments.
Aim Marine "Sunday" Team Series - I am personally very excited to officially announce the details for this tournament circuit. Fishing is all about fun, and we have created a tournament circuit that will mix the fun of leisure fishing, with the excitement and competition of tournament angling.
Our new tournament circuit will feature five tournaments, two at San Vicente, two at El Capitan, and a two-day Championship at the private Vail Lake.
This tournament set will be unique to all others in several ways. Our paybacks will be guaranteed, the 1st place team will receive $1,500, the runners-up will receive $750, and on down to 10th place which will reward anglers with their entry fee back, a cool $100 bill. The big bass of the tournament will be rewarded with $400, and the top "mixed team" comprised of either an adult/kid or man/woman team will also receive $400, GUARANTEED.
The entry fee for these tournaments is only $100 per team, plus a $15 lake fee charge. There is going to be a $25 per person ($40 for a family team) membership requirement, which is good for the entire series. With that membership you will receive a shirt, hat, and membership card that will grant you 10% off tackle purchases made at Aim Marine.
The top 32 placing teams in the year-end points, top 3 mixed teams, and 5 random wild card teams will qualify for the Championship at Vail Lake (date TBD).
Rich Serra will be the tournament director for this event, and can be reached at (858)679-3313. Assisting Rich will be Lynne Peterson, who can be reached at (760)497-8238. Entry forms and membership applications will be available at Aim Marine.
If you have any questions about any of these events in general, or Aim Marine's involvement in them please don't hesitate to call or email me.
Kellen Ellis
Aim Marine - Marketing Manager
12345 Mapleview St.
Lakeside, CA 92040
(619)443-0031 ext. 106
www.aimmarine.com