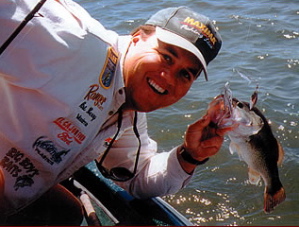 (Novato, CA) Art Berry, one of the most versatile and well respected Western anglers of all time, has joined the Powell rod team. Art is currently an FLW Tour Pro, and when Art's not competing on the highest level, he's guiding clients in southern California.
"I met Keith at Lake Shasta a few years ago when I drew him as my non-boater in a BASS event. We had a great time together and I am really looking forward to working with him on product R & D, and I'm happy to be able to help add input where needed."
Keith Bryan, President of Powell says: "Having Art join our team is an awesome addition to Powell. This guys a machine on the water with the utmost integrity. If you're fishing behind him, you can forget it, because he's covering the water so efficiently. Fishing with him was a great experience. Art is a tremendous addition to the Powell team and he will really help with rod development, etc. I am looking forward to seeing him at Anglers Marine 20th annual Bass-A-Thon event this coming weekend November 4 & 5th."
For more Bass-A-Thon details please visit http://www.anglersmarine.com.
The Powell name has been around for 96 years. As we continue to grow, our main focus is to provide products with the highest quality standards which we've always done, backed by superior customer service. All of our Rods are sold through retailers only. So go to your nearest Powell retailer and ask to see one of our rods.
To find a Powell retailer near you, please visit our website at www.powellco.com, or call us at (415) 382-9745.