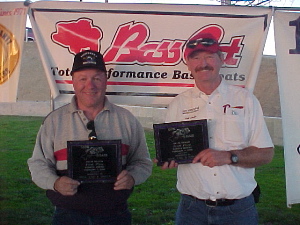 Saturday couldn't have started any better with the largest regular team tournament on the Delta in over 4 years. 91 teams checked in at Russo's marina to start the season. They were not disappointed as the weather was great and fishing was pretty good. When all was said and done 100% BASS had their second $6000+ payout of the season and the fishermen were excited.
Taking home the first place award were Fresno's Walt Austin and Clovis's Ron Barksdale. Their 5 fish limit tipped the scales at 25.31 pounds and was anchored by the 4th place big fish of the day, a Largemouth Bass weighing 7.91 Lbs. Austin told everyone at the award, they fished the middle part of the Delta all day long and the Lure of choice was Black and Blue Jigs or Purple Senko's fished just out of the current in 8 – 10 feet of water. A big roar went up as the announcement was made, "The winners check came to $6002", The largest winning check in any regular team trail event in Delta history. They also received a pair of nice plaques sponsored by "The Hook". Congratulations to Walt and Ron on a great day of fishing and for taking the time to thank your number one sponsors, their wives.
Second place was taken by local good guy's Jim Soden of Oakley and his partner Tom Fischer of Martinez. With a 6.54 pound kicker bass their total for 5 fish came to 23.43 pounds. Soden told us during the weigh in they also fished the middle Delta and spent all day with either a Black and Blue Jig or Spinnerbait in their hands. Their reward for a solid day on the water was $3385. Good job, Jim and Tom.
Finishing in third was Bill Spence Jr. of Livermore and Chris "Raisin" Raza of Roseville. These two teamed up about 5 years ago and have been tuff ever since. With the big fish of the day in the bag, a fabulous 9.21 Lb. Lunker, Bill and Chris ended up with 5 fish for deuces wild, 22.22 pounds. This wont surprise anyone, Spence said they caught all of their fish Flippin', using mostly Black and Blue Jigs and Senko's. Besides a pair of those nice plaques, they took home $2785.
Forth place went to Ron Lopes of Galt and Todd Fedderson of Oakley. Their weight of 22.04 pounds, netted them $1470, while the fifth place check of $1015 went to Mike Fontes and Russ Silva.
100% BASS would like to thank the fine sponsors that make the difference between fishing and the quality events we are able to provide as a result of their support. BassCat Boats, Mercury Outboards, MossDale boats in Tracy, Bridgestone Tires and Gill's Tires in Stockton, MinnKota Trolling Motors, Humminbird Electronics, Berkley Trilene, Spiderwire Braid, Persuader Bass Baits, Solar Bat Eye Protection, Walton's Pond in San Leandro, Hook, Line&Sinker in Oakley, Phil's Props in Redding, FishingWorld.Com, MF Finesse Worms, TackleWarehouse.com, Comfortroll, Comfort Suites of Oakley, Sig Fish Inc, and No Sweat Mist
For complete tournament results, please visit our web site at –www.100percentbass.com.
Bob Kornhauser – Owner 100% BASS – 530-274-1397