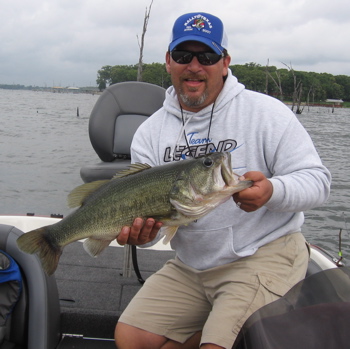 Anything that's been around for 20 years needs to be bragged about just a little bit. Anglers Marine is gearing up for it's 20th annual Bass-A-Thon. Set to start up on Saturday November 4th, the show will be two days of just a ton of fun, great speakers, the best deals you're going to find anywhere fishing tackle AND new boats.
Here's a run down on how it all got rolling and what to expect from this year's event.
This is the 20th show and, if you can believe it, the first ever speakers were Roland Martin, Gary Klein, Ricky Green, Rick Clunn, and Greg Hines. That first show was in 1982. Changing location in 1988 and a couple of recessions have kept it from being the 26th show but each year that they've pulled it off it's gotten to be a more memorable experience for all that attend.
Owner Rick Grover started in business as a tackle store in 1980 and Anglers Marine has always kept their tackle roots.
"We try to always bring the bass community the latest and current champions," says Rick. "Our 1st shows had about 5-10 vendors and now we have over 100".
Many new companies and products that have had huge impacts on bass fishing have made their debuts at Bass-A-Thon. Some of the more notable are Lucky Craft, Jackall, Yamamoto, Sunline, and Castaic.
Over the years Rick, along with his wife Cindy, have made it affordable for West Coast manufacturer's to have a place in his show. Some of these vendors flat out couldn't afford the other trade and boat shows. As Rick puts it, "This is their ICAST".
The Anglers Marine Bass-A-Thon will also have most of the top Western anglers just hanging out and answering questions. It's a proverbial who's who of fishing and best of all, it's all for FREE. There is no admission charged to get into the show.
Featured seminar speakers at this year's show include FLW Championship winner Brent Ehrler, former FLW champion and BASSMASTER Classic champ Luke Clausen, two time Classic winner Kevin Van Dam, national bass pro's Denny Brauer and Edwin Evers and the West's Everstart Angler of the Year Jimmy Reese.
Bass-A-Thon is also Anglers Marine's largest boat sale of the year, and all of their boat manufacturers have guaranteed that this show has their biggest promotions and discounts of the year. That means there is no need to wait until Spring to buy a new boat. In fact, it pays to get your boat NOW so you are ready to fish when Spring rolls around.
For those that may not know, Anglers Marine sells and services top line bass boat lines such as Ranger, Champion, Nitro and Tracker as well as Tahoe and Hurricane boats for the non-fishing water sport crowd. You can get anything from a well-equipped jon boat to a full rigged pontoon boat and everything in between.
Also one really cool thing is that just about all the tournament organizations are present also so anglers can come talk to the directors themselves.
This years show is also catered by world famous In-n-Out Burger.
Rick, Cindy and their staff invite you down to the show, not only to take a look see at the finest boat lines available, not only to chat with the West's best anglers, but to get in on the best shopping values for fishing tackle you will find anywhere and far, far better then what you'll find from any tackle store or boat show.
Many brand new to market lures will be sold first at this show and the great thing is that the folks that dreamed up and made the baits are usually there to answer any questions also. The deals are smokin' hot and you won't want to miss on the best pricing available anywhere.
Bass-A-Thon has also become well known for the raffles and Rick tells us that there will be a raffle day of the show. And a game show format boat giveaway where someone in attendance will the lucky winner of a Nitro or Ranger boat.
Even more information can be found in the latest copy of Western Outdoor News so look for it on newsstands and in tackle shops everywhere.
Doors open each day @ 8:00am. Anglers Marine is located at 3475 E. La Palma Ave. Anaheim, CA 92806. Feel free to call them with any questions you might have about the show at 714-666-BOAT (2628).