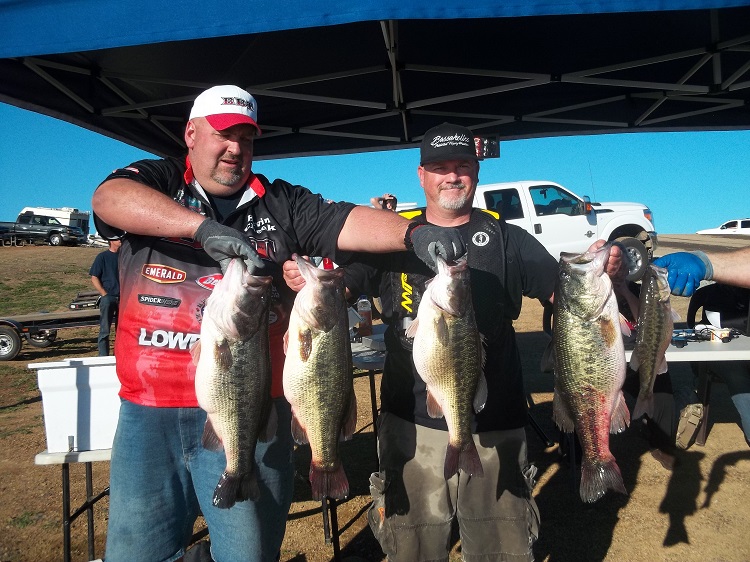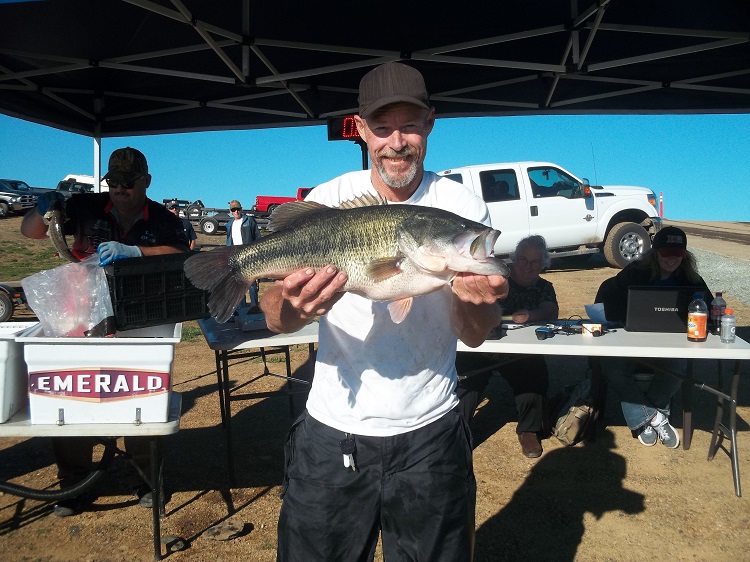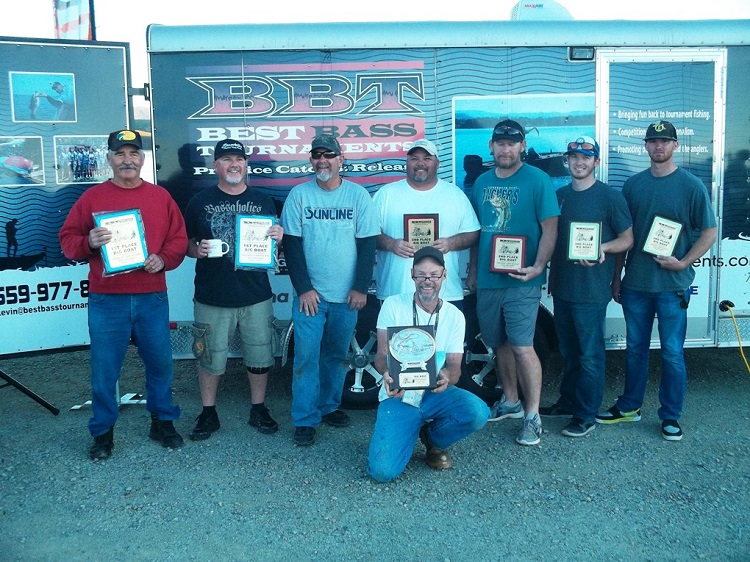 The second tournament of the Mother Lode Division of the Best Bass Tournaments Circuit was held on Saturday, February 14, 2015 at New Melones. 
The event blasted off two small boats and 67 large boats for a total of 69 boats.  This was a fantastic turnout. Boat number 5 was the first to leave after the 2 small boats.  The two small boat s along with boat number 5 thru 19 were to return at 3:00 p.m., boats 20-36 at 3:15p.m., boats 37 thru 53 at 3:30p.m., and boats 54 thru 67 and 1 thru 4 at 3:45 p.m. 
PREPPING FOR THE EVENT
At about 2:30p.m., one of our staff teams that were up at the Lake pre-fishing came into the camp grounds for the evening.  Kevin was able to talk to them about his ideas on the next day's activities and how they would handle the registration and boat checks in the morning.  After business it was time for a little visiting and fun.  The Bar-B-Q was setup and dinner was started.  After a nice dinner we were ready to call it a day.  The sun had gone down and our eye lids were getting heavy. 
TOURNAMENT MORNING
At 2:45a.m. Saturday morning the alarm went off and we were up and ready to face the day's activities.  The generator was taken out and the coffee was started.   Another table was setup for the coffee pot and homemade goodies.
The excitement that the anglers brought with them was catchy and made for a fast morning.  I can't say enough about the wonderful anglers we have in the Mother Lode Region and how many Happy Valentine Day wishes I received.  I want to thank the husband and wife team, Glenn and Shelley Sargent, for the bouquet of flowers they brought me.  The flowers made the trip home safe and I am enjoying them as I type this story.
AWARDS
The weigh-in is a very exciting time.  You never know what to expect.  Are the anglers going to bring in the big pigs or the little pigs?  Well our weigh-in Saturday was great.  We didn't expect very many spectators but we were wrong and we had about forty family members and friends at the weigh-in.  It is always great to see families and friends come out to support the anglers.  By 2:45 p.m. we were ready for the anglers to come in and come in they did.  One by one our weigh master put the fish on the scales.  As a matter of fact we had the biggest bag of fish ever weighed in on our scales.  The winning team brought in over 35 pounds of fish.  The boats came in and the fish were weighed and Kevin called the scales closed at 4:10 p.m.
Back up to the parking lot to tally up the winnings and give out the awards.  A table was setup and Diamond Nuts were put out for the anglers along with the leftover goodies from the morning.  Then Kevin started the awards with a giveaway.  The Wear-it Campaign gives a life vest to one of the teams and that lucky team was boat number 21, John Myers and Don Longton.  Now comes the fun part, giving the money away.
TOP-3 & BIG FISH DETAILS
The father and son team of Andy and Don Stilley both of Ceres came in with four bags of fish.   That's right this team weighed-in five fish at 35.75 pounds.  Andy and Don took first place in the tournament and second place Big Fish at 10.09 pounds for total winnings of $2,865.00.  These anglers used Hudds with a ROF 12, while fishing the main lake.  As Andy went back to release his fish you could hear him shouting," we did it dad!"  Keep up the good job anglers.
Second place went to the team of David Homan and Scott Summers both of Denair.  These anglers came in with five fish weighing-in at 23.91 pounds.  In this bag of five fish was the third place Big Fish at 8.45 pounds for a total winning of $1,665.00 for the day.  David and Scott fished mid-Lake and used swimbaits and worms while, dragging slowly on the bottom between 15 and 25-ft.  Scott would like to thank his wife Shila and his family Spencer and Sophie for all their support and encouragement.  Great job anglers.
The team of Collin DeGough, from Fresno and Jace DeGough from Madera took third place when they brought in five fish weighing 22.37 pounds.  Included in their five fish was fourth place Big Fish at 6.49 pounds.  Collin and Jace took home $980.00.  These anglers slow rolled swimbaits (Hudds) and umbrella rigs, while fishing the main lake.  Keep up the good work.
First place big fish went to the team of Corey Lewis and Frank Hastle for their catch weighing-in at 10.31 pounds.  This beauty gave the anglers $550.00.
Out of sixty nine boats we had only one boat not weigh-in.  There was a total of 329 fish caught for a total combined weight of 674.55 pounds.  Great job anglers.
I always like to share a good story and this tournament we had a good one.  Our first place team was so excited about their fish that as Andy carried his fish to the scales we told him to place the fish into the bump tank while Dave finished weighing the angler before him.  Not only did he place the fish in the tank he also released one of them.  In the excitement of doing that Andy almost jumped into the bump tank to re-catch and bag the runaway fish.  But that's not all, after weighing in the fish and taking pictures we again told him to take his fish to the bump tank and put water in the bags.  This time Andy released two fish into the bump tank and it took three guys to re-bag the fish.  What a sight to see Andy, Kevin and Dave trying to catch fish in the bump tank.  Everyone had a good laugh and Andy good job catching those beautiful fish.
APPRECIATION
We would like to thank our weigh master Dave Orange, his finance Beth for her help with the registration and paperwork, and our boat staff teams Mike Martinez and Tom Fishburn, and Rich Hale and Jim Henry for all their support and help.  Thank you also to the many anglers that have taken the time to tell us that we are doing a good job and that they enjoy fishing our tournaments.
The next tournament for the Mother Lode Region will be held on Saturday, March 14, 2015 at New Melones.