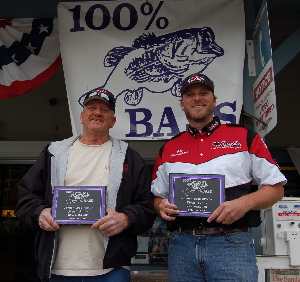 New Melones, like everywhere else is breaking out with spring time fishing. A field of 55 teams checked in at Glory Hole Sports for what turned out to be a great day of Spotted Bass fishing. The weather man even cooperated, as a week of on again, off again rain took a day off and with no wind turned into a fishing contest. Apparently the fish are very shallow as both reaction baits and bottom baits were working. The top finishers chose Senko's, Brushhogs, and Spinnerbaits as their weapon of choice.
Top awards went to Fresno's Jay Bradshaw and Sanger's Pete Hennecke for their 5 fish limit that tipped the scales at 19.05 pounds and was anchored by the second big fish of the day, and only big largemouth weighed in, a very nice 6.34 pound fish. During the awards Bradshaw talked about their winning pattern. He stated they fished in the Coyote arm and caught every good fish in one spot, returning to it many times during the day. "We pitched Watermellon/Purple Flake Senko into a spot about 6 inches square, and if you missed the pitch, there wasn't a bite". Both guys wanted to thank their sponsors, Fish on Tackle, Small Pocket Jigs, and Yamabe&Horn Civil Engineering of Fresno. For their accuracy they took home a pair of nice trophies and a check for $4465. Congratulations go to Jay and Pete for another great day.
Second place went to John Myers and Don Lanton, both of Atwater. They had the third biggest fish of the day, a nice 5.99 lb. fish that anchored their 5 fish limit of 17.85 pounds. Myer said they caught day long focusing on stained water with Spinnerbaits and Flippin' Brushhogs in the willow trees. He also mentioned that while they fished in many locations, the Angels Creek Arm was the best. For their hard work they also received a pair of those nice plaques and a check for $2290. Good work John and Don.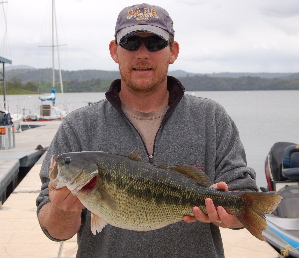 Courtesy photo
7.22 lb spotted bass that was less than a pound off the lake record.
Finishing in third place was Husband and Wife Bill and Anne Rowles. They also spent most of the day in the Angels Arm and it showed at they weighed in 15.82 pounds, including Anne's very nice 5.07 lb kicker. Bill thanked sponsors Skeeter/Yamaha and valley cycle marine and told everyone they fished Speedtrap Crankbaits and Brushhogs on a Carolina rig all day. Anything in a craw pattern seamed to make the real difference. They took home $1545 for the day.
Forth place went to David Homen of Hughson and Scott Summers of Denair. Their 15.06 pounds was anchored by the big fish of the day, a 7.22 lb spotted bass that was less that _ a pound off the lake record. With big fish money included, they took home $1470 while the fifth check in the amount of $730 went to previous anglers of the year Aaron Cole and Greg Allec.
Winner of this events Mossdale boats $1000 gift certificate that is good towards the purchase of a new BassCat Boat, or can be transfered to someone else wanting a BassCat, were Bill and Billy Dehart.
100% BASS would like to thank the fine sponsors that make the difference between fishing and the quality events we are able to provide as a result of their support. BassCat Boats, Mercury Outboards, MossDale boats in Tracy, Bridgestone Tires and Gill's Tires in Stockton, MinnKota Trolling Motors, Humminbird Electronics, Berkley Trilene, Spiderwire Braid, Persuader Bass Baits, Solar Bat Eye Protection, Walton's Pond in San Leandro, Hook, Line&Sinker in Oakley, Phil's Props in Redding, FishingWorld.Com, MF Finesse Worms, TackleWarehouse.com, Comfortroll, Comfort Suites of Oakley, Sig Fish Inc, and No Sweat Mist
For complete tournament results, please visit our web site at –www.100percentbass.com.
Bob Kornhauser
Owner 100% BASS
530-274-1397