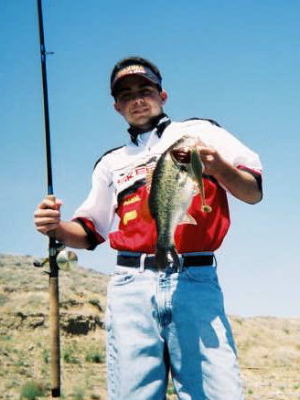 As the current year ends, there is one thing that I look forward to going into the New Year, a new season of fishing. For those of you who don't know me, my name is Garrett "Pee Wee" Mercer, a 17-year-old avid fisherman.
As a high school student whom attends school fulltime, and works two different jobs, one would think that it is hard for me to find time to fish, but somehow I still manage to fit it into my busy schedule. Though I may only get a chance to spend one or two days a week on the water, I enjoy every minute of it.
In the 2005 season I will be fishing several different team tournaments, most of them being National Bass West tournaments. The main focus of my team tournaments is the San Diego region, 100% payback thanks to Aim Marine, which gives the weekend angler an excellent shot at huge payouts. However, the most exciting part of my 2005 season is that in addition to the team tournaments, I am also going to be fishing my first season of Pro/Am tournaments.
The first event that I am competing in is being held in February at Lake Havasu. I was planning on fishing the WON South Region, however since the two regions (North and South) are combined for the 2005 season, it makes fishing it a bit more challenging to compete in all of the tournaments. I am planning to fish two out of the four total tournaments, with my participation being concentrated on the Havasu and Diamond Valley tournaments.
Being the rookie on tour will be difficult, however there is one thing that I can guarantee from the tournaments, that I will come out a better fisherman.
Over the next few months, I will be writing about my travels, fishing experiences, successes, failures and thoughts of what it is like being the youngest angler on one of the western circuits. The competition will be tough, however it takes practice to succeed, and starting young will just give me more time to work on my techniques and perfect my skills to become a better angler over the future years to come.
Just as I looked forward five years ago to fishing my first team tournament, I am looking forward to stepping up to the next level of competitive fishing in the Pro/Am tournaments.
I must say that I wouldn't be in the position that I am in today without the help and support that I have received over the last few years from all of my terrific sponsors. I have to thank Skeeter Boats, Maxima Line, Gemini Sport Marketing, Hasting Rod Manufactures, and Plano Storage Systems for everything they have done for me. However, my biggest thanks has to go out to Aim Marine, and all they have done for me, if it wasn't for them, I wouldn't have the great opportunities that I have today.