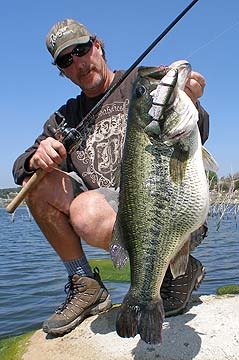 Oak View, CA, July 2, 2008 – Southern California angling wizard Mike Long knows a thing or two about the phenomenon that is swimbait fishing. During the past decade perhaps no one alive has lip-locked more "teeners"— those bass stretching beyond the magical ten-pound mark— using these super-realistic lures than Long. Using Castaic swimbaits, he has caught twelve bass over 15-pounds. In 2001, Long boated one of the largest bass of all-time, a 20-pound 12-ounce beast, that gobbled up a 6-inch Castaic Swimbait Trout.
This season Long has added to his arsenal Castaic's exclusive RockHard Swimbait. With this lively new lure at his disposal, Long has in recent months scored multiple teeners, including largemouths of 15 and 14-pounds, and numerous 10- to 13-pound fish. The RockHard Swimbait, which Long helped develop, features design innovations that anglers have come to expect from Castaic. "The reason I continue to fish Castaic swimbaits over many others," says Long, "is Castaic's attention to real life detail. In my world of chasing monster bass, this is a must have feature in swimbaits."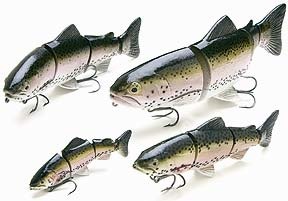 Crafted to precisely mimic the shapes and textures of live fish, and coupled with the lure's triple hinged construction, RockHard lures swim with a fluid yet seductive motion that is seen only in nature. Available in floating, slow sinking or fast sinking in a variety of species patterns and sizes (from rainbow trout, baby bass, sunfish, shad and perch), RockHard baits appeal to large, selective predators in nearly any water.
In addition to its hydrodynamic design, these lures also feature Castaic's patented Magnetic Hook Holder® and Tri- Claw® hook system. The Hook Holder pins the Tri-Claw hook tight to the lure's belly at all times, assuring a streamlined presentation and a rock-solid hookset. Finally, each and every Castaic RockHard Swimbait is hand- painted for the most lifelike fish pattern possible.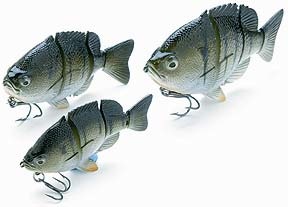 Castaic Swimbaits, owned by Nature Vision, Inc., helped create the swimbait lure category over a decade ago. Selected by Field & Stream magazine as one of the top 50 all-time fishing lures, Castaic remains the recognized leader in swimbaits today. Nature Vision, Inc., a publicly held corporation headquartered in Brainerd, Minnesota, created Aqua-Vu, the first self-contained underwater viewing system in 1997. Founded by company president Jeff Zernov, Nature Vision continues to reinvent the outdoor experience.
For more information please go to www.castaicsoftbait.com