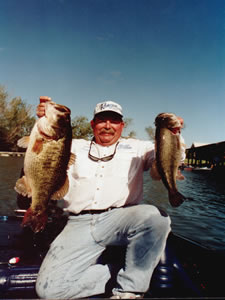 Toys for the Troops
has to be one of the most worthy causes I have ever been involved with. When I shared this with Tony Stoltz and the staff at Westernbass.com they responded "What can we do" As a matter of fact, I am sure all of you feel the same way. All of us in the bass fishing industry be it professional angler, weekend angler, guide, or manufacturer of fishing tackle or Boats have got to feel the same way.
Imagine the families that have lost a loved one fighting in the war. Picture dying and leaving your children and wife behind. I am a father of four and can't image not living long enough to see them grow. I can't imagine the thought of them suffering because I was not there to take care of them. We are all on this earth to serve one another. These great soldiers, young men and women gave the greatest sacrifice there is so that we can enjoy the freedom of living in such a great country. They have served their country which means they died for all of us.
We have all donated to some cause at one time or another. Like you I am asked to donate all the time. I get a little turned off being asked over and over again, but this is different. When I was sent the information regarding the children of the men and women who have died for our country since 2001 I took notice. There are so many children out there that have had their parents die defending our liberty. Defending our country so we can fish, and live on safe ground, so that we can be free. They died proud Americans.
CBAF is working with several different organizations that have come together to create a toy drive like no other toy drive. We are doing our part to collect as many toys as we can for these families. The goal for all those who are working on this toy drive is to collect fifty thousand toys for all the families of the many branches of the armed forces.
CBAF will be holding a bass tournament on December 9, 2006 at Lake Shasta. The theme is a "Boat full of Toys" and the goal is to fill as many bass boats as we can with toys. We need teams to show up and bring toys. We are asking that all of you attend this tournament and show your appreciation and support for the men and women who have given you the greatest sacrifice there is.
Many of you fish all different tournament circuits and some of you fish with bass clubs. We aren't trying to compete with those events we are just asking you to show your support as members of the bass fishing community and as Americans to come support your troops. That is not a lot to ask. Yes, you have to drive to Shasta. Yes, you have to bring a toy ($20.00). Yes you have to go fishing and yes there are entry fees of $80.00 dollars.
That is not much of a sacrifice when you consider you don't have to die for your country like these great Americans have. Please come December 9, 2006 as members of the bass fishing world and as Americans.
We at CBAF enjoy competing in and winning bass tournaments as much as you do. But we are also committed to reach out and serve others including fishermen, their families, and the men and women of the armed forces who protect us all. For more information please go to http://www.thecbaf.com/ or bassin@jerryfournier.com. We'll be more than happy to answer any of your questions.
Check in and registration Friday December 8,2006 between 6:00 p.m. and 8:00 p.m. at Phil's Propeller.
Launch at Packers Bay Marina.
Jerry Fournier – CBAF Member