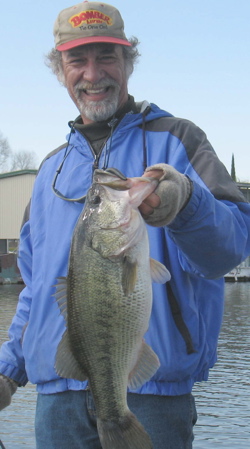 The drive home Sunday from ClearLake was exhausting, I took some time to sleep in. Got up at 7:30a and once all packed, was on my way to the Hook at 9:30a. Stopped by to grab two more Cameron Rods, can never have enough, ya know. I'm cruisin up I5 and at Weed, I see the 97 cut-off, says Klamath Falls, fer some reason I think this is to the West and not the correct turn and continue up I5. I hit Yreka and the Oregon border before I realize my mistake. Checked the map and there is a cross route to Klamath Falls, little town south of Medford called Ashland, theres a Route 66, only 55 miles to Klamath Falls. Cool, or so I thought! Thank God for Clapton, Frampton, Stevens and the Radiators, they made this 2.5 hour jaunt through the Siskiyou Summit, very enjoyable and pass quickly.
I find 97 at the base of Klamath Lake and by the time I'm on the far north shores it's dark, two more hours and I'll reach Bend and the comforts of the Noble's home and some much needed rest for the night. I finally arrive at Jerry & Karla's and am greeted warmly by both. Karla sits me down to a big plateful of Elk stew & Green beans. Mmmmmm good! We then do some Nutcase chatting, play on the computer, share some jigs and it's off to bed.
I am abruptly awaken by the ragin buzz of my pager, look at the clock and it's 4:00a, dang, thought I set it to 5:00a. Ah it's my buddy waking me up as requested. I'm pumped and up, so off to brush the teeth and get some coffee. I'm all packed and ready to go and Karla comes strolling out in her bear sized wool robe, gets REAL cold up there gang and she's getting ready fer winter. She wishes me well and I leave her with a great Big Cooch hug, and I'm on the road again!
By the time I hit the 197/97 split outside Willowdale, it's getting light, shoot, looks like I'm in the California desert. Certainly not what I expected for Oregon, roll down the window for a smoke and BURRRRRR! Nope, certainly not like California, must be 20 degrees out. So as I roll up through this vast highland desert, I come to a little town called Wasco, roll down the window again and I hear this tick, tick, tick, tick, tick coming from my truck. Hmmmm, I know that sound, only 9 miles to Biggs junction and I84, all down hill, I'll stop there. I pull into the Chevron and check the oil, IT'S DRY! Takes 5 quarts to bring it up. Hmmmm, I'm puzzled bout this. Not to worry, tick goes away and off to Kennewick, 2 hours away, my adrenaline is really starting to pump now! BIG TIME!
I roll into Kennewick at 9:30a, right on schedule. I somehow end up right down on the river road, imagine that. I follow along as I'm looking for Cavinaugh's, this is the host hotel. I have no idea where I am gonna stay at this point, just shootin from the hip. I find the hotel and notice three others up in back, so I go and get a room at the Comfort Inn. I'm really pumped and excited to get on the water. I can get about 4 hours in today and all day tomorrow, should help me some. Get all the stuff loaded into my room and off I go to Columbia Park to launch.
As I'm sitting at the dock, I pull out the map that was marked by Marc, I notice I am sitting in an area he says, "LM. MUST FISH!" It's a marina, with boat docks, hmmm, I've fished those once before. (hehehehe) This area looks real good but I have no success, but I do make some mental notes of a stretch of bank on the east side, it is just screaming at me, "AM largemouth!" I pull out of this marina and head up past the Yakima River, Find another Marina, this one is loaded with blackies, 2-4 pounders, everywhere, very spooky though, tough to catch. There are two openings to this marina, north and south. There is current ripping in the north opening and out of the south opening. I take notice of one particular stretch, big huge slab rocks, just like the Delta. Hmmm, I recall catching a fish on this kinda stuff once. (hehehehehe) I pass it up. I then notice a little cove in the far back, it's above the current flow, deep too, 12-16 foot. Got this strange tall coon tail type grass growing in it. Bass are everywhere, but I can't get em to eat nothing. I then back way off of it, all the way to the current. I pull out of a box, an old topwater bait I got from Havasu, it's like a Suave and spook combined. Tie it on and chucked it out, couple of Walk the Dog twitches and a bullet comes out of the weeds KERWOOOOOSH! 3+ pounder, cool! Chuck it up there again, KERWOOOOSH, another dart! Didn't even get to move that bait this time. Another nice 3+ pound fish. Well I think I found the trigger bait!
I find 3 other areas with these same kinda fish, but tough to catch, Time to pull out. Pull up to the hotel and park the boat, start to undo the trailer and I notice that there is oil everywhere! Aw, what a mess, I look under the truck and oil is just dripping from the entire bottom. I look at the oil pan and I can see that part of the seal has popped out, it's towards the rear. I check the oil level, it's fine. As long as I drive flat, no problem, go up hill, all the oil spurts out, makes sense now. Have to get this fixed in the morning. Off to the room and lot's of rigging changes. 25 pound Big Game has gotta go. I switch to 12 pound Big Game Inshore for all my rods.
Get back to the room, chat with Pat, Stickbait, Dean and Dana, then it's off to the check in. Get in the line and I got Steve Klein, Jim Reese and Mark Lassagne around me. We all have one common report, this place is tough! Get signed in and receive my package of goodies. Head out to the lounge for some free eats and drinks. Then back to the room. Off to bed.
4:00a, BUZZZZZZZZ, there's that dang pager again. This is cool, I'm getting a long distance wake up call every morning, no need to call the front desk. Fill up with some coffee, grab a few muffins from the lobby and I'm off to the ramp. Day two of prefish I run up to the mouth of the Snake, spend all day bouncing in and out of Marinas and coves, catch lots dinks but nothing to write home about. Find a couple of humps with some smallies on it, they are shorts as well. I see Dave Gliebe, he's moaning bout catchin keepers too! I now know this sucker is gonna be tough! I stumble into a hidden bay, oh $hi+, I'm in heaven, a big bowl, a bay actually, socked full of tulles, stained water with about 4 feet at the base. I flip and pitch every inch, inside and out, nothing, big disappointment. I thought for sure I might have stumbled onto something. Now I'm thinking, "Why can't I be lucky, like Denny Brauer was on the Potomac?" Guess I gotta pay my dues first huh? Oh well, another day ends.
Get back to the room, chat with Pat, Stickbait, Marc and a call home, then it's off to the draw. Big time buzz in the air now. I get drawn out in the second stage of the second flight. 3:40p weigh-in. I draw a guy by the name of Fritz, from Washington, oh man, I'm really excited, a local. He tells me he's only been on the river 4 times, dang! Hasn't fared well all week. Double dang! We is gonna take my bote. Off to bed.
Once again, I am awaken at exactly 4:00a by the Buzz of my pager, my buddy is very precise in these wake up calls. There will be no oversleeping on this trip! Coffee is on and loading up the bote. Seems that every one in my hotel is getting to use their boat today, the parking lot is full of activity. Off to the ramp, and meet up with Fritz. We pull down to the launch site, I'm really starting to get goose bumps. This is really happening, my first Bassmasters! It's a drive by check in, they are on boat 23 of the second flight, we are 25. They call my name and number, all of a sudden BUZZZZZZZ, damn I bout fly out of the bote. It's my pager, geeze, it's my bud again. Damn your good! We're off!
I shoot right up to my first marina, I see boats all over the front entrance on the main river, so much for secrete entry into my honey hole. We motor in from the south entrance and idle up towards the north side. Ah crud! They have put a "No Boat" buoy right next to a dock with a beaver dam. Dang, I wanted to fish that sucker! So we gotta stay north of this buoy, we work the area with jigs and blades, nada. I can't see the bass like the two previous days, course, I was never in here this early. Hmmmmm, grab the topwater bait, chuck it out into that little cove, 3 passes nothing. A 4th cast draws a big boil! "HOT DANG! YES!" Cooch got himself a BASSMASTER BASS! In the boat. A nice 3.5 pounder! I am so excited, both Fritz and I is high 5 slappin!
I work it a little more and nothing. I then cast to the shallow grass behind us where the current is ripping through now. It has picked up a great deal since we first got here. It changes on this spot through out the tournament. All of a sudden I get a HUGE KERWOOSH! Dang, missed it. That was a big fish, over 5 pounds! Followed it up with a Jig, blade & Lizard, nothing. We circle this grass bed and current trap 4 times, nothing. Move down the bank towards a dock on the left and KERWOOOSH! Dang, another miss. This was another BIG fish. Then decided to work the entire marina bank, all the way around to the docks and launch ramp, nothing. Back to the grass bed and cove, nothing.
11:45, Fritz is getting impatient with this largemouth pattern, he's pushing to go into the main river. Okay, I pull out of this cove and head around the corner, I got a spot where I saw 6 huge smallies on a plateau in 6-8 foot. I trolling motor up and spot four of them, just sitting on the middle of this big flat rock. I mention their presence and Fritz puts his split shot Lizard right on em, I see em scatter, Dang these fish are spooky. Next thing I know, "Got him", Fritz is setting the hook, his dang rod is bent in two and it is just rippin all over the place. I get a flash of this brown monster, it's HUGE, big smallie! Then comes the ultimate humiliation...... I have to lip it for him! Weenie, I think I shoulda gotten half the weight for that! Wow! Probably a 5 pounder! God I want one of those!
Wasn't gonna happen, spend the rest of this day splitshotting this area and only catch shorts. We head off to weigh in, We're both purty happy, we each got a big fish, course I would have loved to have his big smallie! It goes 4 pounds 12 oz. My blakie goes 3 pounds 8 oz. Don and Jim Owens, Bass Federation President make somewhat of a big deal out of my blackie. I get to hold it up for the crowd and pictures, get to talk some on the mike, this was cool. Don, the emcee, and Cooch have struck a friendship, we're just havin a lotta fun.
I take the bote back and park it, get the charger going, find out I've drawn Donny Johnson, Arizona for the second day. He had Mark Lassagne, they caught 9 fish between em. So I swing him a deal, I won't flip ya for the boat, we take yours, but I get the first 1.5 hours in my cove in the morning. He buys it, cool! Then I take the truck to Midas, fix the seal & check the brakes, simple stuff okay, I'll be by to get the truck after 4:30p. Off to the room, need to change some rigs, Donny is fishing a little deeper 25-45 feet. Geeze, how am I gonna get down there? Found some 5/8th oz jigs, no problem, off to bed.
So, 4:00 am hits and guess what, BUZZZZZ! Yep, my buddy is right there again. I look outside and the wind is howling. I get on the computer and post, It's Ugly! I'm having my doubts about being able to fish today. So I load up the truck and head down to the ramp to meet Donny. He's got a big 20' Nitro with a 225 Merc on back. The wind is still howling 40 mph or better, but the river is not bad at all, at least not up here. We head on down to the blast off site, we're in the third stage of the third flight today, 4:10 weigh-in, lots of time to catch fish today.
We motor off to my Marina and start chucking topwater like crazy, nothing. Donny is all over me and the front of the boat, no way we is gonna catch these spooky fish like this today. I decide to motor us out to another little area and across that rock flat where Fritz got that big smallie yesterday. I catch two shorts on a twin tail grub. Donny now decides he wants to run up the River towards the Reach, bout 15 miles. Oh man, wind is still howling and we run into a stretch that is nasty, BIG rollers, wind is just carving off the tops of em. We're flying bout 80 mph just plowing right through these waves, I'm actually a bit impressed with the handling of this boat, nowhere near as bad as what I expected. We spend two hours up there and nothing, see 6 other boats in the area, nobody is catching fish. Time to move back down river.
It is a nasty ride back, that Nitro is flying all over the place, but the ride is fairly comfortable. It is now 10:30 and Donny says it is time to start targeting his late morning/afternoon bite. This bite is much deeper and in stronger current than I am prepared to fish. We are closely watching the graph and working isolated fish on breaks in 25-30 feet of water. I can not get to the bottom. Donny is using a 1 once Carolina rig and getting occasional bites, mostly small shorts. He offers a 1 once football dart head to me, I take him up on it. Geeze, ya oughta see what a twin tail grub looks like on one of these things. It gets to the bottom though, thunk! Tick, tick, oh, wow I just got bit, it's still on! I real this thing up out of 35 feet and I got an 8" smallie on it. Amazing, that whole football jig is wedged in it's mouth, I can't believe it.
We move off to another spot by the 182 bridge, we're working this break in 30 feet, drops to 38. Donny catches a 13", I hop to the trolling motor and the wind blows me way off the break. As I'm working my way back, I glance at the graph and see a huge ball of BIG fish stacked on some sort of structure at 48 feet. I point this out to Donny and we try to camp over it. We gotta cast 6 miles up river, let that 1 once drift on to this clump of stuff, tick! Hook set, got one. It's a keeper for Cooch, just barely 12 inches. Next thing I know Donny is rarin back on a fish and his rod is bent and jumping at the water. Dang, he's got a good one, bout a 4 pounder. I think we got something. We fish this little stack for about 3 hours and only pull dinks on every pass. We are only getting about 5 bounces through the strike zone before our baits pass through and beyond it.
We got a half hour to go and I tell Donny I want to run back to my cove for the last 30 minutes, we pull up and go. I grab my smallie jig rod while he is chuckin that topwater and start going down the big slab rocks, 3rd pitch I see a silver flash and my line is going exit stage right. Slam that Cameron and it sticks a big ole bass right through the nose. Get it to the boat and its a good 4-5 pounder. We work it some more and then I notice we got 5 minutes to get back. Holy cow turds, this is gonna be close. But we make it. I way 5.00 pounds for two fish. The blackie goes 4.12, means the smallie wasn't even half a pound.
Get another ham session on the stage with Jim and Don. There are a number of Japanese photographers and camera men right in front of the stage, ole Cooch is really hammin it up for em now! Day two is done, It was a very tough bite for every one, only 15 limits for 260 anglers. I move up to 64th. I draw Jigs Benn for the last day, we is gonna chase the blackies in my bote for as long as he can stand it. I'm feeling real confident now that I can get into the top 50 and score a check. So it's off to the room, oh Donny, ya gotta drop me off at Midas!
We get to Midas and my truck is on the rack with all the tires removed. They have done no work. They got an estimate and did not want to proceed without my approval. Damn $1100 buck worth. So I tell em to do the work on the rotors & pads but don't bother with the calipers. I'll have my wife pick up the truck tomorrow. Oh yeah, fix the oil gasket huh, that was the main reason I dropped the truck off! Idiots!
Donny drops me off to my room and theres a message at the front desk to call home. Liz missed her flight out of Oakland. She's coming up, I left on the 28th which was our 18th anniversary, first time we've spent it apart, so I thought I'd fly her up for the weekend, get the best of both worlds. She's not gonna arrive till 7:55. Someone is knocking on the door, it's the front desk, wife is delayed, gonna be late. Yeah, I know this now. Back to the phone to talk with my oldest daughter Jamie, couple minutes later another knock at the door. It's my neighbor Steve, him and his wife are here too, relays a message from Liz, delayed, gonna be late arriving to Pasco. Yeah, I know, thanks. Trucks in the shop so Steve let's me use his.
I get to the airport at 7:30, only to be informed that the flight was delayed in Seattle and won't arrive until 9:55p. Dang! Okay, so I fly off to Critters, this is the big bass tackle shop up there, not too far away. I find it and buy some of those heavy weighted dart heads and egg sinkers, some more lizards, grubs, paddle tails and leeches, all in that watermelon green pattern, this is the bait everyone is using to catch the smallies. I'm the only one in the shop, like a kid in the candy store, they guys stay open for me. I am getting this kick out of them, they know I am in the tournament, so they are not supposed to talk to me about fishing these waters. They really help me a lot, and never say a word! Hehehehehe
Back to the airport to get Liz, I'm still early, it's 9:00p. I fall asleep in the truck. I'm awaken buy her pounding on the window, get her luggage and back to the room. I'm up till 12:00 getting ready, seems like I never get tired, it's that adrenaline rush, I still got a good shot at getting in the top 50 and scoring a check. That would be too cool. But I do realize that due to lack of on water time, and being unable to pattern the smallies, I'm gonna have a tough time doing this if I have to rely on my largemouth bite. But I am confident as I finally doze off to sleep.
BUZZZZZ. Right on time, I roll over and sleep in an extra hour though. But damn, then realize I gotta find a vehicle to tow Besse to the launch ramp. Steve's taking his boat as is everyone else at the hotel. I get a ride down to the ramp from Jim Reese. I'm waiting on Jigs to show up, I see Bill Epstien, he offers his truck, now gotta find a ride back to the hotel. I see Dee, he's in a hurry to find a boys room, no time for me. I then grab a guy who I met at the Stratos tournament, he runs me up there and I get the truck and boat with plenty of time, meet Jigs and head off down the river to Columbia Park. We're in the first flight today and we get to my marina and no one is around. An hour and a half later nothing. I've abandon the top water due to the weather change and am tossing my confidence bait, a 1/4 oz smallie jig with the new BoHawg baby pork in olive green. I do catch a smallie at 12" though. So this marina did give up another fish to me.
I head on down to the marina that we launched out of. I start back behind the boat docks and work down this bank that has some good depth and lots of structure on it with a great weed line. We get to a lay down tree that I pitch to and KERTHUNK! Yes, a nice chunky 3.5+ pounder. Now I'm feeling real good. I notice on the opposite side of this levee is a back bay off the Yakima river. I never went in there as I was too chicken of the depth. Jig says the inside bank is just like this, good depth and lots of structure, he can guide me in on plane with no problems. Cool, let's do it.
We go flying round the corner and as we pull into the mouth of the Yakima, there are 20 boats camped out there, including the eventual winner and second place guys. We fly by them all and head to the left, man my adrenaline is pumping as I see the depth finder go from 15 feet to ZERO! But we bump nothing and keep going, turning as Jigs points the way. Then I notice the flasher drops to 8 feet, cool I start to ease off. I see the back, Oh Man, this is IT! We fished that entire area and never got bit. Water was very muddy and much cooler back there.
We then headed off to a marina up towards the Snake on the east side. This is my ace in the hole, I found this one and it is classic largemouth. But damn if we can get bit. We work over to an area where there is a bunch of floating docks and lay downs. I pitch to a tree stump half in the water and I see a silver bullet charge out, KERTHUNK! I set and the line goes pop! Damn, that was a big one, well over 5 pounds. I then come over to a floating dock, two of them actually, they create this little "V" opening. There is some rope at the widest part. Hmmm, what the heck, I pitch that smallie jig in there, it's an exposed hook, no weed guard, I'm in trouble. No takers, but as I slowly lift it guess what, yep, it gets hung on the rope. So I'm sitting there gently shakin it and low and behold I see this white mouth come up and just gently grab the jig, damn, it's stuck on the rope. This dang fish is tryin to eat my jig but can't get it off the rope. That damn fish is as puzzled as I am laughing. But dang, I can't hook him! I finally go in there and get it off the rope. Two lost fish, Jigs is gettin real ansy now, I'm gettin bit and he's not. He has been good and given me about 6 hours of the day. But he wants to go do his thing so as to weigh fish. Okay, off we go.
Jigs really didn't have a spot he wanted to go to, just anyplace where he could splitshot his paddle tail. So I took him to that plateau we fished on the first day and Fritz got the 4.5 pounder. Two dinks apiece. I pointed to another rocky point up the river. Explained we caught some fish over there on Thursday too, mostly shorts but it seem to hold more fish. "Oh you mean Gary Dobyns Point!" Appears Gary camped there one day and got an 8 pound limit. So off we went. I get two shorts dragging the little 4" lizard, Then Jigs gets a nice 2 pound keeper. I get 3 more shorts. Then jigs gets another bout 13". I get about 5 more shorts and the point dries up. Typical of my week up there, 10 fish on one spot, no keepers! I am really despising these river smallmouths. We're bout out of time and head to the weigh-in, two fish each.
Pull up to the check-in barge and turn in our flag. I just start whooping it up! See I'm real excited that I did not have to turn that bright yellow banner on my motor around during the tournament. It's kinda cool, they made all the boaters buy one of these stretching foam things that fit around the motor cowling. It is bright yellow with the word "CONTEST" in black on either side. This way they are able to tell who is part of the tournament. Now on the reverse side was this bright orange. It is the trouble indicator. Any boater who needed help, for any reason, was instructed to turn the banner to that orange side. We were all instructed that we MUST stop if we see a boat who's banner was reversed. I never had to change mine! Nor did I see one. YAHOOOOO! Didn't need that spare prop or lower unit I brought with me.
So before we get to the stage, I have Jigs go through the ritual, as I have every day, of getting pictures of me bagging my fish. As we approach the scales, I hand the camera to Liz, "Get pictures, okay". So we get up there and while waiting in line, eventual winner Levell Snead is right ahead of us. Man has he got a bag full of toad smallies! Makes my 3.5 largemouth look like a minnow!. I'm now getting to the realization that this dream is ending, what to say on the stage, many thoughts are racing through my mind. And then there's my truck, I pan the crowd for Liz, cool, she's right in front now. Then this crowd of kids come up with hats and pens in hand, "Hey Cooch, can ya sign our hats?" Wow, talk about ego boosting rushes! "My pleasure guys". I'm still signing as I hear Don holler over the Mike, "Hey Cooch, your turn, git up here!" I make him wait, gotta take care of the kids, priority ya know.
So I get on up there, hand the fish bag to Jim Owens and Don asks me how it went and shoves that mike right in my face. Oh big mistake Don. Ole Cooch just starts ramblin, Don can't even get the mike away to announce the weight. He finally does and then again compliments on my ability to catch these largemouth in a smallmouth dominated body of water. He wants me to hold up both fish this time, my blackie is HUGE compared to the little smallie I caught. I then thank him, the Tri City folks, BASS and tell the story of that 12 year old kid's dream of being there, then to top it off, the autograph requests. "What say folks, That Cooch, he's one of them good ole Western boys, don't ya think?" Man, what a feeling as I'm walking off that stage to the applauds of the crowed.
Damn, it's now over, where have the 3 days gone? I see Liz again, she's with Marc, we sit and chat some, make plans to get my truck to me to pull the boat out and come back to watch the rest of the weigh-in. As I'm heading back up the river, just taking in all the scenery, I'm reflecting on how fortunate I was to be there, and though I may not get a check, I did much better than most. I'd really like to come back and tackle this pond again some time. Not so much in a tournament, but just to solve the mysteries of catching those smallies, I don't think it will be so difficult as this trip. Certainly a lot easier than the river I fish at home. And I see a bigger picture now, I am not satisfied with just a good showing here, I want more now. I am still in good position with the points I made, thoughts of the Ultimate dream, The Bass Masters Classic! This is now a possibility! Dang, the tingles start at my head and go all the way to my toes. And then I see the 5 mph buoy of the ramp and snap out of my daze.
We pull the boat out, go watch the awards and head to Cavinaughs to have dinner with Marc and his family. It was a nice relaxing time, to a long week. My truck has to go back to the shop, it ain't right. Turns out we spend two more nights in Kennewick. Spend time relaxing, resting, some shopping and I get my butt kicked in cribbage (This hurts more than not getting a check, I get skunked 3 times before we hit the Noble's house. I'm down 10 games to 1.) We spend another relaxing evening and great morning with Karla & Jerry. I really loved spending time with these two wonderful folks, thank you so much for everything! And that Elk, WOW! And the Texas Brownie Chocolate cake, oh what I would give to have some more of that!
Due to trailer bearing problems we spend a night in Redding, more cribbage. Things are looking up. Liz mentions how unlucky I have been to this point, but I stand to correct her, "Look, I am very lucky, look where the bearings went out? Right next to a motel two blocks from California Custom Marine and I didn't loose a tire, the boat or our lives!" I then skunk her at Cribbage, yes things are looking up! By the time we hit Dunnigan, it is 10 games to 7!
It was a great trip and I hope ya all enjoyed it as much as I did, and thanks for taking the time to read it through! Until next time..........
Keep a tight Line!
Cooch