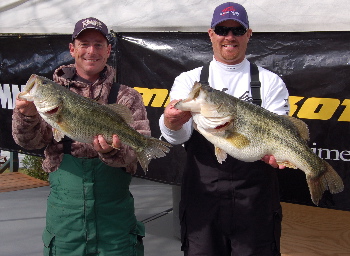 Saturday's 3rd stop on the Wine Region of 100% BASS was pretty exciting if you like big fish. With unstable weather all week and the threat of rain and snow all day long, 31 boats showed up to wheel and deal for another payday on the 100% BASS Tournament Trail. The Big fish did not let us down as several Toads came to the scales and the winners had Huge Lunker as you will see. Most everyone figured out the Jig bite, throwing Brown or Brown/Purple Jigs in 10 – 20 feet near deep water. For those who didn't there was a small worm bite, however, it just didn't produce the quality of fish the jig did.
The top award this day went to Lakeports Mark Crutcher and Greg McCosker. They had a phenomenal bag of fish. On a day when 3 pound averages were the norm, they went almost to 5. Of course this 24.52 Lbs was helped out by a monster of a fish, a 12.69 pound Largemouth Bass that was caught on the latest craze to hit bass fishing, a Swimbait. The rest of their limit came on Jigs and Yabbies fishing 5 – 15 deep on the main body of the lake. Crutcher took the time to thank his sponsors River2Sea and Snag Proof for their support and thanked everyone for attending the days event. The reward for top honors was a pair of plaques and a check for $2405. congratulations Mark and Greg.
Second place went to Chad Buckley and Chris Diaz of Penngrove. Its not often you get a chance at a trophy Smallmouth in Northern California, but to do it in a tournament is even better. Chad anchored their 14.04 Lb limit with a 5.39 Lb Smallmouth (pictured left). Buckley said they caught all their fish on Jigs fishing deep rocky points on the main body of the lake. There seems to a pattern developing already. The day was a success as they also received a pair of those plaques and a check for $1470. Good job guys.
Finishing in third was Don Delorefice of Fairfield and Matt Miller of Vacaville. Their 5 fish limit weighed in at 12.60 pounds and brought them $905. Miller told everyone at the awards, they caught their fish on brown jigs and Brush Hogs on a Carolina rig. They fished shallow early then moved to deeper water and the sun rose higher in the sky. Their real key, was to stick to the plan of moving often and rotating spots along the north west shores of the lake.
Fourth place went to the long time team of Albert Berends of Folsom and Jody Jordan of Vacaville. Their 5 fish weighed 11.91 Lbs and brought them $480 while the fifth place check of $390 went to Pete Miklus and Rouge Harris.
Winner of this events Mossdale boats $1000 gift certificate that is good towards the purchase of a new BassCat Boat, or can be transfered to someone else wanting a BassCat, were Terry Bishop and Jon Holder.
100% BASS would like to thank the fine sponsors that make the difference between fishing and the quality events we are able to provide as a result of their support. BassCat Boats, Mercury Outboards, MossDale boats in Tracy, Bridgestone Tires and Gill's Tires in Stockton, MinnKota Trolling Motors, Humminbird Electronics, Berkley Trilene, Spiderwire Braid, Persuader Bass Baits, Solar Bat Eye Protection, Walton's Pond in San Leandro, Hook, Line&Sinker in Oakley, Phil's Props in Redding, FishingWorld.Com, MF Finesse Worms, TackleWarehouse.com, Comfortroll, Comfort Suites of Oakley, Sig Fish Inc, and No Sweat Mist.
For complete tournament results, please visit our web site at –www.100percentbass.com.
Bob Kornhauser – Owner 100% BASS – 530-274-1397