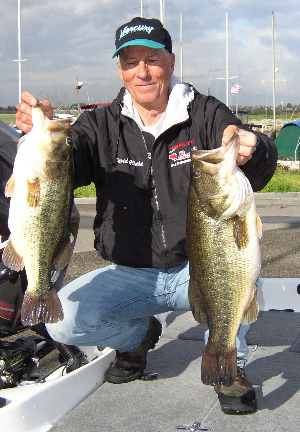 When Dave Gliebe says it tough to catch fish with size on the California Delta right now you can believe it. But the catching is about to bust wide open and the fish are being caught in spurts already to prove it.
Dave caught his better fish in a recent 100% BASS tournament fishing shallow. Water clarity was poor at best so he was fishing in about a foot an half of water in sparse tulles when his bigger fish hit the bait as soon as it hit the water.
Dave recommends that delta anglers fish in dead end sloughs and the backs of marinas for fish moving up to spawn. "The staging fish are moving in to spawn" said Gliebe, "The signs are all around us... blossoms are falling, it's ready to blow up."
"These fish are looking for less current so they move to the dead end sloughs and spawning areas of that kind to warm their eggs," stated Gliebe.
Dave's best tip is to be very quiet as the fish are real shallow. So should you be fishing very shallow.
"One of the greatest anglers of all time is Dave Gliebe," according to Bass West Magazine. "Dave has enjoyed a long and highly successful career. Since 1972 he has won 44 boats, two trucks and one Cadillac and has qualified for eight Bassmaster Classic appearances."
At 60 years old, Dave is still a strong competitor on the Western circuits.
In 1977, the first full year back east on the tour, he started by winning the first three tournaments, American Bass on Lake Okeechobee in February, American Angler on Sam Rayburn Lake in Texas, and B.A.S.S. on Toledo Bend in Texas.
In 1985, he won three U.S. Bass tournaments and three West Coast Bass tournaments, in addition to the West Coast Bass Classic. In 2000, he won the U.S. Open on Lake Mead.
You too can learn the secrets of a bass professional with more than 32 years experience throughout the United States. Dave Gliebe provides interactive sessions on the water to identify and improve individual's fishing skills.
Please visit Dave Gliebe's website for more information.