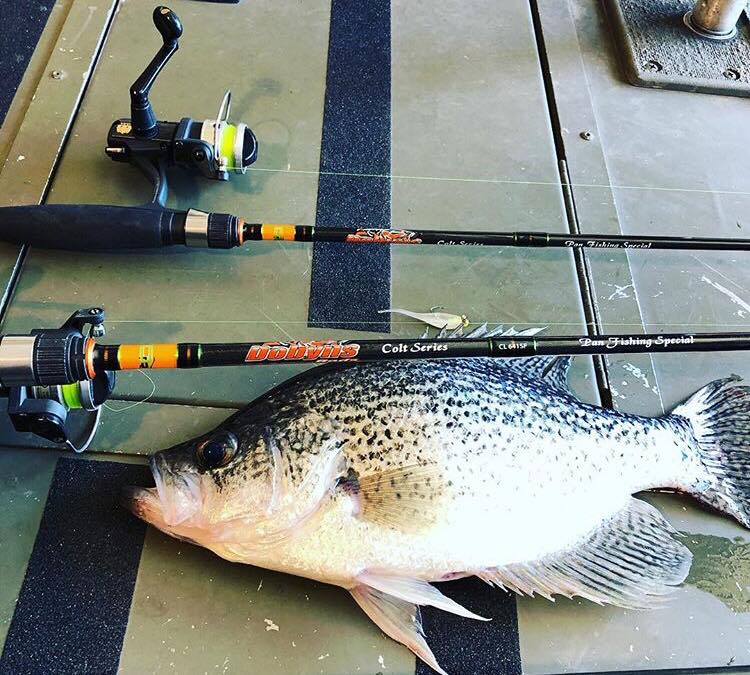 In western bass fishing lore, Gary Dobyns ranks right near the top. He's won boats on all of the major western fisheries, and his Dobyns rods are one of the most popular brands across the country.
He's a legend when it comes to bass fishing, but he has another passion, and that is crappie fishing.
Now, he has a rod dedicated to this pursuit and says more are on the way.
A Hole in the Market
Dobyns began getting into crappie fishing at Clear Lake, Calif. This fishery is one of the best crappie fisheries in the nation. The crappie are big and plentiful and are a favorite target species in the region.
The excellent crappie fishing there is what initially drew Dobyns in, and he quickly learned that rods designed for this species were not up to his standards as a rod builder and professional bass angler.
"Most crappie rods are cheap, and they use tons of glass in them to make them more durable. Crappie fishing is hard on rods because you are continually swinging in fish and the tip can get overloaded quickly.
"The way crappie rods are built is to prevent them from breaking. But, because crappie rods have so much glass in them, they have a dead feeling. I saw a hole in the market and decided to build my own panfish rods that are balanced the same way I build my bass rods, but still durable enough for crappie fishing," said Dobyns.
Colt Series Pan Fish Special
The Colt Series has become a favorite of anglers because it is a quality rod with good components at an excellent price. They retail for $79.99, and this is the series that includes the new Pan Fish Special.
The rod is six-feet long and excels for single lure crappie fishing with small crappie jigs according to Dobyns.
"I've caught thousands of crappie on that rod through the years of testing these blanks and that length is excellent. It also has the power to pull big crappie from under docks and for getting your jig back when you get snagged in the tules.
"A 1/16 ounce crappie jig is my go-to size, and that rod handles it perfectly. It pairs nicely with a 1500 or 2000 size spinning reel. I like to use 6-pound test, but it is also really good for a 4-pound test line," Dobyns shared.
Great Response from Anglers
Dobyns knew there was a market for a quality panfish rod or he wouldn't have made it, but even he was overwhelmed with the response when they were released.
"The first batch sold as fast as I could ship them and we had to make some more quickly. The feedback from those who bought the rods has been great, and the demand is far better than I had imagined," said Dobyns.
Having a quality rod designed for these popular fish was a gap in the market, and Dobyns was there to produce an excellent rod at a great price.
More on the Way
The first rod Dobyns designed for panfish is a budget-minded rod, but with the demand for these rods being so high, he plans to take it up a notch and build an even better version.
"I am going to add a 7' version in the Sierra and Champion lines. They'll still be great for fishing little jigs, but they will have better material and components, and they will be even lighter," he says.
A Great Kids Rod, Too
The characteristics that make these new Dobyns rods excellent for panfish also make them great for young anglers. They are durable, reasonably inexpensive, and made to withstand some abuse.
"I'm big on taking kids fishing, but it can be hard to hand over a high-priced setup to someone who isn't very experienced with fishing. Kids are going to high-stick rods and bang them into things, and these rods can handle that, they are made tough," said Dobyns.
Add in the fact that they are six-feet long and that makes them even better for youngsters.
"It is a great rod for taking kids out to throw 1/8 ounce darter heads and drop-shot rigs with Roboworms. You could fish a 3/16 ounce or ¼ ounce as well, but the 1/8 oz is perfect for putting kids on a bunch of spotted bass on Oroville or Shasta for a fun day on the water," added Dobyns.
Dobyns Rods is one of the leaders in quality fishing rods. They make models for just about every budget imaginable and for any technique you will be faced with during a day of bass fishing. Now, they have expanded into the panfish market, and if their first introduction is any indication, they will continue to add more and more rods designed for these species.