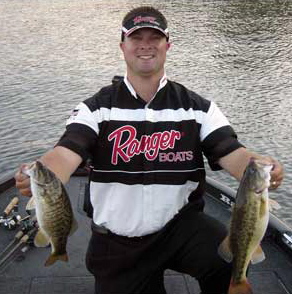 There are literally dozens of bed-fishing articles in magazines around the world every spring. Most of these tell you a story about how so and so used a certain technique to win an event, and let you cut through the article to find some useful ideas. Don't get me wrong, these are all great articles and I enjoy a good fishing story as much as the next guy, but in the end I always feel as though I need to know more. Bedfishing is all about details, so I'm just going to tell you the equipment I use and why, and then give you a bunch of tricks that I use to fool these finicky fish.
My equipment
Bed-fish have a real bad habit of coming unbuttoned. Sightfishing often results in poor mechanics. For example, fishing under docks or trees often prohibits a proper hookset. My philosophy is hook 'em hard and get 'em in! I use a Lamiglas 797 magnum grass rod 99% of the time when sightfishing. I team this with 65lb. braid and a 6:3:1 gear ratio baitcaster. For senkos and other weightless baits, I use 17-pound Seaguar fluorocarbon line.
Tips and Tricks

99% of the time, line size and visibility does not matter. Use 65 lb. Braid!!!
Get the fish locked on to a bait, and it'll forget about you and your line.
Boat positioning, avoid being seen when possible. When in sight, it is important to become part of the fish's natural environment (become part of the dock etc).
Avoid casting a shadow on a spawning fish, but keep the sun at your back
Stay as far away as possible and blind cast.
Alternate baits and colors numerous times, until you find the right bait/color mix.
Vary your retrieve speed, start slow and work faster every cast until you get a positive reaction. Also, try beating the fish up.
If you lose or foul hook a fish on a particular colored bait, it is unlikely it will eat any bait in the same color that day.
Bass HATE carp and bluegill match your baits with these colors.
Never hook the male first, except as a last resort.
Early in the morning, approach baits are deadly on undisturbed spawning fish (i.e. weightless senkos). You risk hooking the male, but a lot of times are rewarded with a fat female in one cast.
Keep your trolling motor on high, make it a goal in every sightfishing tournament to have seen more fish and eliminated more water, than any of your competitors.
Use weighted swimbaits to make a fish more aggressive, then hook it on a better hook to land ratio bait for example, a Texas rigged lizard or a jig.
Wear light colors and avoid sudden movements.
On windy days, try anchoring your boat on both ends to block the wind.
Good luck with these tips, just remember sometimes the fish win. Also, please take some time to checkout my sponsors' products on my website www.miketuck.com. They make some great products, and are imperative to my success.