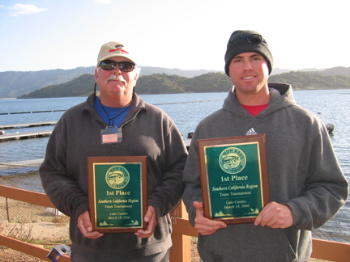 OAKVIEW - At a rare Sunday tournament, Mike and Tom Hamilton of Valencia topped a field of 52 teams at Lake Casitas on March 19th with an incredible five-fish limit weighing 25.66 pounds to capture their first WON BASS Southern California Region title. Included in their limit was a huge 11.88 pounder, the largest bass of the contest.
"It was a great day for us," young Tom Hamilton told the awards ceremony crowd. "I caught the big bass first thing in the morning on a 6-inch Zank's oxblood colored worm on 5 pound (test) Maxima line. We stayed with this worm all day and caught 40 keepers on it," he added. For their efforts, the father/son team earned a total of $4,175 in winnings. Tom also received a brand new Huddleston Deluxe swimbait for catching the biggest bass of the day. In addition to this, because the Hamilton's were fishing out of their Ranger Boat rigged with a Mercury outboard which they had purchased from Anglers Marine in Anaheim, they received an additional $1,000 in "Anglers Marine Winner's Circle" contingency award money, thus bringing their total winnings to $5,175.
Runners up at Lake Casitas was yet another father/son team; that of Andy and Pete Vincioni of Moorpark and Simi Valley respectively with an excellent limit weighing 24.41 pounds. "The (20 MPH) wind really helped us this afternoon," said Pete to the audience. "We were fishing right outside of the log boom and the wind pushed the buoys in towards the marina. This allowed us to fish a rock pile that would have been inaccessible had the wind not been blowing that hard. We caught our fish dropshotting 7-inch Roboworms," he added. The popular father/son team walked away with $1,270 in winnings for their outstanding second place finish.
Third place went to Paul Bailey of Agoura and Tom Ritchey of Westlake Village with a great limit weighing 24.33 pounds, anchored by an 11.13 pounder, the second largest bass of the tournament. "I fished a tournament here yesterday and found the big bass on a (spawning) bed," Bailey told listeners. "But it was so windy yesterday afternoon and I ended up hooking and losing the fish. We started there this morning and I caught it on my second cast with a Robo Zipper Grub," he added. The big bass helped the pair to a total of $1,135 in winnings.
Finishing in fourth place were Bob Roady of Torrance and Dennis Taylor of Simi Valley with a limit weighing 19.57 to earn the pair $530, and finishing fifth were Dennis Rodriguez of Downey and Derrick Yoshinaga of San Gabriel with a limit weighing 17.10 good for $690.
Of the 52 teams entered in the March 19th Lake Casitas contest, all but one team brought fish to the scales. There were a total of 203 bass weighed in for a total weight of 548.51. This figures out to be an excellent per fish average weight of 2.70 pounds. All of the fish weighed in were released alive, a 100% survival rate. There were 31 five-fish limits posted in the tournament.
WON BASS Southern California Region 3-19-06 Lake Casitas Results:
http://www.wonbass.com/team/results/south/southern_california/4_casitas.html
WON BASS Southern California Region Year to Date Standings (after 4 events):
http://www.wonbass.com/team/results/south/southern_california/socal_ytd_standings.html